An attorney for the Baltimore Police union blasted Friday's charges against six police officers accused in Freddie Gray's death, calling them an "egregious rush to judgement" as a result of the publicity the case has attracted.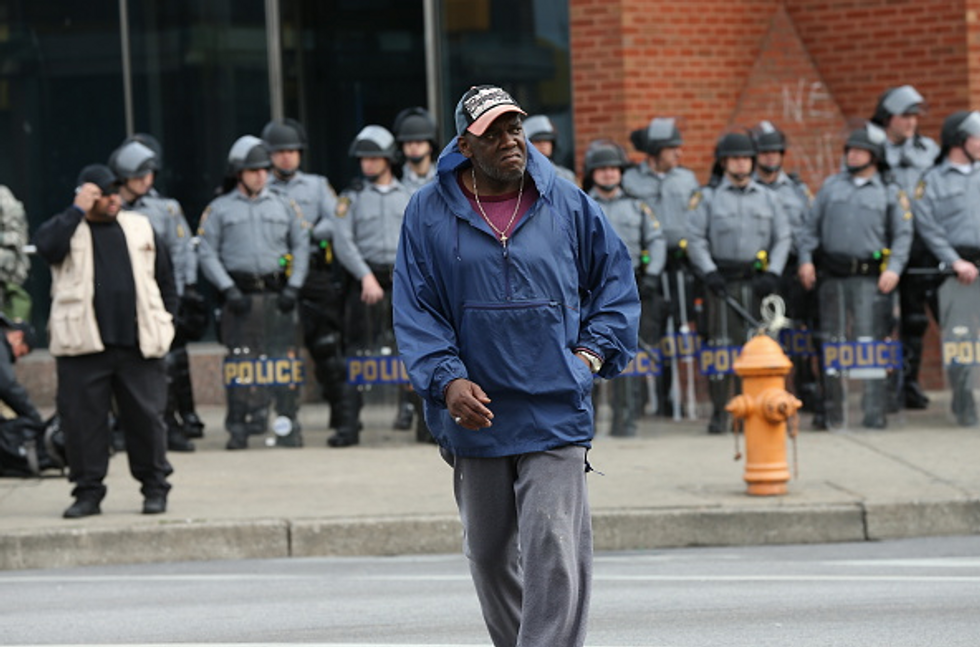 A man walks past Pennsylvania State Troopers in riot gear deployed on May 1, 2015 in Baltimore, Maryland. Marilyn Mosby, Baltimore City state's attorney, ruled the death of Freddie Gray a homicide and that criminal charges will be filed. Gray, 25, was arrested for possessing a switch blade knife April 12 outside the Gilmor Houses housing project on Baltimore's west side. According to his attorney, Gray died a week later in the hospital from a severe spinal cord injury he received while in police custody. (Photo by Win McNamee/Getty Images)
"The officers' lack of wrongdoing will be made abundantly clear. We believe the actions taken today by the state's attorney are an egregious rush to judgment," attorney Michael Davey said.
He expressed skepticism at the two-week timespan it took to return the charges, given their seriousness, including one for second-degree murder.
Davey asserted that each of the officers "acted reasonably and in accordance with their training as Baltimore police officers."
"No officer injured Mr. Gray," Davey said. "They are truly saddened by his death. These officers did nothing wrong."
Earlier Friday, the Baltimore City Fraternal Order of Police called for Baltimore City State's Attorney Marilyn Mosby to appoint a special prosecutor because of her "personal and professional relationship" with Gray family attorney William Murphy, as well as the fact that she is married to Baltimore Councilman Nick Mosby.