Tom Fuentes, a former FBI assistant director and former police officer, chewed out Baltimore protesters and city officials during an on-camera interview at a rally Saturday.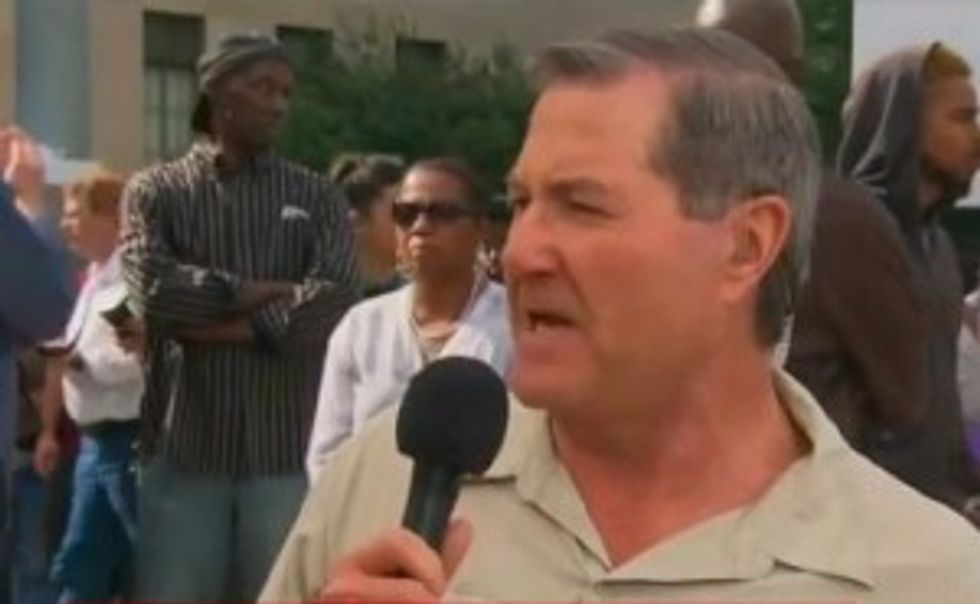 Tom Fuentes (Image source: CNN/YouTube)
"For the last two hours I have listened to this screaming over here in front of several thousand people," Fuentes told CNN's Poppy Harlow. "They're not saying some police are good, some are bad, let's work together in the community and fix the problems we have.
"They are saying all police are bad, everybody that's been locked up is good and should be released right now, and basically advocating anarchy in a town that averages five black kids being murdered a week ... and the whole crowd is buying it and cheering it on. And I just think it's ridiculous and enough is enough."
After Harlow asked Fuentes how it might change, he said Baltimore officials need to work together — adding in no uncertain terms that it hasn't happened nearly enough considering who's in charge.
"You have a black mayor, a black commissioner of police, 50 percent of the department is black, the last commissioner was black," Fuentes pointed out. "Now if they can't work together to try to fix what's going on in this town and do something about the unbelievably high crime rate here and murder rate in Baltimore, then I don't know, I think it's almost going to be hopeless ..."
He added that the protest going on around him was an example of what's wrong in the city, saying that "nothing about working together" was emphasized; rather "it's ranting and raving, advocating anarchy, and it's wrong."
Check out the full interview here:
And Fuentes wasn't done. He was interviewed Sunday on CNN and went off again, eviscerating protesters and city officials for what he heard the day before.
The relevant portion of the clip starts at the 1:20 mark:
(H/T: The Right Scoop, Mediaite)
—
Follow Dave Urbanski (@DaveVUrbanski) on Twitter