The two heavily armed gunmen who opened fire at a Muhammed cartoon event in Garland, Texas, Sunday were stopped by a traffic officer with a pistol, police said.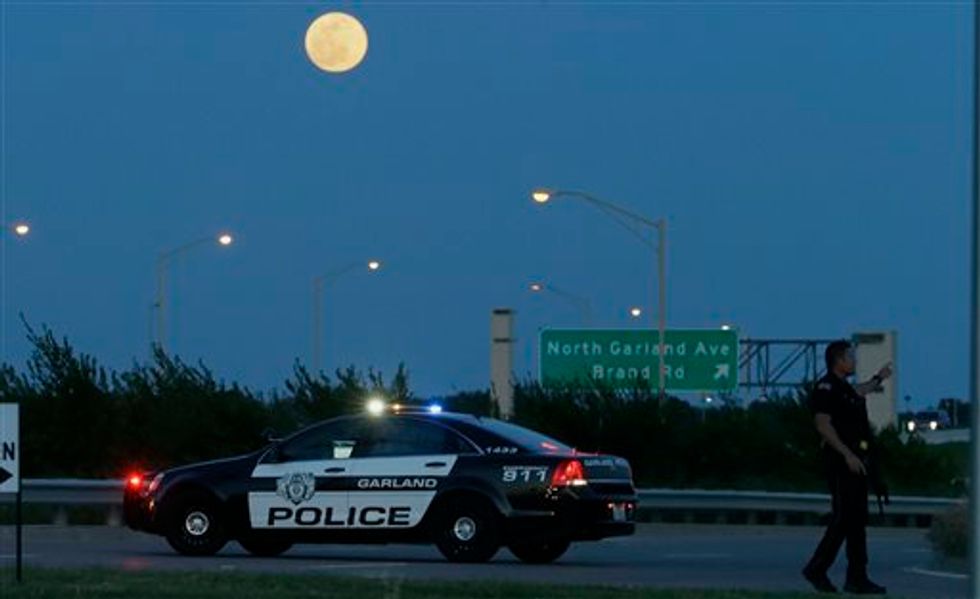 An armed police officer stands guard on a road near the Curtis Culwell Center where a provocative contest for cartoon depictions of the Prophet Muhammad was held Sunday, May 3, 2015, in Garland, Texas. The contest was put on lockdown Sunday night and attendees were being evacuated after authorities reported a shooting outside the building. (AP Photo/LM Otero)
Garland Police Department spokesman Joe Harn said the two suspects pulled up to the event in a car, wearing "protective gear" and carrying "assault rifles." They immediately got out and opened fire on two officers outside, one of whom fired back with his pistol, sending both suspects to the ground.
"He did what he was trained to do and under the fire he was put under he did a very good job and probably saved lives," Harn told reporters.
One police officer was injured but later released from the hospital. Both of the gunmen were killed.
As gunfire was exchanged Harn said a SWAT team responded to the incident "within seconds." Officers then began going through the suspects' car in search of any possible explosives. Harn said no bombs were found in the vehicle.
The suspects' names have not yet been formally released, but ABC News reported that one of them is 30-year-old Elton Simpson of Phoenix.
Simpson was previously convicted five years ago for lying to authorities about his plans to travel to Africa where investigators believed he was trying to join a terrorist group, according to ABC News.
Simpson has been under investigation by the FBI since 2007 for at least one recording in which he talked about terrorist recruitment. The FBI is assisting police in Texas with the investigation into Sunday's attack.
An FBI spokesman did not immediately respond to a request for comment from TheBlaze.
–
Follow Jon Street (@JonStreet) on Twitter