While speaking at a "roundtable" in Las Vegas last week, Democratic presidential candidate Hillary Clinton claimed that some illegal immigrants in New York pay more in taxes than some corporations. On Monday, a Washington Post fact-checker gave Clinton's false assertion "4 Pinocchios."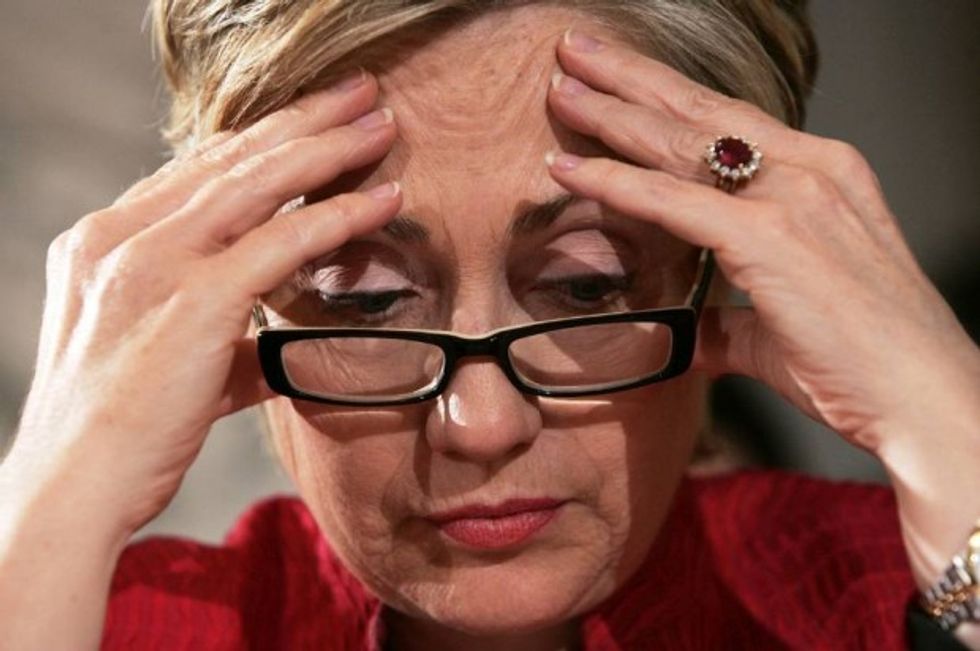 WASHINGTON - JUNE 23: U.S. Senator Hillary Rodham Clinton (D-NY) reads documents during a hearing before the Senate Armed Services Committee June 23, 2005 on Capitol Hill in Washington, DC. The hearing was focused on U.S. military strategy and operations in Iraq. (Photo by Alex Wong/Getty Images)
Here's exactly what Clinton said in Vegas on May 5:
"In New York, which I know a little bit about because I represented it for eight years and I live there now, our undocumented workers in New York pay more in taxes than some of the biggest corporations in New York."
The Washington Post's Glenn Kessler took apart Clinton's remarks, ultimately labeling it a "nonsense comparison" and "fairly misleading." Read some of Kessler's analysis below:
Even if Clinton incorrectly stated her talking point, this is a tendentious argument that is probably made even less relevant by 2014 tax data. (Note how the taxes paid by Verizon and Citicorp increased as the economy began to pick up.) If she is only talking about state and local income taxes, that's just $186 million, according to the ITEP estimate for New York. Verizon and Citicorp still exceed that number on state and local taxes alone.

Undocumented immigrants obviously pay a lot of  taxes, especially sales taxes. Clinton would have an even stronger case to highlight the tax contribution of illegal immigrants if she mentioned that the Social Security actuary estimated that illegal immigrants paid $12 billion in Social Security taxes in 2010 alone, with little hope of ever receiving benefits. (They used false or duplicative Social Security numbers.) That's even more than the ITEP estimate for state/local income taxes, sales taxes and property taxes paid by illegal immigrants across the nation.

But comparing the taxes of hundreds of thousands of people to the tax bill of one corporation is a stretch and fairly misleading. Even the companies that pay little or no federal income taxes end up paying lots of other taxes. So it's a nonsense comparison.
In the end, though the Post "wavered between Three and Four Pinocchios," the paper dished out the latter because as a former U.S. Senator, "Clinton should know better."

(Washington Post)
(H/T: Free Beacon)
---