Yield signs. Inner lanes. Outer lanes. Exits onto offshooting streets.
Traffic circles are more than just a place to stick a fancy fountain or garden in the middle. According to a recent report by WOOD-TV, traffic circles can enhance driver safety by requiring them to slow down and by, in some cases, taking out the need for a traffic signal. The Federal Highway Administration cites them as safer than your typical four-way intersection.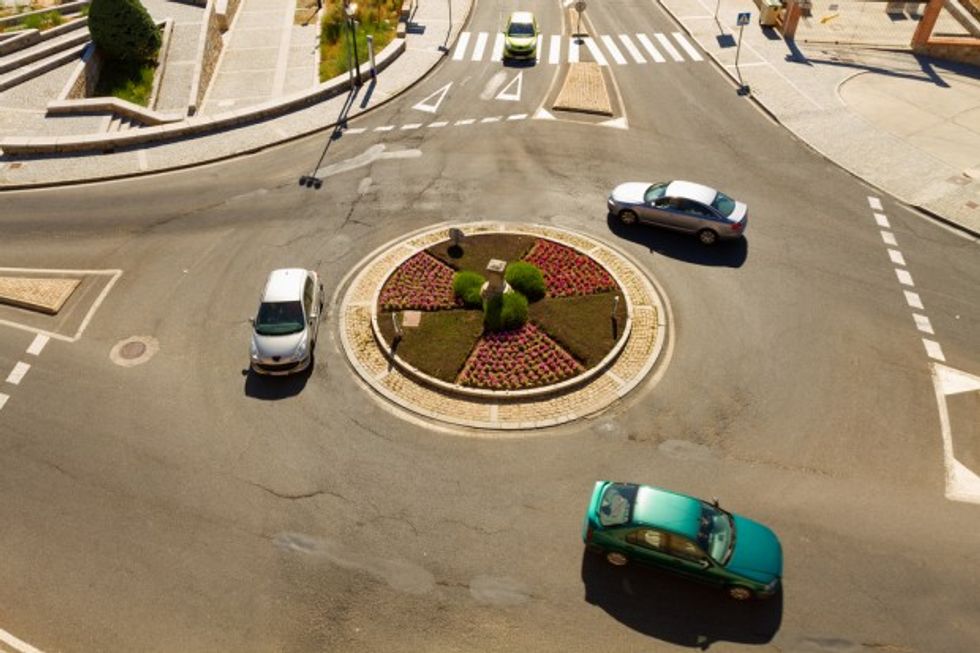 Photo credit: Shutterstock
But roundabouts can be a frustrating place both for the people who really don't know how to navigate them and for the people who do but are forced to accommodate those who don't. Some would say they actually hate roundabouts for other reasons as well, citing them as costing taxpayers more money because there's more road to create and maintain.
Regardless of whether or not that's the case, in some cities roundabouts are simply a reality, so it's time for a quick driver's ed refresher course on how to drive in a traffic circle to alleviate the frustrations of your fellow man.
The Washington Department of Transportation has a breakdown of instructions with graphics depending on if you encounter a single-lane or multi-lane roundabout.
In a single-lane roundabout, keep an eye out for pedestrians and yield to cars already in the circle before you enter. When there's a gap, pull in and exit at the appropriate offshoot.
Multi-lane roundabouts are a little trickier, especially if more than one lane is entering at the same time as well. The key is picking the proper lane when you enter to make sure you're not cutting over to make your preferred exit at the last minute. Here are some graphics from the WDOT to show you how it's done: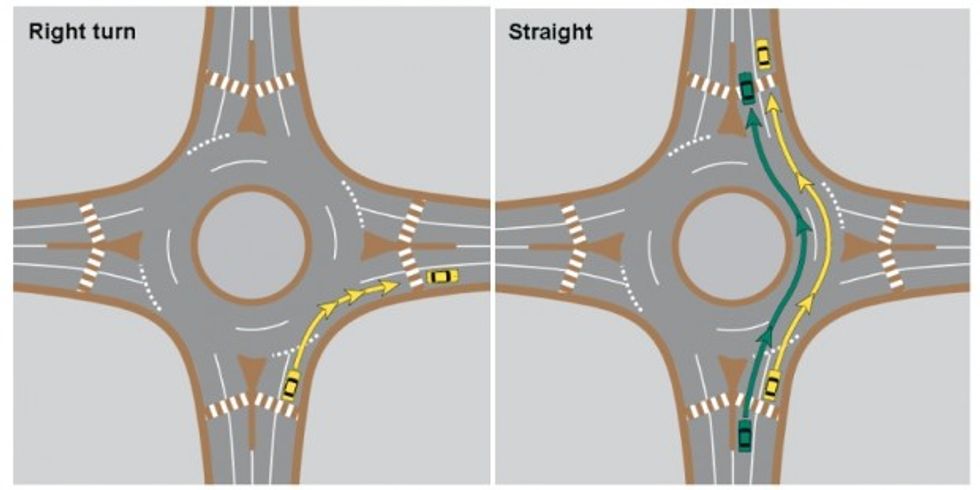 Image source: WDOT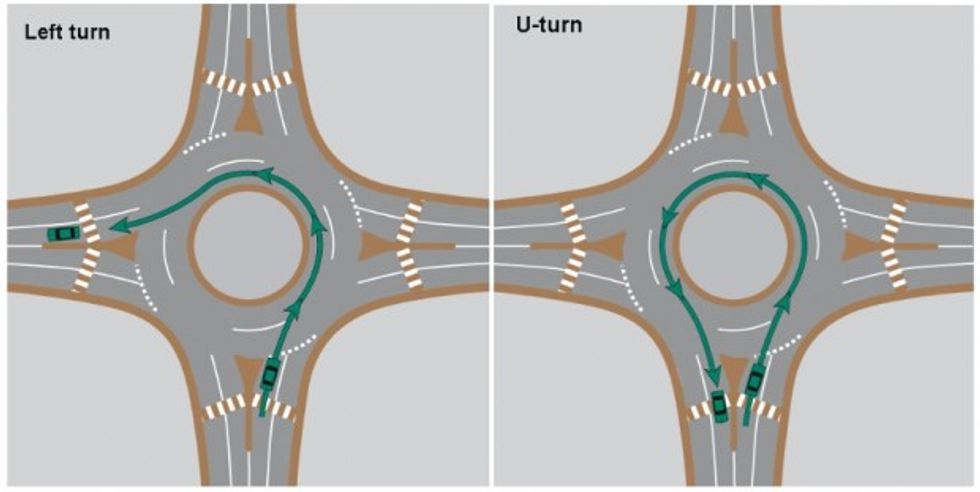 Image source: WDOT
When you enter this type of roundabout, make sure you're paying attention to all lanes of traffic in the circle before you pull in.
Watch this video about driving in traffic circles:
And to hammer the point home, here's a quick rundown in list form of how to treat a traffic circle from the FHA:
Slow down.

If there's more than one lane, use the left lane to turn left, the right lane to turn right, and all lanes to go through, unless directed otherwise by signs and pavement markings.

Yield to pedestrians and bicyclists.

Yield at the entry to circulating traffic.

Stay in your lane within the roundabout and use your right-turn signal to indicate your intention to exit.

Always assume trucks need all available space — don't pass them!

Clear the roundabout to allow emergency vehicles to pass.
Also, ye be warned, there is no joy riding allowed in the traffic circle. WOOD-TV reported that you can only take three rounds in the circle and then you have to exit or you could be fined.
—
Front page image via Shutterstock.