Update: CNN's Brian Stelter confirmed that TLC has pulled "19 Kids and Counting" from the air. He shared the following statement on Twitter:
"Effective immediately, TLC has pulled all episodes of '19 Kids and Counting' currently from the air. We are deeply saddened and troubled by this heartbreaking situation, and our thoughts and prayers are with the family and victims."
--
TLC has yanked the show "19 Kids and Counting" from its schedule amid molestation allegations surrounding Josh Duggar, the eldest child of Jim Bob and Michelle Duggar, according to entertainment news site TMZ.
The outlet reported that the show's future has not yet been decided, but that the program will at least temporarily be removed as the network deals with fallout from the molestation claims surrounding Duggar. A schedule available on the TLC website, though, still lists times for the show through June 4.
The purported move by TLC comes one day after the network aired a "19 Kids and Counting" marathon — a move that outraged critics.
As TheBlaze previously reported, Duggar apologized on Thursday following a tabloid report that was published alleging he molested underage girls when he was a teenager more than a decade ago. He also resigned from his position as the executive director of FRC Action, a conservative lobbying firm that is associated with the Family Research Council.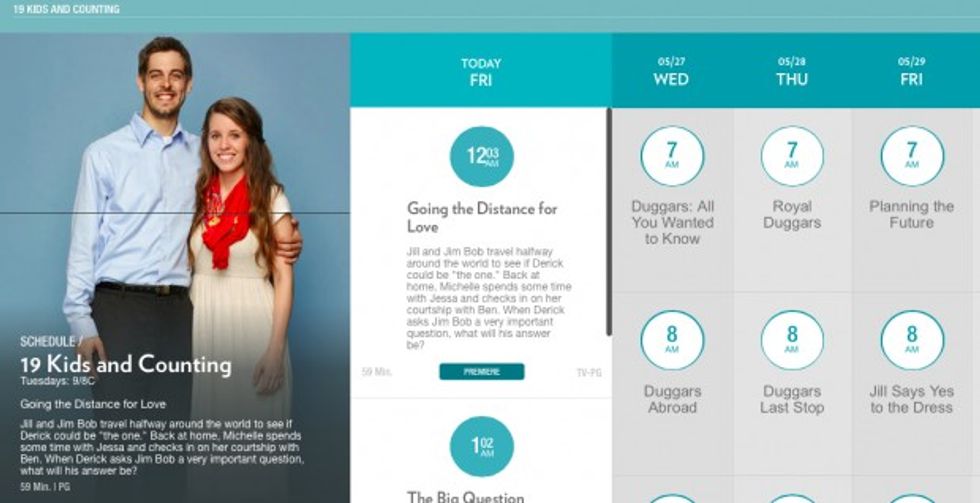 A TLC schedule published online still showed "19 Kids and Counting" air times through June 4 (TLC screenshot)
News spread rapidly after In Touch Weekly published a story on Thursday citing a 2006 police report from Springdale Police department in Arkansas providing graphic details of the alleged crimes Duggar committed.
"Twelve years ago, as a young teenager I acted inexcusably for which I am extremely sorry and deeply regret," the "19 Kids and Counting" star said in a Facebook statement. "I hurt others, including my family and close friends."
Duggar said that he "sought forgiveness" from the individuals he wronged and from God and that he would take back the action he took during his teen years if he could.
"In my life today, I am so very thankful for God's grace, mercy and redemption," he wrote.
His parents, Jim Bob and Michelle Duggar also released a statement. It read, "When Josh was a young teenager, he made some very bad mistakes, and we were shocked. We had tried to teach him right from wrong. That dark and difficult time caused us to seek God like never before."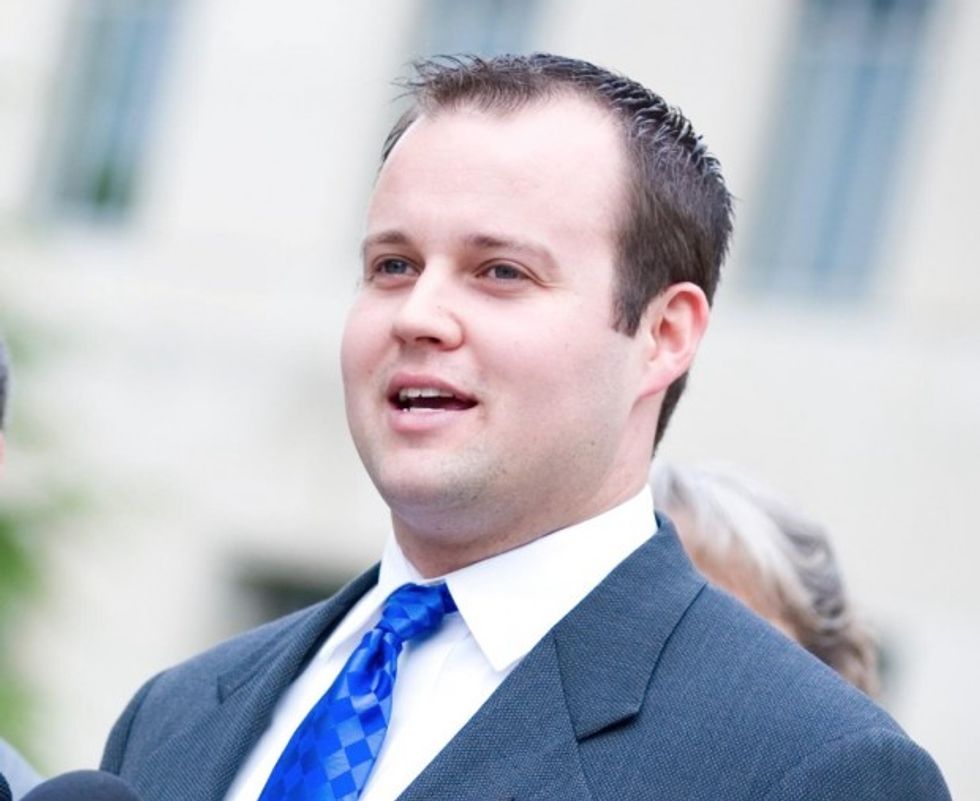 Josh Duggar (Image Source: Twitter)
As The Hollywood Reporter noted, this is the second TLC show in the course of a year to experience controversy that sparked network action. "Here Comes Honey Boo Boo" was cancelled after star Mama June was reportedly seen spending time with a man convicted of child molestation. 
Mama June spoke out against her own cancellation on Thursday, telling TLC that she felt the treatment of the Duggar family was unfair in light of the quick removal of "Here Comes Honey Boo Boo."
"I read that the Duggar family said, this happening with their son brought them closer to God and each other," she said. "So they're saying it's ok to have family touch time? Hell no."
Duggar has faced intense scrutiny as the story has gained traction over the past 24 hours. Read more about the Duggar family drama here.
This is a breaking news story. Stay tuned for updates.