WASHINGTON (TheBlaze/AP) — A major international study sought to settle how soon is best to start HIV treatment. The preliminary answer: ASAP.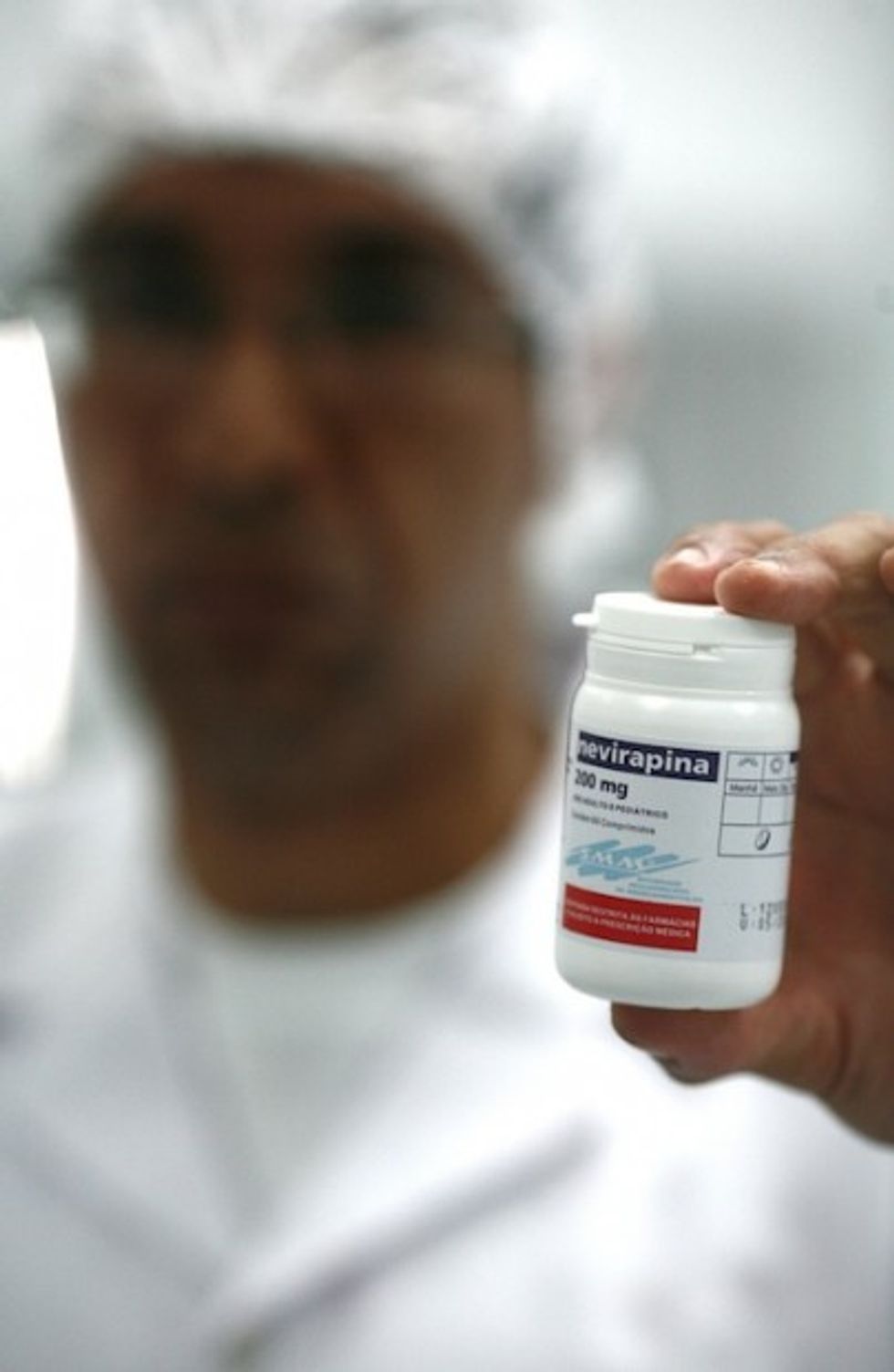 A technician shows a pack of Nevirapine 200mg tablets of antiretroviral drugs at the Sociedade Mocambicana de Medicamentos,Africa's first public factory for anti-HIV drugs on July 21, 2012 in Matola, near Maputo. (BENOIT MARQUET/AFP/GettyImages)
People who started antiretroviral drugs while their immune system was strong were far less likely to develop AIDS or other serious illnesses than if they waited until blood tests showed their immune system was starting to weaken, the U.S. National Institutes of Health announced Wednesday.
The findings are preliminary, but the NIH found them so compelling that it stopped the study a year early, so that all the participants could receive medication as researchers continue to track their health.
How soon should treatment begin?
"The sooner the better," said Dr. Anthony Fauci, director of NIH's National Institute of Allergy and Infectious Diseases, which funded the work.
Current U.S. guidelines already recommend early treatment for HIV, but the findings could alter care recommendations in other countries.
Dr. James Neaton, a professor of biostatistics at the University of Minnesota and a principal investigator at the International Network for Strategic Initiatives in Global HIV Trials, said in a statement that "the definitive findings from a randomized trial like START are likely to influence how care is delivered to millions of HIV-positive individuals around the world."
HIV may not trigger symptoms for years, raising the question of how soon after diagnosis patients should begin taking expensive medications that may cause side effects. Previous studies have made clear that early treatment dramatically lowers the chances that someone with HIV spreads the virus to a sexual partner. But there was less evidence that the HIV patient's own health would benefit by starting early.
The START trial — Strategic Timing of AntiRetroviral Treatment — sought proof by randomly assigning still healthy patients either to receive early therapy or to delay therapy until their CD4 cells, a key sign of immune system health, dropped into a worry zone.
While the U.S. guidelines back treatment regardless of patients' CD4 counts, the World Health Organization's guidelines recommend that HIV-infected people begin treatment when their CD4 levels fall below normal, to 500 or below. But that doesn't happen in many poor countries, where often people are sicker before they receive treatment and global funding to expand care is tight.
Even in the U.S., many people don't seek or stick with early care: The Centers for Disease Control and Prevention recently reported that only about 30 percent of Americans with HIV have the virus under control.
The START trial enrolled 4,685 people in 35 countries, all of whom had CD4 counts in the healthy range — above 500 — and had never taken anti-HIV medication. Researchers tracked deaths, the development of AIDS-related illnesses and the development of serious non-AIDS events such as cancer, heart disease and kidney or liver disease.
Over about three years, the risk of serious illness or death was reduced by 53 percent in the early treatment group, NIH said.
The actual numbers of bad outcomes in both groups were very low, given that patients were so healthy when they enrolled in the study: 41 cases in the early-treatment group compared with 86 in the group that delayed treatment until their CD4 count dropped to near 350.
The results, once final, will need careful scrutiny to see if they apply to people with the highest CD4 counts, cautioned Dr. Jay Levy of the University of California, San Francisco, who wasn't involved in the new study.
"I'm still concerned about putting everyone on therapy," Levy said.
But Fauci said the study offers "another reason why we should be more aggressive" in getting people tested and treated. "It tells you that you will benefit from therapy at whatever your CD4 count is," he added.
"[E]arly therapy conveys a double benefit, not only improving the health of individuals but at the same time, by lowering their viral load, reducing the risk they will transmit HIV to others," Fauci said in a statement. "These findings have global implications for the treatment of HIV."