Sen. Lindsey Graham is an unmarried man. Or, to put it in more senatorial terms, he's "a bro with no ho."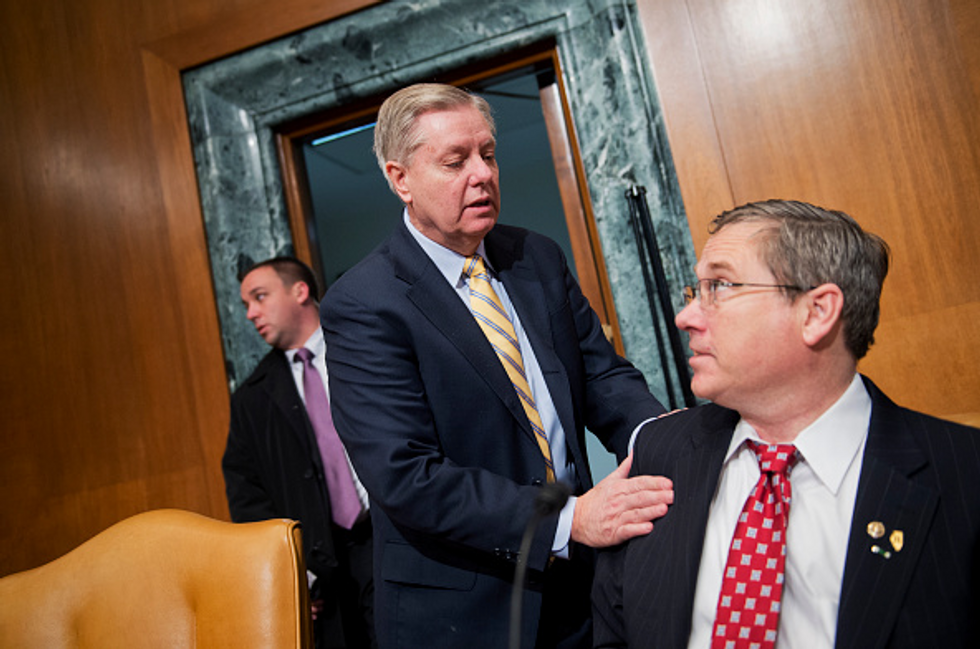 Sen. Lindsey Graham (R-S.C.) with Sen. Mark Kirk (R-Ill.), before a Senate Appropriations subcommittee hearing, Feb. 24, 2015. (Tom Williams/CQ Roll Call)
That was Sen. Mark Kirk's assessment of Graham's bachelorhood, as caught on a live mic during a Senate Appropriations Committee meeting Thursday and brought to the world's attention by the Huffington Post.
"I've been joking with Lindsey," Kirk (R-Ill.) says in the recording. "Because he doesn't have — did you see that? — Have a rotating first lady. He's a bro with no ho." Listen here.
Evidently pleased with his turn of phrase, Kirk repeats "bro with no ho" again a few moments later.
Graham (R-S.C.), who is running for the Republican presidential nomination, indeed said in an interview this week that if elected he might have a "rotating first lady," including his sister and other friends.
Kirk's office commented to the Huffington Post only that he was "joking around with his colleagues."
Graham's office did not immediately return a request for comment from TheBlaze.
Asked about Graham's initial remark about having a "rotating first lady," White House press secretary Josh Earnest said Thursday it would be "hard for me to imagine both a Graham White House and what a Graham White House would be without a first lady."
This post has been updated.