Israeli Prime Minister Benjamin Netanyahu on Sunday accused negotiators for the U.S. and five world powers of speeding up their concessions to Iran in order to reach an agreement over its nuclear program by a June 30 deadline.
"To our regret, the reports arriving from the major powers attest to an acceleration of their concessions in the face of this Iranian obduracy," Netanyahu said, pointing out Iran's announcement that it would not allow surprise inspections of military sites.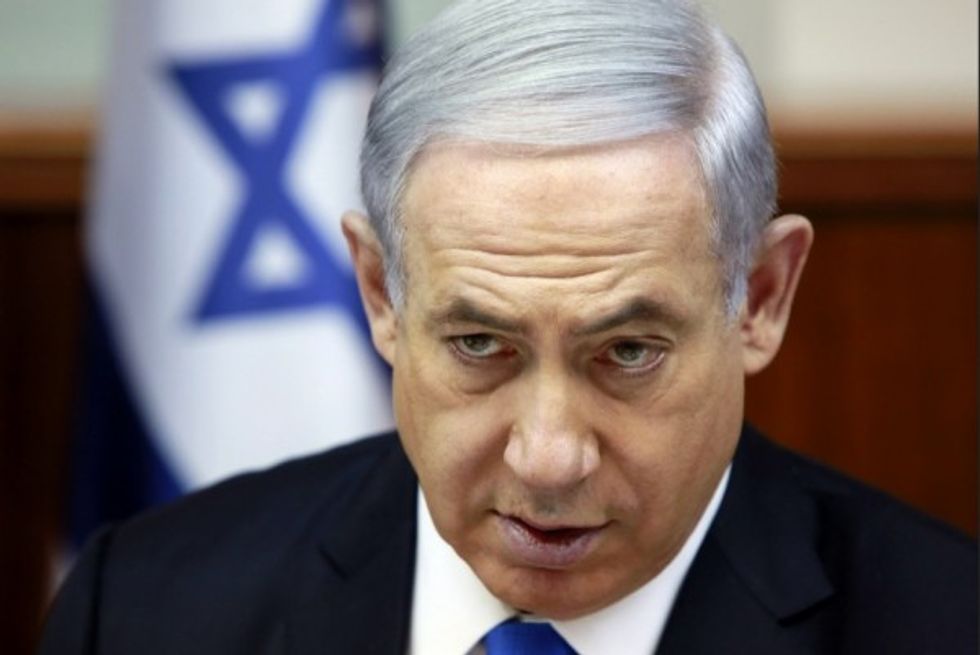 Israeli Prime Minister Benjamin Netanyahu chairs the weekly cabinet meeting at his Jerusalem office, Sunday, March 8, 2015. (Image source: AP/Gali Tibbon, Pool)
Though Netanyahu has said for months that the framework agreement negotiated in Lausanne, Switzerland, was a "bad deal," he told his cabinet Sunday that the current version is "worse."
"The agreement being formulated has looked bad from the outset," Netanyahu said. "From day to day it seems to be getting worse."
The prime minister suggested there's still time to strike a deal better designed to thwart future Iranian efforts to assemble a nuclear weapon.
"[I]t is not too late to take stock, reject this bad agreement and insist on a better agreement," Netanyahu said.
Iranian President Hassan Rouhani on Saturday repeated an objection to letting inspectors from the International Atomic Energy Agency conduct visits of Iranian military sites.
"Iran will absolutely not allow its national secrets to fall into the hands of foreigners," Rouhani said during a televised press conference.
U.S. and French negotiators have called on Iran to allow snap inspections of military sites by international atomic experts — including those giving as little as two hours notice, Reuters reported.
Netanyahu accused Iran of backtracking on more issues than just military site visits.
"Iran has announced that it will not allow surprise visits at its military installations on the nuclear issue," Netanyahu noted as he urged the U.S. and the five powers to stand their ground. "It has also backtracked from other issues that were seemingly agreed upon in the Lausanne agreement."
Meanwhile, the Iranian president accused international negotiators of reneging on past points of agreement.
"A problem we face on many issues is that when we reach a framework in one meeting, our negotiating partners go back on it in the next meeting," Rouhani said.
"If the other side sticks to the framework that has been established, and does not bring new issues into play, I believe it can be solved," he said.
Preparing the public for a possible shift of the June 30 deadline, Rouhani said "if they want to take the path of brinkmanship, the negotiations could take longer."
Brigadier General Masoud Jazayeri, deputy chief of staff of the Iranian Armed Forces, on Sunday repeated the Iranian position that no inspections of military sites will be allowed.
"We reiterate that the permission will definitely never be issued for any kind of access to the military centers, even if it runs counter to the acceptance of the Additional Protocol," Jazayeri said on Sunday, according to Iran's Fars news agency.
Under the Additional Protocol, the IAEA could carry out inspections at suspect locations with as little as two hours notice.
"Foreigners' visits to defense and military centers as well as obtaining information about the related equipment and tactics is against the orders [of Iranian Supreme Leader Ayatollah Ali Khamenei] and also the demands of the entire Iranian nation," the deputy chief of staff said.
"No protocol should disturb our country's national security," he added.