The New York prison worker accused of helping two convicted murderers escape from behind bars allegedly discussed a plan with them to kill her husband who also worked at the facility, according to the Albany Times Union.
Joyce Mitchell allegedly told investigators that she talked with David Sweat and Richard Matt about picking them up after they made their escape, then possibly killing her husband, a prison maintenance worker, and then going into hiding together, an unnamed law enforcement source told the newspaper.
According to NBC News, Mitchell, 51, was investigated for having a prior sexual encounter with inmate David Sweat, though Clinton County District Attorney Andrew Wylie said there was not "sufficient information" to determine whether that had happened.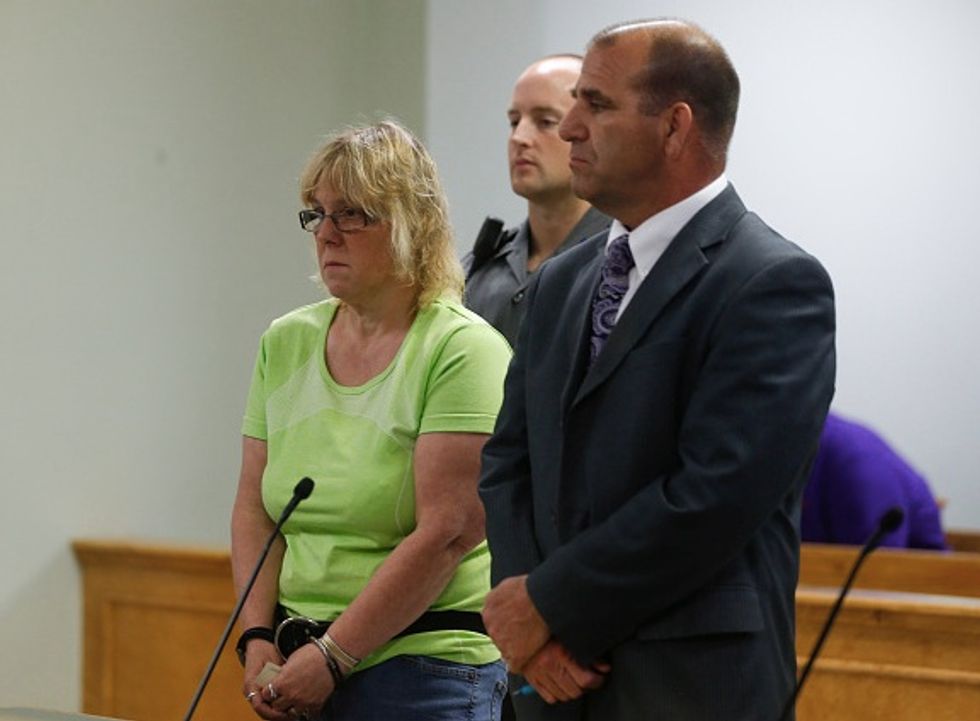 Joyce Mitchell stands with her attorney Keith Bruno during her arraignment, June 12, 2015 in Plattsburgh, N.Y. (Mike Groll-Pool/Getty Images)
After the alleged incident with Sweat, NBC reported, Matt "charmed" Mitchell, who "thought it was love," sources said.
Authorities say Mitchell brought the two escapees the power tools to aid their escape more than a week ago, but when push came to shove, she backed out of meeting up with them.
"Basically, when it was go-time and it was the actual day of the event, I do think she got cold feet and realized, 'What am I doing?'" Wylie said. "Reality struck. She realized that, really, the grass wasn't greener on the other side."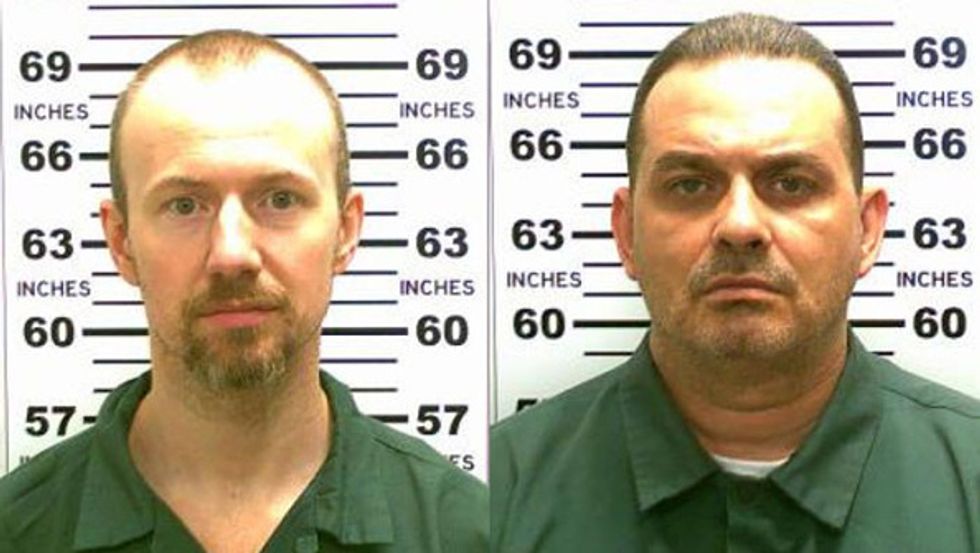 In this handout from New York State Police, convicted murderers David Sweat, left, and Richard Matt are shown in this composite image. Matt, 48, and Sweat, 34, escaped from a maximum security prison June 6, 2015 using power tools and going through a manhole. (Photo by New York State Police via Getty Images)
Wylie said that Mitchell had initially agreed to drive the escaped inmates up to seven hours through mountainous terrain to an undisclosed location, possibly a cabin in nearby Vermont.
Mitchell's husband, Lyle, was initially listed as a person of interest but has not been accused of any crime.
The nationwide manhunt for the two prisoners is ongoing.
(H/T: NBC News)
–
Follow Jon Street (@JonStreet) on Twitter