Update 3:30 p.m. ET: The names of the victims in the church shooting were officially released Thursday afternoon.
State Sen. Clementa Pinckney, the pastor of Emanuel African Methodist Church, had already been identified as one of those killed.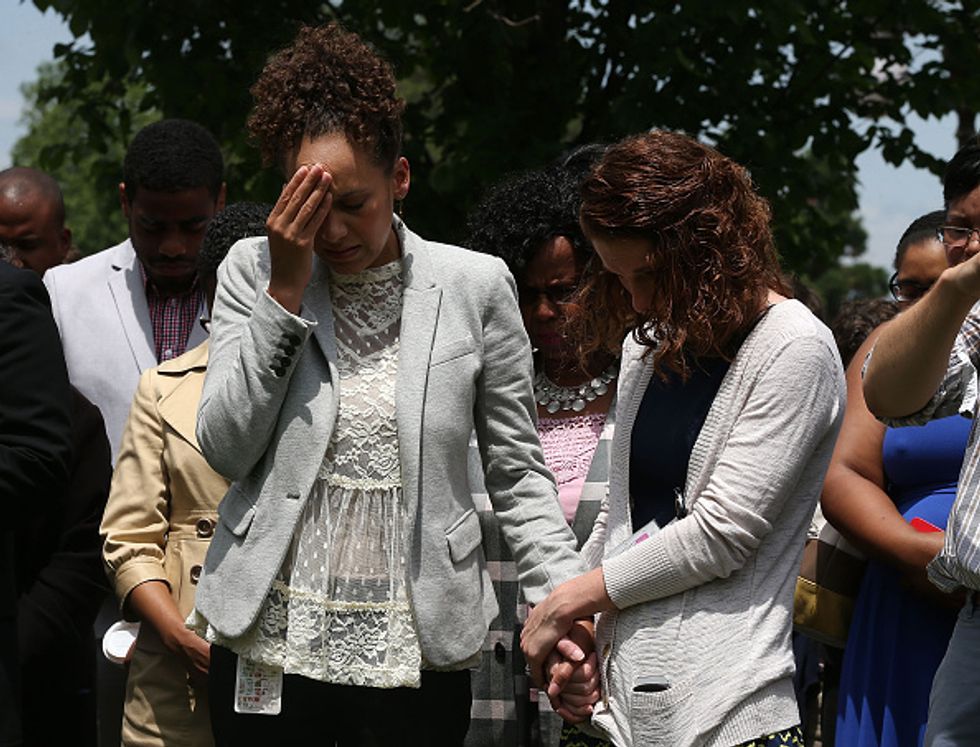 Jennifer DeCasper (L), Chief of Staff for Sen. Tim Scott (R-SC) is overcome with emotion during a prayer circle attended by members of the U.S. House of Representatives and U.S. Senate in front of the U.S. Capitol to honor those gunned down last night inside the Emanuel African Methodist Episcopal Church in Charleston, South Carolina, June 18, 2015 in Washington, DC. Police have arrested Dylann Roof, 21, of Lexington, South Carolina in the shooting that killed nine people. (Mark Wilson/Getty Images)
Charleston County Coroner Rae Wooten said Thursday the others have been identified as Cynthia Hurd, 54; Tywanza Sanders, 26; Sharonda Singleton; Myra Thompson, 59; Ethel Lance, 70; Susie Jackson, 87; the Rev. Daniel Simmons Sr.; and DePayne Doctor.
Sanders had recently graduated from Allen University. Hurd worked for Charleston County's library system for 31 years. Doctor was an enrollment counselor at Southern Wesleyan University's Charleston Campus, according to a friend.
Update 2:35 p.m. ET: A childhood friend of the suspected shooter said he noticed a stain on the sweatshirt he wore in the surveillance images released by police. The friend used that to help identify the suspect as Dylann Storm Roof to the FBI.
Update 1 p.m. ET: Mayor Joseph P. Riley Jr., called the attack on members at the historic black church in Charleston "pure, pure concentrated evil."
Police chief Greg Mullen said suspect 21-year-old Dylann Storm Roof was arrested Thursday in his car on the road in Shelby, N.C. Mullen says Roof had a weapon at the time, but officials wouldn't give other details.
Mullen also said it's unknown whether the shooter intentionally left behind any survivors at the church. Mullen has said Roof was at the church for nearly an hour for a prayer meeting before the shooting.
Though police have not identified the victims, the Charleston Post and Courier named one as library manager Cynthia Hurd.
County library system identifies St. Andrews branch manager Cynthia Hurd as slaying victim in #CharlestonShooting pic.twitter.com/XQnV8KSUzo

— Andrew Knapp (@offlede) June 18, 2015
Earlier today, a family member identified one of the victims as Rev. Clementa C. Pinckney, who was a member of the state senate.
Update 12:40 p.m. ET: President Barack Obama spoke about the attacks, saying he's had to "make statements like this too many times."
UPDATE 11:37 a.m. ET: Charleston church shooting suspect Dylan Roof has been arrested, authorities have confirmed.
BREAKING: Attorney General Lynch: `I can confirm that there is a suspect in custody' in church shooting.

— The Associated Press (@AP) June 18, 2015
Dylann Roof arrested for shooting at 110 Calhoun Street.

— Charleston P.D. (@CharlestonPD) June 18, 2015
Chief Greg Mullen says Roof was arrested in Shelby, N.C., during a traffic stop. #CharlestonShooting

— Andrew Knapp (@offlede) June 18, 2015
UPDATE 11:21 a.m. ET: Reports say suspect Dylann Roof has been caught in Shelby, North Carolina.
Church Shooting Suspect Dylann Roof caught in Shelby #CharlestonShooting

— WCCB Charlotte (@WCCBCharlotte) June 18, 2015
21 yo suspect has been caught in Shelby, NC. Is in custody. More dets to come. #CharlestonChurchShooting #PrayersForCharleson

— Craig Melvin (@craigmelvin) June 18, 2015
UPDATE 10:15 a.m. ET: The FBI has identified the suspected gunman in the deadly church shooting as 21-year-old Dylann Roof.
Suspect in #Charleston shooting identified as 21 yr old Dylann Roof. If you know his whereabouts, call 1-800-CALL-FBI pic.twitter.com/EmFL5gLMCL

— Berkeley County SC (@BerkeleySCGov) June 18, 2015
BREAKING: FBI identifies South Carolina church shooter as 21-year-old Dylann Roof of Columbia area: Post and Courier newspaper

— Reuters Top News (@Reuters) June 18, 2015
#DylannRoof's 4/26/2015 trespassing mugshot, arrest record, via http://t.co/ifQhWUkXaf (h/t @ggreenwald) pic.twitter.com/99S9u0obmM

— Brian Ries (@moneyries) June 18, 2015
Original story as follows.
—
Police released images Thursday morning of the suspect they believe engaged in a deadly shooting at a Charleston church Wednesday night.
The white male, who Charleston Police Chief Greg Mullen described as a "very dangerous individual," is thought to have left the historically black church in South Carolina in a black, four-door sedan after he shot and killed nine people around 8 p.m.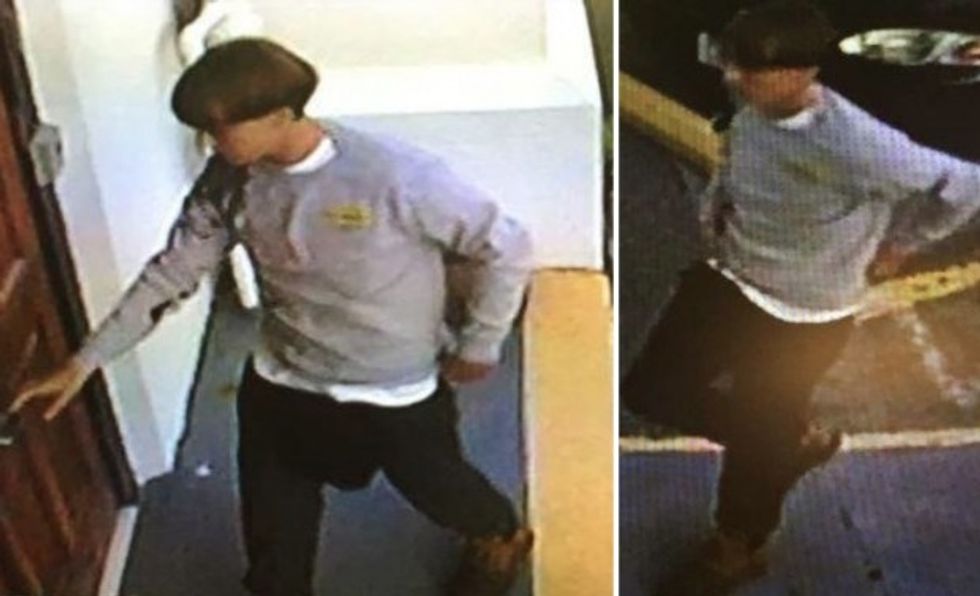 Police are seeking this man, a person believed to have shot and killed nine people attending a church meeting in Charleston, South Carolina. (Image source: Charleston Police Department/Facebook)
The police department described him as a "younger white male" who "stands approximately 5'09" in height and has a slender build." These images come from surveillance video obtained by the police department.
More pics of suspect , Call 1-800-CALL-FBI if you see/know him! #CharlestonShooting More: http://t.co/iJmmcmPLxw pic.twitter.com/qh8ZLe9FU8

— Sandra_E (@ABCNews4WebGrrl) June 18, 2015
Mullen said police consider the shooting a "hate crime" and noted that FBI and state police are helping in the search.
Watch this footage from the police department's Thursday morning news conference:
Mullen said the suspect in the shooting had apparently attended the Emanuel African Methodist Episcopal Church meeting and stayed for almost an hour before gunfire erupted. Though the chief added that he has no reason to think the suspect has left the Charleston area, he said the department is distributing information about him and the vehicle around the country.
Dot Scott, president of the Charleston NAACP, told the Charleston Post and Courier the suspect spared the life of one woman so she could tell people what happened there.
Police have identified the victims of the Wednesday church night shooting as six females and three males but have not released their names as families are still being notified.
But NBC News, citing two sources, identified one of the victims as Rev. Clementa C. Pinckney a 41-year-old Democrat who served as a member of the state senate.
House Minority Leader Todd Rutherford also said Pinckney was among those killed.
Sylvia Johnson, a woman identified as Pinckney's cousin, told NBC that she spoke with one of the survivors who witnessed the shooting and told her the gunman said "'I have to do it. You rape our women and you're taking over our country. And you have to go.'"
Watch the statement:
CNN reported that Charleston police spokesman Charles Francis said the victims "were killed because they were black."
—
The Associated Press contributed to this report. This story has been updated to include more information.