MSNBC anchor Thomas Roberts broke down on-air Friday while reporting live from Charleston, South Carolina, and the Emanuel African Methodist Episcopal Church where nine people were massacred earlier this week. And it happened as hordes of people who joined Glenn Beck for a prayer vigil showed up at the church.
As the bond was being set for accused killer Dylann Roof, Roberts described the scene of a mass of people showing up and singing. Unbeknownst to him, it seems, that crowd was at least in part the work of Glenn Beck, who flew down to pray in Charleston and invited people to meet him nearby. Beck can even be seen walking in the background of Roberts' TV shot at one point.
Jonathon, I was unaware it was @glennbeck it was a beautiful moment to witness & report #CharlestonShooting https://t.co/wz799vPN8C

— Thomas Roberts LIVE @5pm FacebookLIVE @GAYGOODNEWS (@Thomas Roberts LIVE @5pm FacebookLIVE @GAYGOODNEWS) 1434745607.0
According to a Periscope livestream being held simultaneously by Beck's staff, a couple hundred people (a rough estimate given by the person doing the livestream) had joined Beck in a nearby park to pray and talk about change. The group then made its way to the church. That seems to coincide exactly with Roberts' emotional play-by-play.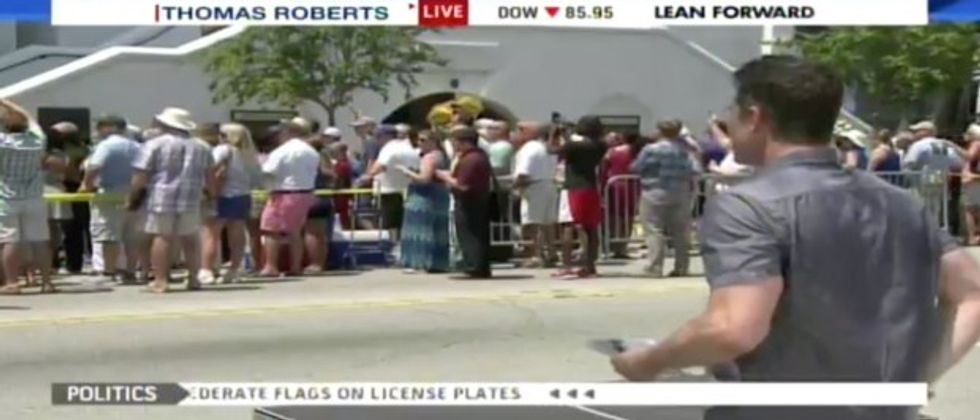 (Source: MSNBC live shot)
"Can we look over here right now. It's kind of heartbreaking," Roberts said, his voice cracking. "They're singing and a whole flood of people showed up at the same time."
"So you're hearing from the family, and then this whole group of people showed up. And they're singing a gospel song. ... I apologize," he said, stopping himself and trying to fight back tears. He's referring to several family members forgiving Roof during his bond hearing.
"But you can see the outpouring of support for his community. It goes all the way down the street of people who showed up at the exact same time that this arraignment was going on," he continued, amazed.
"I'm sorry," he concluded, before a guest stepped in.
If you look at 1:27 in the video below, you can see Beck and his wife walking behind with the crowd (look for the young man in the colorful backwards cap -- his phone was Periscoping the event)*: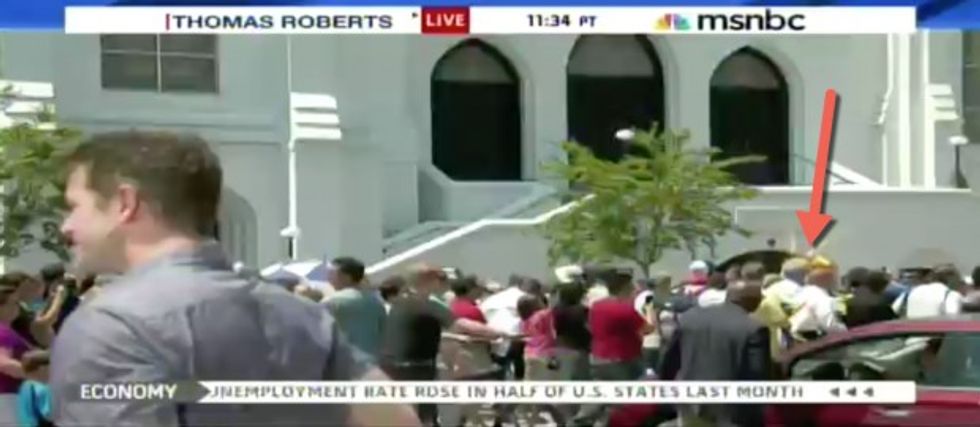 (Source: MSNBC live shot)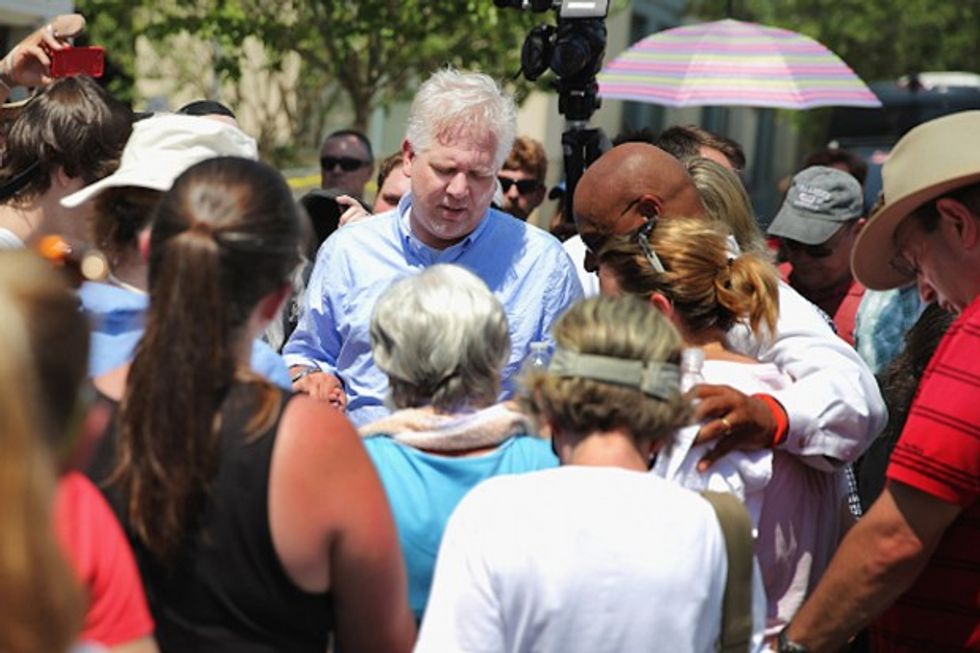 CHARLESTON, SC - JUNE 19: Conservative television and radio personality Glenn Beck leads a crowd in prayer outside the historic Emanuel African Methodist Episcopal Church where nine people were shot to death earlier this week June 19, 2015 in Charleston, South Carolina. Authorities arrested Dylann Storm Roof, 21, of Lexington, South Carolina, after he allegedly attended a prayer meeting at the church for an hour before opening fire and killing three men and six women. Among the dead is the Rev. Clementa Pinckney, a state senator and a pastor at the church, the oldest black congregation in America south of Baltimore, according to the National Park Service. (Photo by Chip Somodevilla/Getty Images)
Watch it below:
*This author was watching the livestream during the entire walk over and time in front of the church.