New video from inside Afghanistan's parliament building in Kabul shows the remarkably calm reaction from one of the nation's top lawmakers the very moment a suicide car bomber blew himself up outside.
At least 31 civilians were injured in the attack on Monday, according to Kabul hospitals spokesman Kabir Amiri.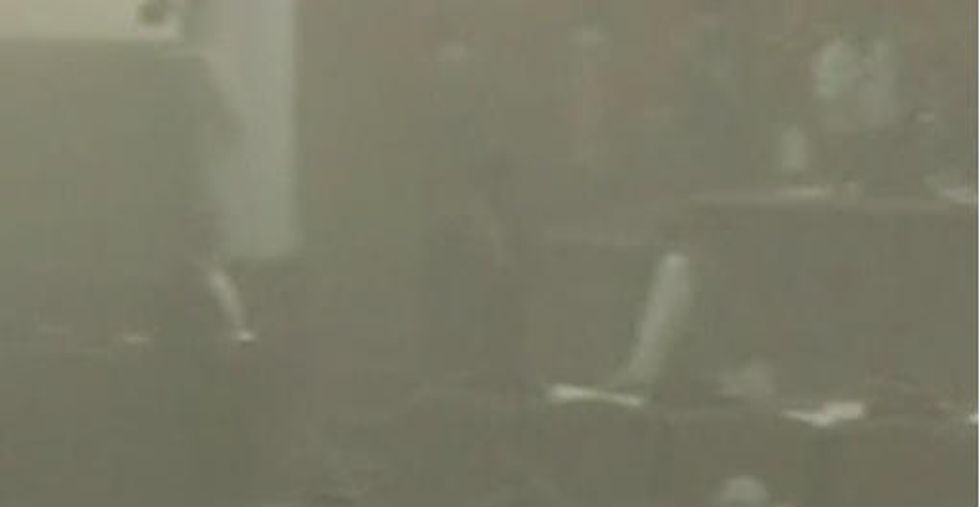 Smoke fills the meeting room of Afghanistan's parliament Monday, June 22, 2015, moments after a Taliban car bomb explodes outside. (Image source: Guardian)
The explosion happened as Afghan lawmakers gathered in the country's capital to vote on the confirmation of defense minister nominee, Mohammad Masoom Stanekzai, the Guardian reported. The Taliban, which has since claimed responsibility for the blast, said it chose the time and location because of the number of high-ranking officials who would be there.
One of those high ranking officials was Afghan parliament speaker, Abdul Rauf Ibrahimi, who was addressing the chamber at the time the bomb went off. But Ibrahimi stayed remarkably calm throughout the violence, even as the building he was in came under attack.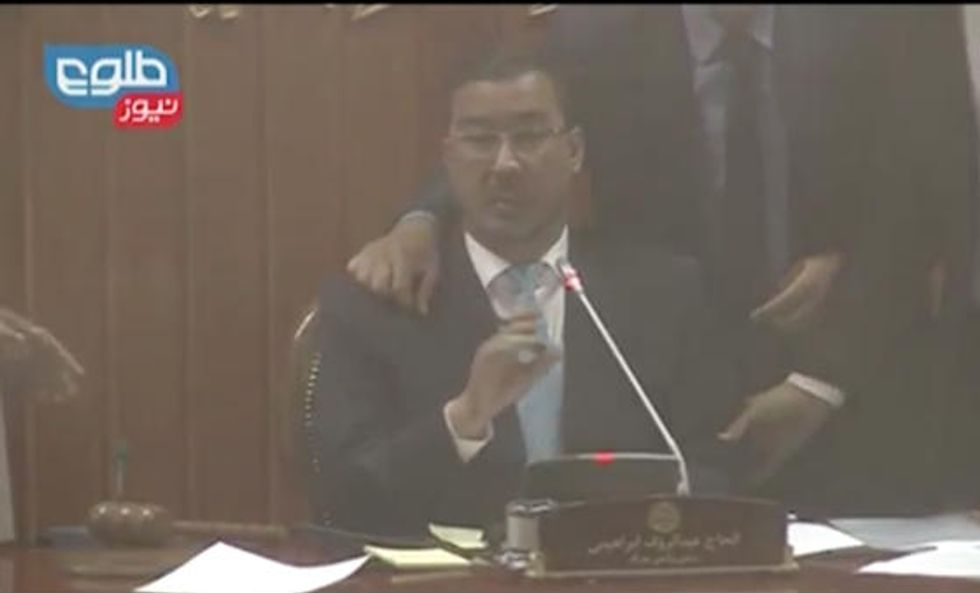 Afghanistan parliament speaker Abdul Rauf Ibrahimi stays remarkably calm just moments after a Taliban car bomb explodes outside. (Image source: Guardian)
"There was dust all over the room. After that, we heard explosions from RPGs and lighter weapons, like Kalashnikovs and machine guns," Mohammad Aref Rahmani, one member of the country's parliament, said.
Moments after the blast, lawmakers retreated into the basement and eventually were able to climb inside armored vehicles and escape to safety, according to Afghan lawmaker Fawzia Koofi.
"The enemies of Afghanistan would like to harm our democracy. We are not armed people, we are just talking," Koofi said.
At least six insurgents tried to storm the building after the explosion. Security forces held them back from entering the building but the insurgents retreated to a nearby empty building and began firing rocket-propelled grenades and machine guns, police spokesman Abdurrahman Rahimi told the Guardian.
Watch the terrifying moment when the blast shook the Afghan parliament:
See more footage here:
(H/T: Guardian)
–
Follow Jon Street (@JonStreet) on Twitter