The phrase "Black Lives Matter" has become the motto of a movement that has grown after the high-profile deaths of many black Americans in the last few years — from Trayvon Martin in 2012 to the recent murder of nine people at a church meeting in South Carolina.
Though #blacklivesmatter can be seen on every social media feed, written in posts and pictured on posters, starting a conversation about racism in the United States today, one study says a conversation isn't the only thing needed to affect positive change.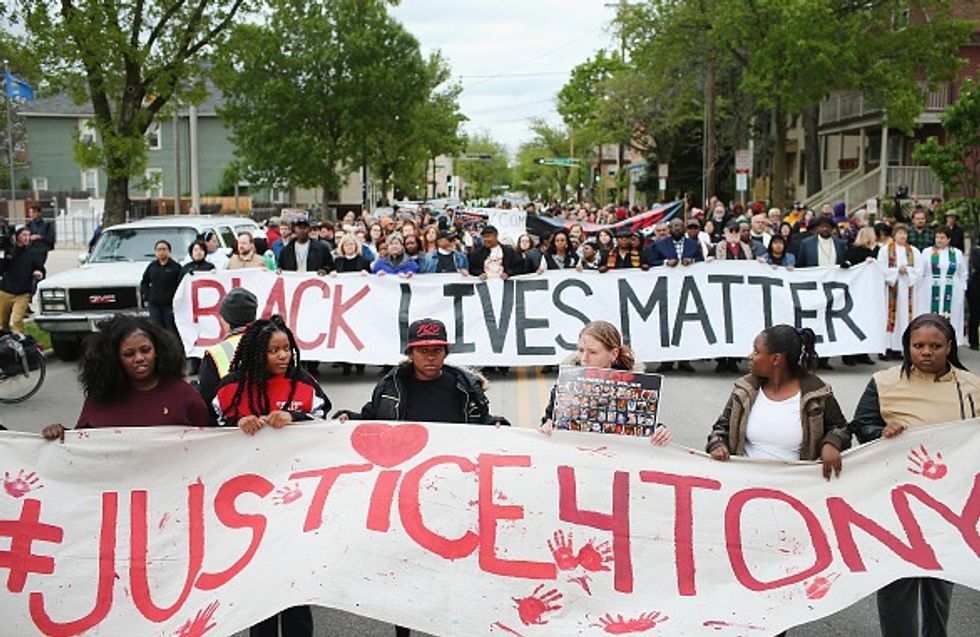 Demonstrators take to the streets in protest after Dane County District Attorney Ismael Ozanne announced there would be no charges filed against Officer Matt Kenny in the shooting death of 19-year-old Tony Robinson on May 12, 2015 in Madison, Wisconsin. Robinson was killed March 6th after Kenny responded to a several calls claiming Robinson was acting disorderly and violent. Kenny claims he was assaulted by Robinson and shot him in self defense. (Scott Olson/Getty Images)
New research suggests that nonverbal communication, such as a simple smile, can have more of a positive impact on improving racial bias to people who are just watching the interaction between two parties.
University of California, Berkeley assistant professor Dana Carney, Harvard University research associate Greg Willard and Princeton University graduate student Kyonne-Joy Isaac conducted four experiments to observe instances of racial bias in nonverbal cues.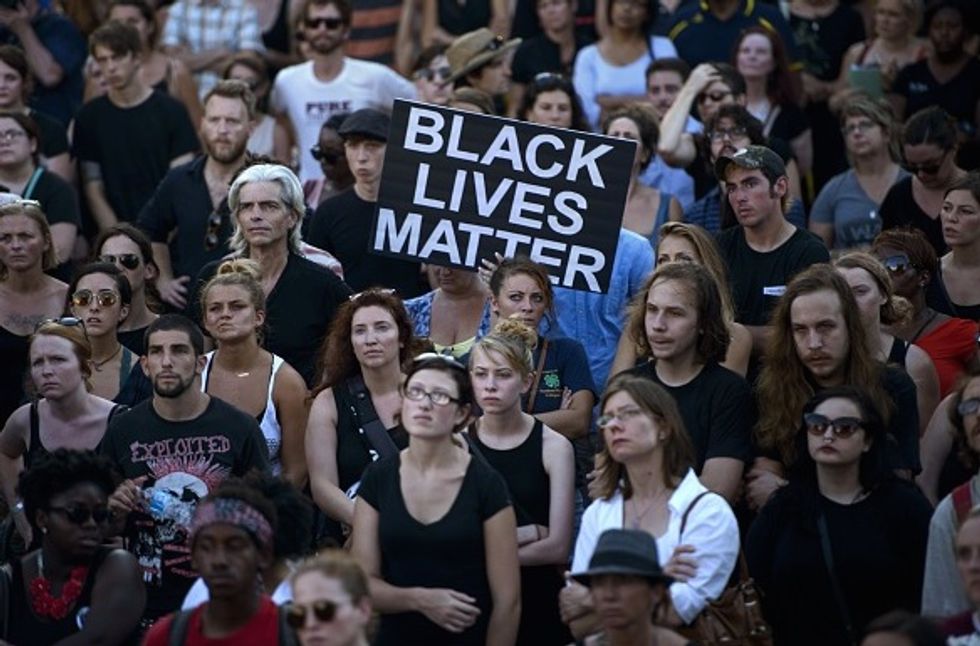 People gather at the Confederate Museum during a protest in Charleston, South Carolina on June 20, 2015. The group gathered to protest violence and discrimination against African Americans as well as the mass shooting at the Emanuel AME Church. A website apparently created by Dylann Roof emerged Saturday in which the accused Charleston church shooter rails against African Americans and appears in photographs with guns and burning the U.S. flag. His arrest warrant revealed how on June 17 he allegedly shot the six women and three men, aged 26 through 87, multiple times with a high-caliber handgun and then stood over a survivor to make a 'racially inflammatory' statement. (BRENDAN SMIALOWSKI/AFP/Getty Images)
"Prejudice is often less overt," Carney said in a statement. "It manifests often as micro acts of aggression. What is hopeful is that our study also indicates that positive behavior toward different social groups can be contagious."
The researchers had people watch different videos showing different interactions involving black Americans and judged how it impacted their own racial bias.
Here are more details:
 Observers of micro-positive behavior toward a black American subject formed more positive impressions.

 Observers of micro-positive behavior toward a black American subject adopted fewer racial stereotypes.

 Observers of micro-positive behavior toward a black American subject were found to have less racial bias towards black Americans in general.

 Observers must also be aware that negative social behavior is being directed toward a black person in order to produce a pro-black bias outcome.
According to the university's news release, this "micro-positive" behavior includes something as small as smiling, making longer eye contact and standing closer together.
Study participants who observed videos showing these types of positive behaviors toward a black American said they were more likely to want to be friends with this person, compared to those who watched videos showing "micro-aggressions," which consisted of less smiling, averting gaze and leaning away.
"Results suggest that nonverbal expressions of racial bias affect more than simply the actor and target — they affect passive, naive observers," the authors wrote. "The good news, however, is that the same is true of pro-black bias."
This study was published in the journal Organizational Behavior and Human Decision Processes.