The loud bangs, pops and sizzles of fireworks might start up in some neighborhoods as early as Thursday night, as many people will be off Friday in honor of the Fourth of July holiday that falls on Saturday.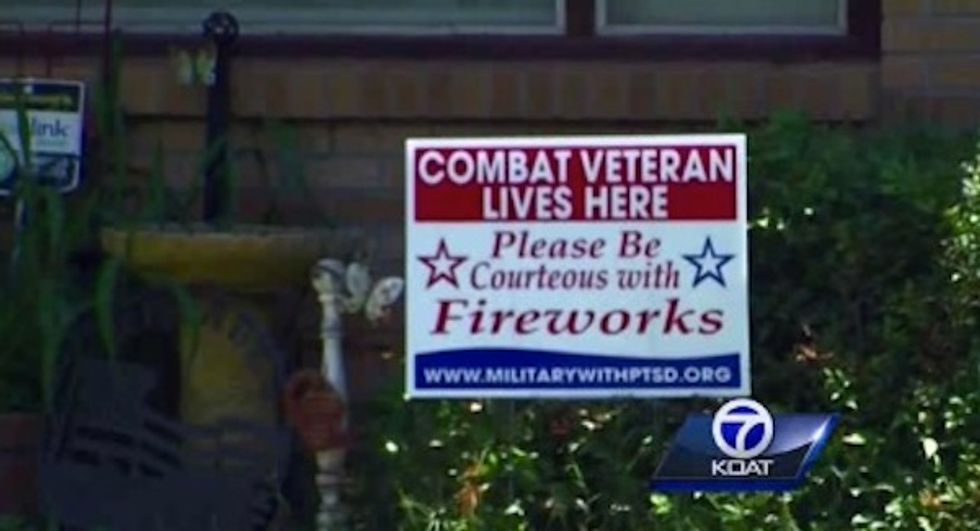 Image source: KOAT-TV
And while a long weekend to revel in America's 239th birthday might seem like a blast for some, others are asking firework junkies to limit their explosives to only one day.
Veterans are renewing calls for courtesy during Independence Day celebrations, reminding people that unexpected loud explosions can trigger post-traumatic stress disorder episodes.
"There's some people around here that will throw those great big ones up in the air and go 'boom!' That will be bring back some memories," Rod VanOeveren, a former Marine Corps sergeant who served in the Vietnam War, told WOOD-TV.
"I talked to [a vet] today who said he's going to close his windows, turn up his stereo and shut out the world until it's over," veterans advocate Catherine Kooyers told WOOD.
Some vets are putting signs in their yard asking neighbors to "be courteous with fireworks." The signs, created by the organization Military With PTSD, were distributed to veterans last month and were so popular, there was a waiting list for them.
Watch this report from KOAT-TV about the awareness campaign:
"It lets your neighbors know that you're not just a cranky old S.O.B," Vietnam veteran Doug Whipkey told KATV-TV.
Military With PTSD was inspired to create the signs after Army veteran Jon Dykes posted a picture onto the organization's Facebook page last year, sparking a viral discussion on how fireworks can affect service members with PTSD.
Now, veterans around the country — news about it is being shared in Michigan, Las Vegas, Arkansas, Alabama and Colorado, just to name a few — are asking for a little sensitivity. Some other local advocacy groups made their own signs as well.
"It's the unexpected sounds, because they sound just like bombs or gunfire," Steven Diaz, who is a Purple Hear recipient, told WLTX-TV. "One of the main weapons used in Iraq and Afghanistan is the IED, the improvised explosive device, which is something that you never know when its gonna happen. You never know when its gonna blow up. And when it does, it makes us react."
When it comes to setting off fireworks if you live near a veteran, Diaz suggested people just let them know ahead of time.
"Find the veterans who are in your neighborhood or in your apartment complex," Diaz said. "Let them know that you're going to shoot fireworks. Ask them if they want to join. If they don't want to that's OK, maybe they're not in a place in their recovery where they're ready to do that. But let them know when you're going to do it. Don't shoot them past certain times at night. Get rid of all of them that night of the Fourth, don't shoot them the next day."
Military With PTSD was not immediately available to respond to TheBlaze's request for comment on the awareness campaign.
—
Front page image via Shutterstock.