Self-proclaimed socialist Sen. Bernie Sanders can hardly be written off after attracting a whopping 10,000 supporters at a campaign event in Madison, Wisconsin, Wednesday — and casting more than a little doubt on Hillary Clinton's shoo-in status for the Democratic presidential nomination.
The 10,000-strong crowd is the largest for any 2016 candidate so far.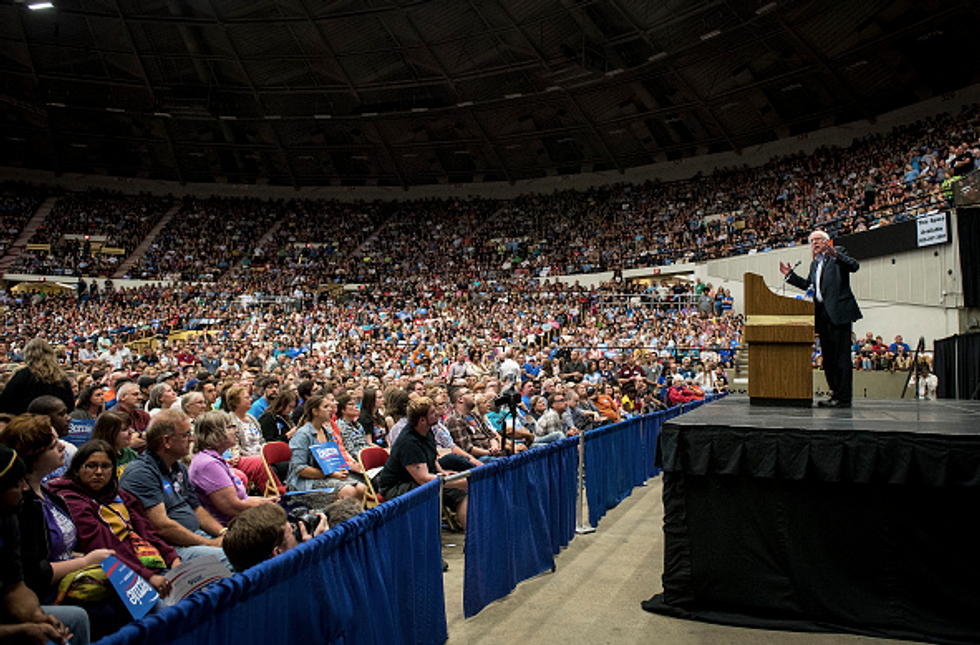 Vermont independent senator and 2016 Democratic presidential candidate Bernie Sanders speaks during a campaign rally in Madison, Wisc., Wednesday, July 1, 2015. (Christopher Dilts/Bloomberg via Getty Images)
"In case you haven't noticed, there are a lot of people here," Sanders said. "Tonight we have more people at a meeting for a candidate for president of the United States than any other candidate has had in 2016."
Sanders' hour-long address had the crowd cheering as Sanders promised to deliver a progressive buffet of benefits to all Americans, including free college tuition, single-payer health care, paid vacations and higher wages.
The large crowd in the liberal college town was just the latest in a series of Sanders campaign events that packed arenas in Colorado, Denver and Vermont.
Wednesday's event came on the heels of polling gains for Sanders — a recent survey of New Hampshire voters had him just 8 points behind Clinton in the early-voting state.
Next Monday, Sanders will speak in Portland, Maine, at an event originally booked as a "town hall" in a small venue. The location was changed to a local hockey arena after more than 3,000 people RSVP'd within 24 hours.
Still, Clinton remains at the top of the polls and her campaign is expected to report raising a record $45 million in primary dollars since April. Despite having an impressive number of donors — over 200,000 — Sanders has raised just $8 million.
Sanders ended his Wednesday night rally addressing the money issue, telling his fans, "At the end of the day, they may have the money, but we have the people. And when the people stand together, we can win."
—
Follow Mike Opelka (@Stuntbrain) on Twitter