WASHINGTON (TheBlaze/AP) — Republican presidential candidate Jeb Bush says he is personally offended by rival Donald Trump's recent remarks about Mexico and immigrants and calls the remarks far outside the mainstream of Republican thought.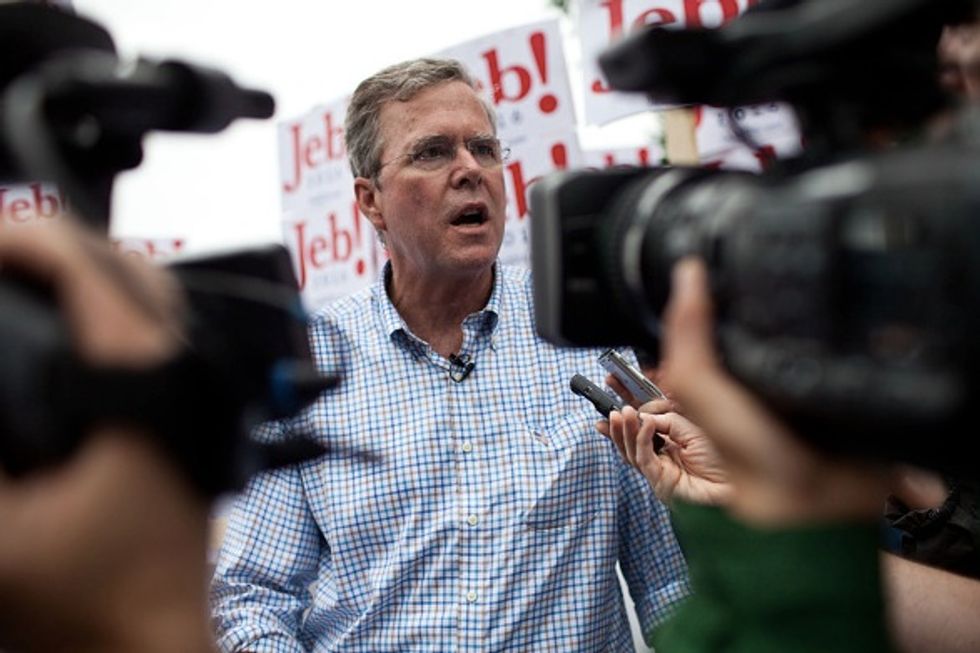 Republican Presidential candidate Jeb Bush speaks to the press at the Fourth of July Parade in Merrimack, New Hampshire. (Image source: Kayana Szymczak/Getty Images)
"I don't think he represents the Republican Party, and his views are way out of the mainstream of what Republicans think," Bush told reporters after marching in Fourth of July parades in Amherst and Merrimack, New Hampshire.
"No one suggests that we shouldn't control our borders — everybody has a belief that we should control our borders," he said. "But to make these extraordinarily ugly kind of comments is not reflective of the Republican Party. Trump is wrong on this."
Bush's wife was born in Mexico, and when he was asked if he took Trump's remarks personally, he responded: "Yeah, of course. Absolutely. And a lot of other people as well."
When Trump announced his presidential bid last month, he criticized Mexico and immigrants who come to the U.S. illegally. "They're bringing drugs," he said. "They're bringing crime. They're rapists."
In spite of earlier criticism from Bush and other Republicans and companies moving to cut business ties to Trump, the real estate mogul has defended his remarks.
UPDATE 10:35 p.m. ET: Trump on Saturday offered the following response to Bush:
I am very proud to be fighting for a strong and secure border. This is a very important issue, which all the other candidates would have ignored had I not started this important discussion. I will fix the border — no one else knows where to begin.

Today, Jeb Bush once again proves that he is out of touch with the American people. Just like the simple question asked of Jeb on Iraq, where it took him five days and multiple answers to get it right, he doesn't understand anything about the border or border security. In fact, Jeb believes illegal immigrants who break our laws when they cross our border come "out of love."

As everybody knows, I never said that all Mexicans crossing the border are rapists. Jeb is mischaracterizing my statements only to inflame. As seen with the tragic and unnecessary death of Kathryn Steinle this past week in San Francisco at the hands of an illegal immigrant who was previously deported five times, our unsecured border is a national security threat.

Jeb will never be able to secure our border, negotiate good trade deals, strengthen our military or care for our veterans. The biggest difference between Jeb and me on the border is that I believe in securing our border by building a wall, which will protect our safety, economy and national security. This is a vital step in Making America Great Again!
—
Follow Dave Urbanski (@DaveVUrbanski) on Twitter