As the national debate over flying the Confederate flag intensifies since last month's massacre at a South Carolina black church, other symbols are being criticized by detractors for signifying injustices of all sorts.
You can add the municipal seal for the village of Whitesboro, New York, to that list.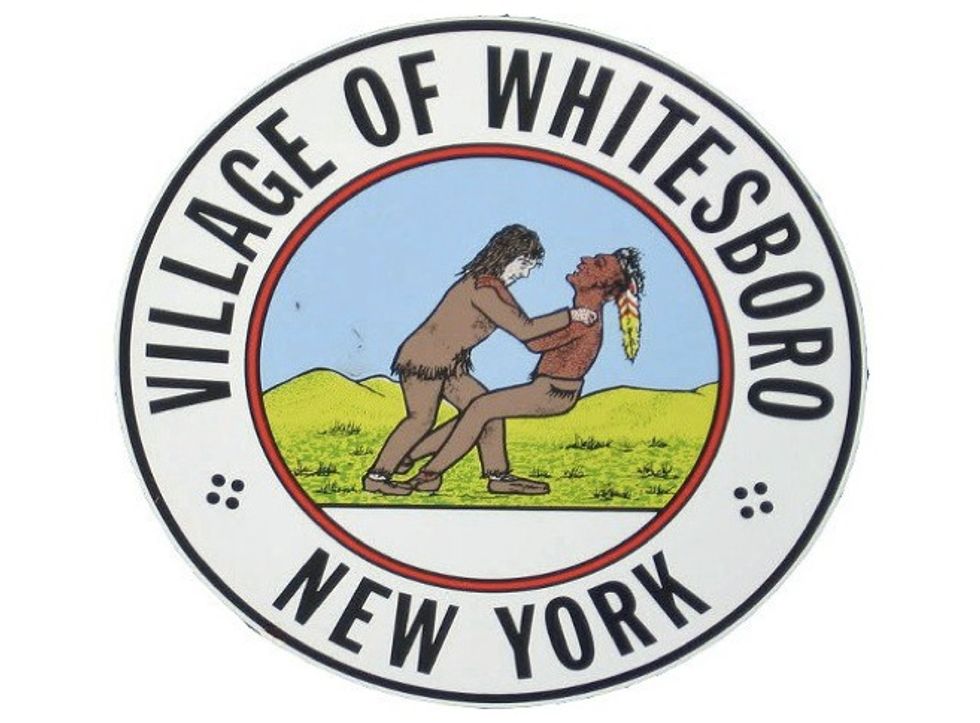 Image source: Addicting Info
The seal depicts Hugh White — founder of the village about halfway between Syracuse and Albany — pushing down an American Indian in a field. Describing the origins of the artwork, the Whitesboro website calls it "a friendly wrestling match that helped foster good relations between White and the Indians."
The Whitesboro website added that "Judge White, as a frontier settler along the Sauquoit Creek, was required to exercise much diplomacy in dealing with his red neighbors." When he was challenged to a wrestling match by an Oneida chief, the website said White had no choice.
"White dared not risk being brow beaten by an Indian nor did he want to be called a coward. In early manhood, he had been a wrestler, but of late felt he was out of practice," the website said. "He felt conscious of personal strength and he concluded that even should he be thrown, that would be the lesser of two evils in the eyes of the Oneida Indians than to acquire the reputation of cowardice by declining."
After White's win, the defeated chief "was said to have muttered 'UGH, you good fellow too much'" and White "became a hero in the eyes of the Oneida Indians."
But the artwork for the town founded in 1788 hasn't fostered friendly reactions of late.
"The first thought that anyone has of this image is, 'There's some white guy killing an Indian, strangling an Indian?'" Cliff Matias, director of the Redhawk Native American Arts Council in Brooklyn, told the Village Voice. "It's saying, 'Well, they didn't just conquer and defeat the people, but they also beat them in a wrestling match.' It's utterly ridiculous that a town would have pride in a symbol like that in this day and age."
A change.org petition started two weeks ago calls for Whitesboro to deep-six the seal — which appears on municipal vehicles, highway equipment, documents and letterhead, the Voice said — and attracted nearly 400 supporters as of Wednesday afternoon.
This isn't the first time a Whitesboro seal has come under fire. In fact the village was sued over it by an American Indian organization in the 1970s, according to the Utica Observer-Dispatch.
That suit was over a previous version of the image, which the village historian said showed White's hands by the American Indian's neck — and White's adversary apparently closer to the ground: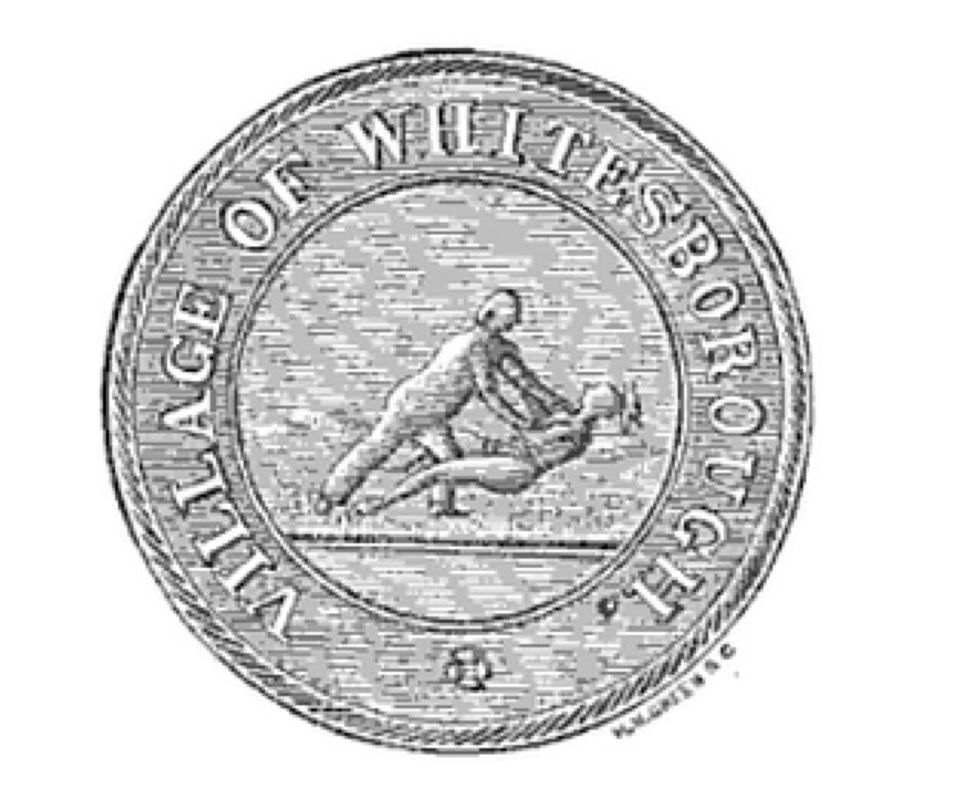 Image source: Twitter
So the village altered the image so White's hands are closer to the American Indian's shoulders.
"I am aware that people are upset about it," Whitesboro mayor Patrick O'Connor told the Voice. "Some have reached out directly to me through my village email. And if they looked at the seal and went with an opinion based solely on what they're looking at, I could understand why people would have concern about it. But, [as with] everything else, I think you have to take all the facts into consideration. And if people take the time to do that and they reach out to us, or they do the research themselves, it's actually a very accurate depiction of friendly wrestling matches that took place back in those days."
Matias doesn't agree.
"I think that in America there's a certain nostalgic sort of idea that's been created about Native Americans, particularly in places where there aren't large populations or communities," Matias told the Voice. "This has become this absolutely ridiculous idea that by using a Native American it's talking about strength and honor."
Despite frequently effective social justice campaigns on Facebook and Twitter, it appears that Whitesboro officials aren't about to have the emblem redesigned.
"It's equally as big a deal to the people that have called Whitesboro home over the course of the last 200 years," O'Connor added to the Voice. "I would argue that you will find supporters to change the seal and you will find supporters to keep the seal. It absolutely is not meant as a sign of disrespect, and, as you look at the seal in totality, with the story that the seal represents, I don't believe that it's offensive."
Matias holds a different belief.
"Let's take off all the whitewash and get down to the nitty-gritty of this thing," Matias said the paper. "We know, they know, and everyone else knows that this symbol is absolutely preposterous. It's racist in every sense of its form, and the use of it is ridiculous."
(H/T: Addicting Info)
This story has been updated.
—
Follow Dave Urbanski (@DaveVUrbanski) on Twitter