In his first comments on the agreement over Iran's nuclear program, Hezbollah leader Hassan Nasrallah said that for his group, the U.S. continues to be the "Great Satan."
"The United States remains the 'Great Satan,' both before and after the nuclear accord," Nasrallah said in a speech on Saturday, invoking the derogatory description that's been used by Iranian leaders for nearly four decades.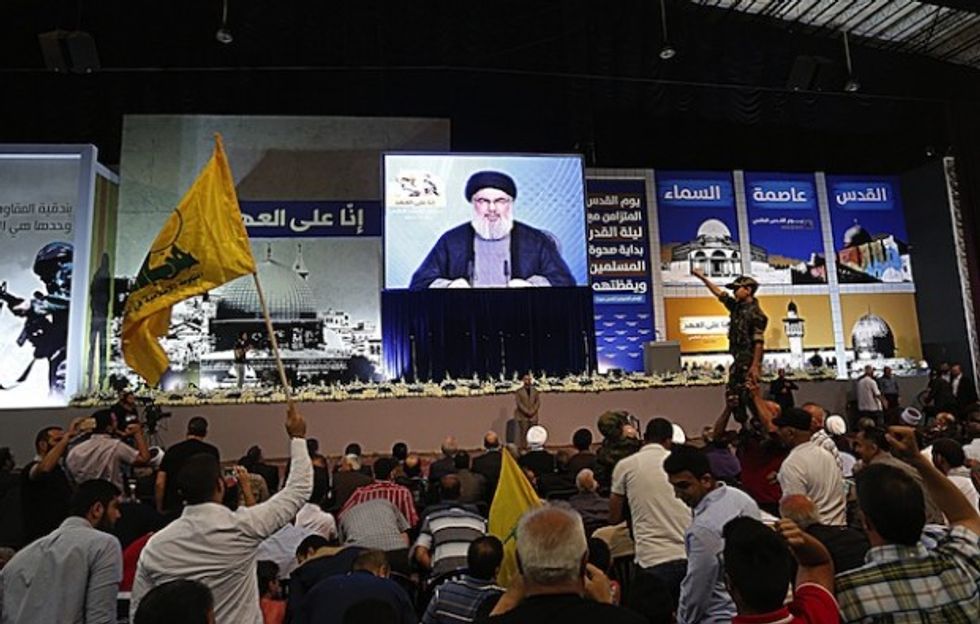 Hezbollah leader Hassan Nasrallah (screen) delivers a televised speech from an undisclosed location during a ceremony in Beirut marking Al Quds (Jerusalem) Day in solidarity with the Palestinian people on July 10, 2015. (Anwar Amro/AFP/Getty Images)
Nasrallah insisted that Iran would continue to support Hezbollah even after the agreement that was sealed earlier this month with the U.S. and five world powers.
"Did Iran sell its allies down the river during the nuclear talks? No, there was no bargaining" between Iran and the U.S., Narallah said according to Al Arabiya.
Nasrallah pointed to comments made last week by Iranian Supreme Leader Ayatollah Ali Khamenei pledging continued support for the Lebanese Shiite group.
Khamenei "reiterated Iran's position on the resistance movements and its allies, and Hezbollah occupies a special place among them," Nasrallah said Saturday.
In a speech last weekend, Khamenei emphasized that Iran would continue to support its Middle Eastern allies.
"The Islamic Republic of Iran will not give up support of its friends in the region — the oppressed people of Palestine, of Yemen, the Syrian and Iraqi governments, the oppressed people of Bahrain and sincere resistance fighters in Lebanon and Palestine," Khamenei said.
The top Iranian leader also said that Iranian policy towards the "arrogant U.S. government " would not change as a result of the nuclear deal.
Israeli Prime Minister Benjamin Netanyahu last week pointed to Iran's vow to continue to support its terrorist proxies as one reason he believes the agreement spearheaded by President Barack Obama is a bad deal.
"The Iranians aren't even trying to hide the fact that they will use the hundreds of billions that they will receive under this agreement in order to arm their terror machine, and they are clearly saying that they will continue their struggle against the U.S. and its allies, first among them being Israel, of course," Netanyahu said.
"Today Iran is arming terrorist organizations with missiles — tomorrow they will have the ability to arm them and themselves with much deadlier weapons," Netanyahu added.