A Jewish community near San Antonio, Texas, is reeling after waking up to swastikas and slurs spray-painted all over the neighborhood around a synagogue.
Swastikas, the word "Jew" and the letters "KKK" were tagged on fences, signs and dozens of cars.
"[We are] saddened and outraged," Howard Feinberg, a board member at Rodfei Sholom Congregation, told the San Antonio Express-News. "When we were finishing our morning prayers around 7 a.m., we became aware that in the neighborhood around our synagogue, there was a lot of graffiti of the anti-Semitic and racial nature."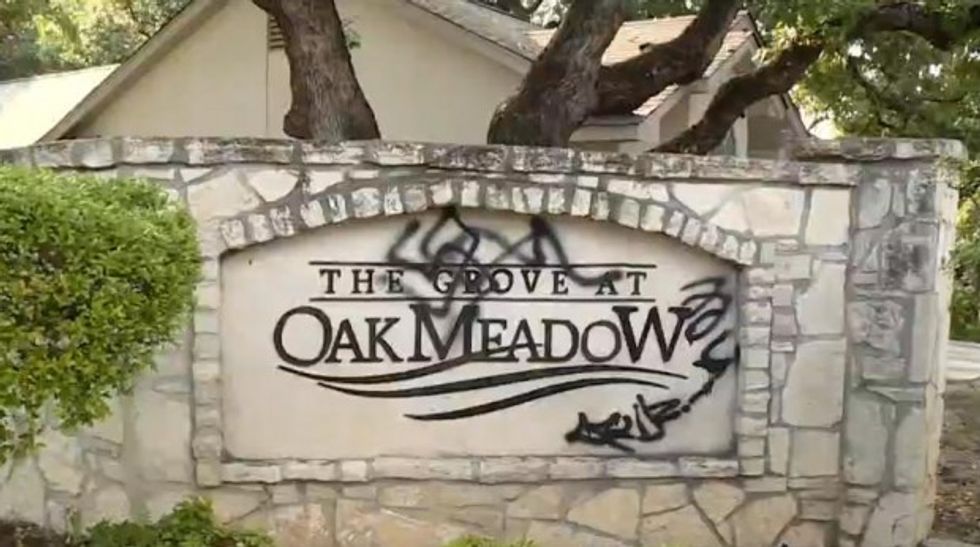 Image source: KENS-TV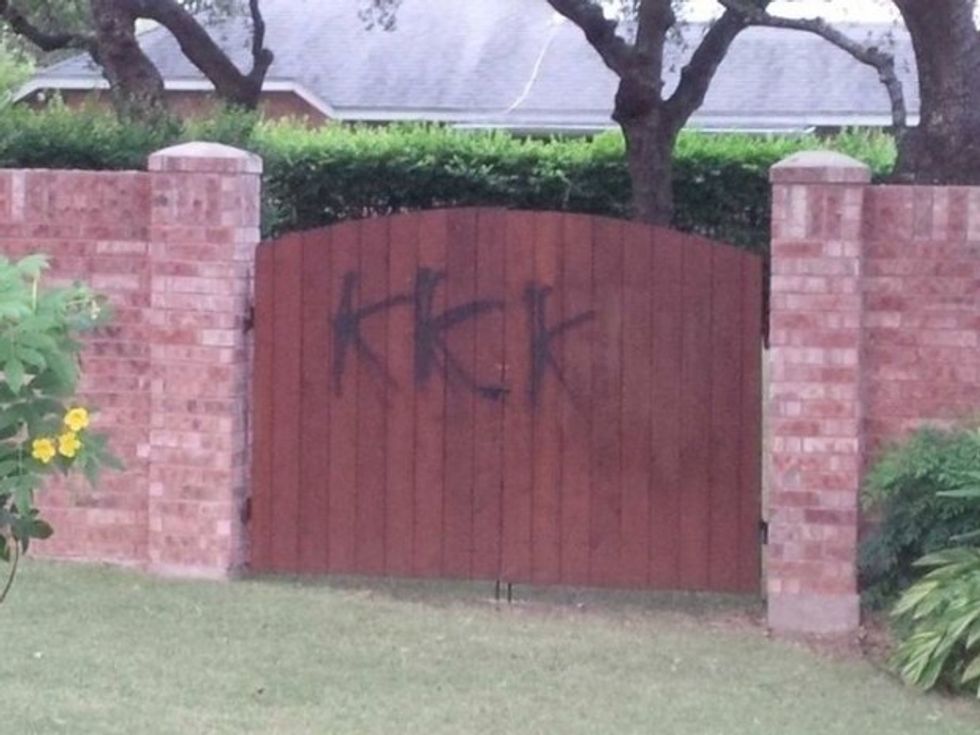 Image source: KENS-TV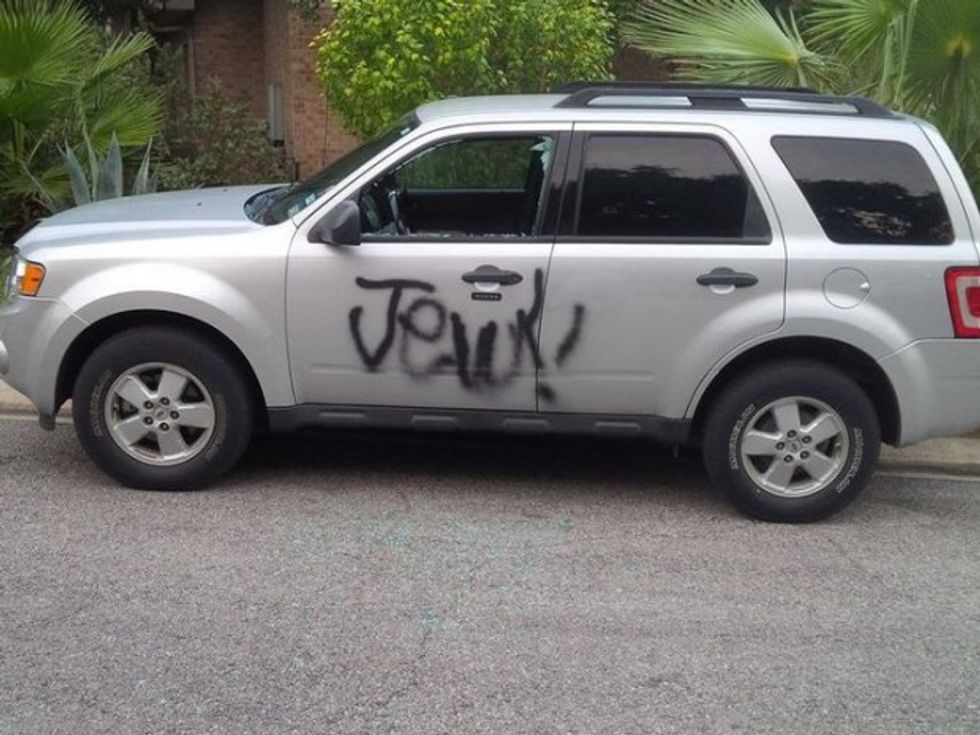 Image source: KENS-TV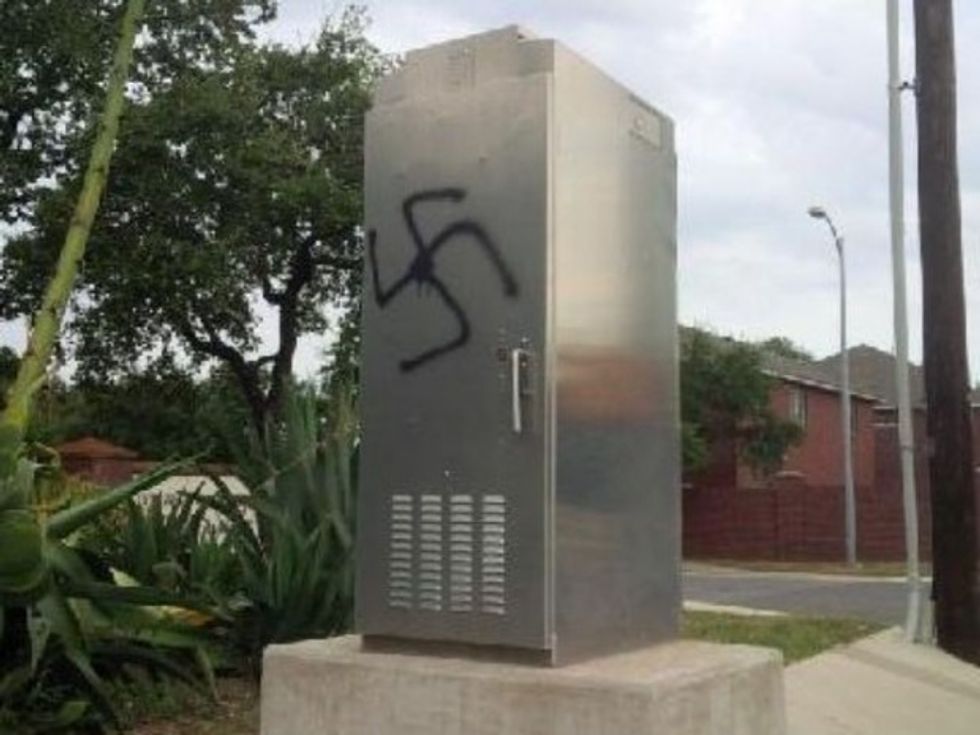 Image source: KENS-TV
The San Antonio Police Department said about 30 cars and buildings were vandalized. The FBI contacted the Jewish Federation of San Antonio and is investigating it as a potential hate crime.
No suspects have been named.
"The FBI takes allegations of potential hate crimes very seriously and will not tolerate this type of criminal activity and intimidation directed toward members of our Jewish community," FBI special agent Michelle Lee told the Express-News.
Rabbi Arnold Scheinberg said his congregation was leaving after morning services and first noticed that a rock had been thrown through the window of one of the parked cars.
They then saw the extent of the vandalism that had taken place while they were inside the synagogue.
"This is where we walk our children for learning, for synagogue, where families congregate and gather to strengthen their relationship with God and with one another," board member Winslow Swart said.
It's the first reported anti-Semitic crime to take place in San Antonio in the past two years, according to the Anti-Defamation League, which tracks such incidents.
Dena Marks, associate director for ADL in Houston, said these types of situations are not uncommon in the U.S., but said this particular incident appears to be on a much larger scale than what is normally reported.
The Anti-Defamation League reported a total of 912 anti-Semitic incidents nationwide in 2014, an increase of 21 percent from the year before.
(H/T: My San Antonio)
–
Follow Jon Street (@JonStreet) on Twitter