Sen. John McCain (R-Ariz.) and Arizona Gov. Doug Ducey Friday visited the Navajo Nation reservation's capital Window Rock to celebrate the Native Americans whose indecipherable language helped keep messages secret from enemies during World War II.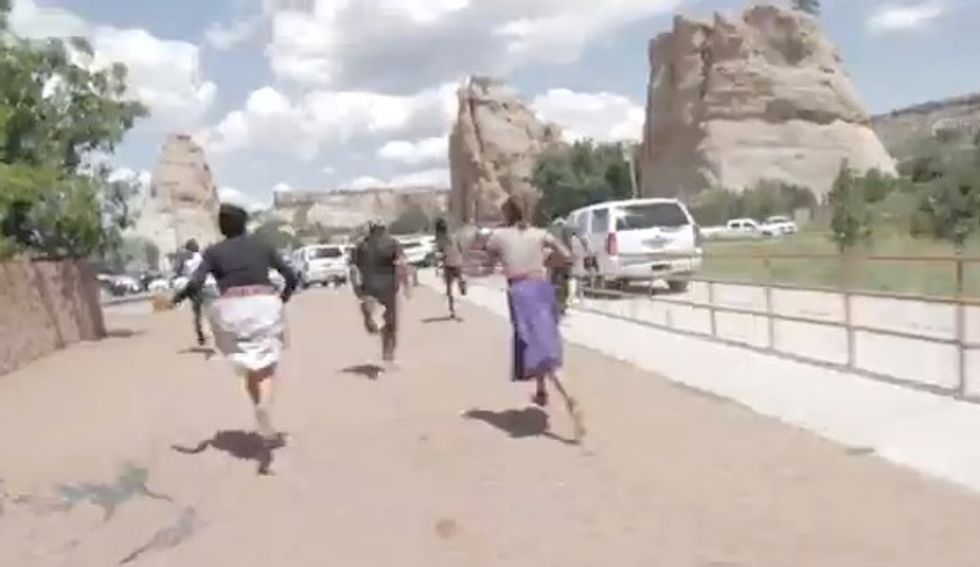 Protesters ran after SUVs that some said included one for Sen. John McCain, chasing them from the Navajo Nation Museum. (Image source: YouTube)
The event though was met by a protest regarding the federal government's response to a toxic spill into rivers considered a lifeline for reservation and halted use of water for residential and agricultural use.
According to Native News, McCain and Ducey met with Navajo Nation President Russell Begaye and Vice President Jonathan Nez to discuss the creation of a Navajo Code Talkers Museum.
But the recent spill of millions of gallons of contaminated wastewater into the Animas and San Juan Rivers by a contractor doing work for the U.S. Environmental Protection Agency ended up being the focus for the tribal leaders.
"I keep saying when are we going to hear from the White House? Not a word," Begaye said, according to Native News. "When somebody wins the Super Bowl or an NBA Championship, they get a call, right? And when something like this happens and people are suffering, nothing."
"This is just one mine out of hundreds and there's no Superfund designation," Vice President Nez said. "Right now, we don't trust the U.S. EPA's data and their collection."
Video purports to show protesters "chasing McCain off the Navajo Nation" while they yelled "get off our land."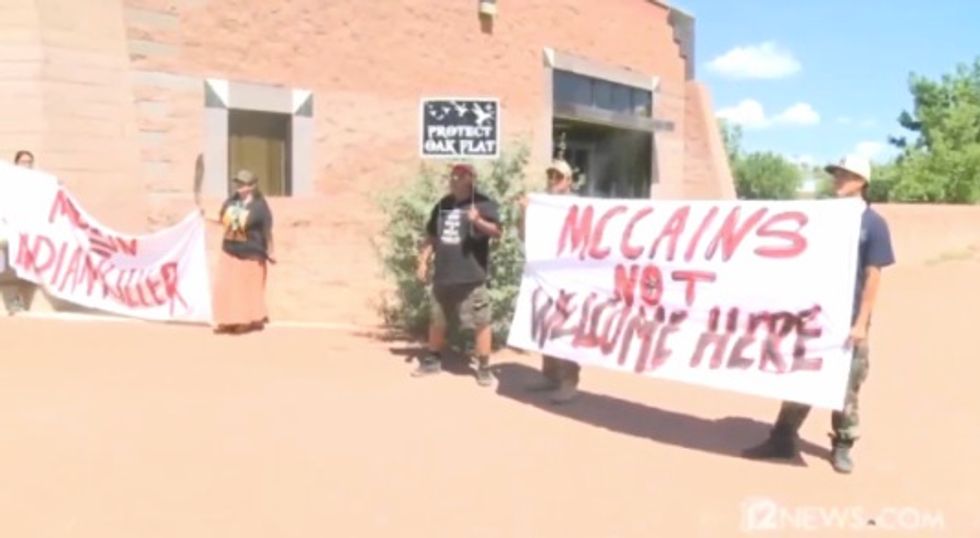 Protesters held anti-McCain signs outside the museum. (Image source: KPNX-TV)
Protesters gathered at a closed side door in the museum, held shut by officials, but they eventually broke through and were met by other law enforcement agent who temporarily held them back from SUVs. As the vehicles drove off, the protesters ran in pursuit (Content warning: strong language):
Dusty's Navajo Political Sphere, a man's Facebook account that includes political and community news from the Navajo Nation, wrote that 60 or so protesters went after McCain and Navajo Nation leaders when they went to "attend a secret meeting."
"There are a lot of things on the Navajo Nation that our groups large and small are going to tackle. We cannot trust our Government, so we will make things right, ourselves," Dusty's Navajo Political Sphere wrote. 
KPNX-TV reported that protesters held signs that read "McCain = Indian Killer" and "McCain's Not Welcome Here" as they stood outside the museum. The news station recorded a woman shouting "No making deals behind closed doors ... we need our water."
Watch KPNX's report:
EPA Administrator Gina McCarthy said the agency takes full responsibility and is working on testing to understand the full impact of the spill from the Gold King Mine in Silverton, Colorado, and how it originated in the first place.
Speaking with NPR over the weekend, McCarthy, in response to being asked about how the agency would respond to such a situation if a private company were at fault, said "we are holding ourselves to a higher standard than we would hold other responsible parties."
On Friday, federal officials said initial tests on sediments collected downstream of a mine waste spill show no risk to people using Colorado's Animas River.
Officials said concentrations of metals including lead, thallium, silver and antimony had increased since 3 million gallons of contaminated wastewater spilled from the inactive mine on August 5. But David Ostrander with the EPA contamination levels still were too low to be a concern. Testing included downstream of the spill site to north of the city of Durango.
Outside experts warn that any contamination in the sediments could be stirred up by future flooding, posing a risk to human health and the environment. Tribal leaders with the Navajo Nation have expressed this concern as well.
Recreational use of the Animas and San Juan Rivers reopened Friday.
—
The Associated press contributed to this report.  This story has been updated to correct a typo.