Wisconsin Gov. Scott Walker on Tuesday unveiled his plan to repeal Obamacare, replacing it with a plan that grants more power to the states, continues tax credits and reforms Medicaid, while nudging Republicans in Congress that might be reluctant to repeal the law.
"On my first day as president, I will send legislation to the Congress that will repeal Obamacare entirely and replace it in a way that puts patients and their families back in charge of their health care – not the federal government," Walker said at the Cass Screw Machine Products Company in Brooklyn Center, Minnesota.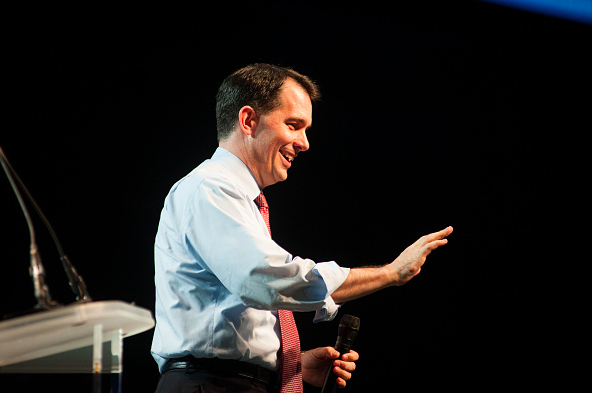 Pheo Stroomer/Getty Images
Also on his first day in office, Walker vowed to issue an executive order reversing an Obama administration decision granting exemptions for members of Congress and their staff.
"The great way to motivate the Congress and pass the reforms we are talking about is to make sure they have to live under the same Obamacare rules as the rest of America has been put under over the last three years," Walker said to applause. "On my very first day, I will issue an executive order that will pull back on the special deal that President Obama provided for Congress. … I think once they are susceptible to the Obamacare premium increases that so many Americans have been under over the last few years, I have a pretty good idea, that's going to light a fire under Congress to get things moving right away."
In 2013, the Office of Personnel Management allowed members of Congress and their staff to continue receiving Federal Employees Health Benefits Plan coverage, even though language in the Affordable Care Act required them to go on exchanges created under the law. An OPM reversal, through a Walker executive order, would require members of Congress and highly paid staff to buy health insurance on the exchange.
Walker again took a shot at the Republican Congress for lack of action.
"Republicans have been in charge of both houses of Congress since January and there still isn't a bill on the president's desk to repeal Obamacare," Walker said. "Let me be perfectly clear. Americans want more than campaign promises, they want results. Actions speak louder than words. I get it."
He said he has talked with Republicans in Congress about this plan, naming Utah Sen. Mike Lee, and Reps. Paul Ryan of Wisconsin and Tom Price of Georgia.
Walker is the first Republican presidential candidate in 2015 to release a detailed health care plan. One of his opponents, Louisiana Gov. Bobby Jindal, presented a detailed proposal in 2014. Jindal immediately blasted Walker's plan for being a "cradle to grave" plan similar to Obamacare.
The Walker plan includes numerous tax credits similar to Obamacare, while also calling for reforms to insurance rule cover those with a pre-existing condition. It would cover pre-existing conditions by increasing insurance portability between jobs, providing federal aid to states for assisting those with a pre-existing condition. The plan would also reform insurance coverage laws.
The Walker plan's sliding scale for tax credits would be based on age rather than income, as is the case with Obamcare. Non-adults would get subsidies of $900 for insurance; 18- to 34-year-olds would get $1,200, increasing to $2,100 for those 35 to 49 and $3,000 for those agest 50 to 64. Americans who are 65 and older are eligible for Medicare.
These tax credits are for those not getting health insurance through their employer, but also to encourage people to buy insurance outside of their work that might better fit their needs.
Walker asserted it is a conservative pro-growth plan.
"By repealing Obamacare, we are getting rid of the spending and taxes and this ends up being a tax cut of $1 trillion," Walker said. "That's one of the biggest, pro-growth, economic tax plans we've had in 40 years."