SANTA CLARA, Calif. (TheBlaze/AP) — Jarryd Hayne joined the San Francisco 49ers this past spring with a daunting task of making the transition from rugby league star back home in Australia to NFL newcomer across the world.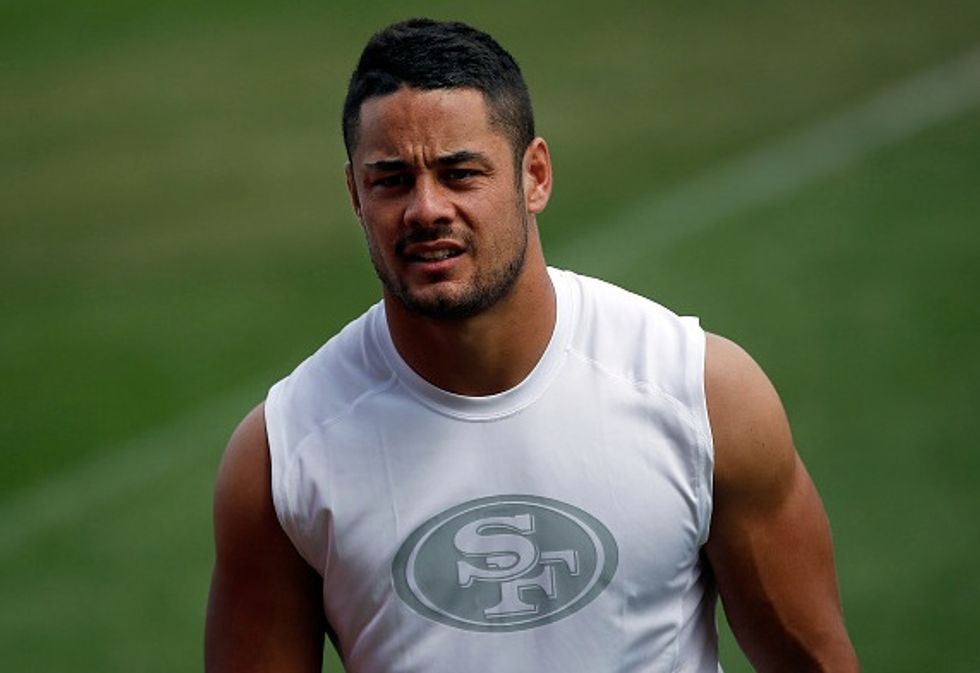 Jarryd Hayne #38 of the San Francisco 49ers leaves the field following a joint training session with the Denver Broncos at the Broncos Training Facility on August 27, 2015, in Englewood, Colorado. (Doug Pensinger/Getty Images)
The 27-year-old rookie return man made good on his goal nearly a year after leaving his old sport to chase an American football dream, and his quest captivated a country more than 7,000 miles away.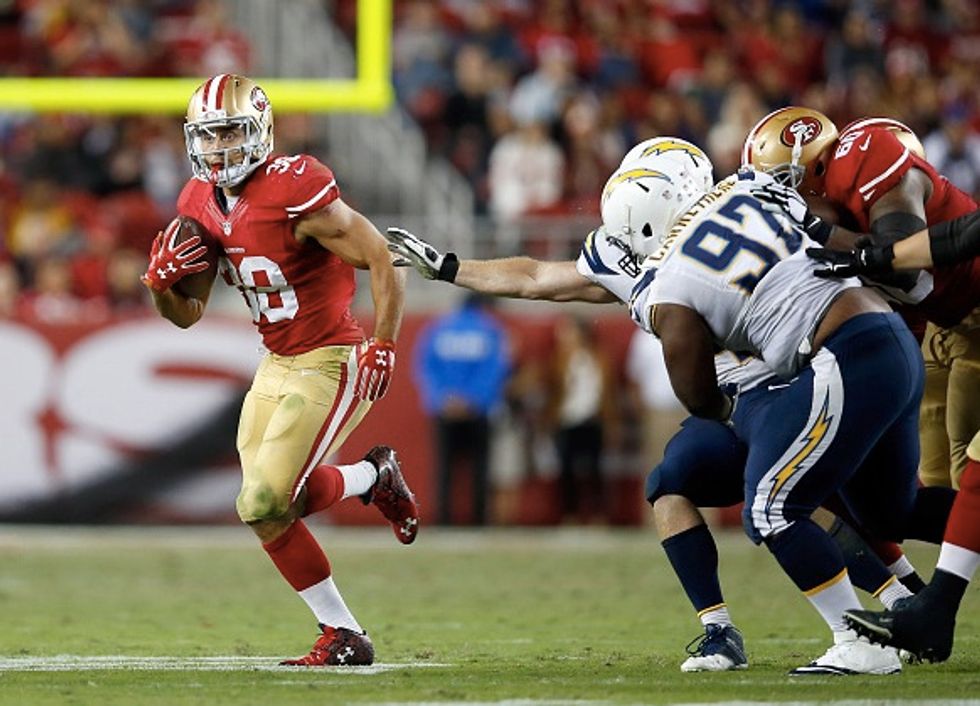 Jarryd Hayne #38 of the San Francisco 49ers runs with the ball against the San Diego Chargers during their NFL preseason game at Levi's Stadium on September 3, 2015, in Santa Clara, California. (Ezra Shaw/Getty Images)
Hayne said Saturday on Twitter he made the cut with the 49ers, earning a spot on their 53-man roster as coach Jim Tomsula finalized his team heading into the regular season. The roster was announced by the 49ers on Saturday.
"IT ALWAYS WORKS OUT! I thank GOD for WHAT HE has done and going to do on this incredible journey!! I'm on the 53 MAN ROSTER FOR THE #49ers," Hayne wrote on Twitter to his 153,000 followers.
Call him the Hayne Plane or the Hayne Train, both nicknames have stuck.
Tomsula said last weekend following the third exhibition game at Denver that he had seen all he needed from Hayne, including all those countless hours of tape he watched of him as a rugby player.
Hayne left the National Rugby League last fall, then signed a three-year contract with San Francisco in March as an undrafted free agent in a deal he said included $100,000 in guaranteed money. Hayne spent the previous nine years — from 2006-14 — with the Parramatta Eels.
"It's been really fun to watch. Right off the bat you notice how well he can catch a ball," veteran placekicker Phil Dawson said. "Catching a punt is probably one of the toughest skills in the NFL and he's just stepped right in and looks like a natural. That's something that was God given."
And of course his giant hit a few days ago while carrying the ball against the San Diego Chargers, knocking down a defender like it was nothing, likely stuck in a few minds:
Under the guidance of running backs coach Tom Rathman he learned the nuances of football, and with sound advice from teammates on everything from taking a hit, to proper pad level and even the basics of American living, Hayne found his way — even if he's still struggling to find a decent cup of coffee that compares to his caffeine back home.
Tight end Vernon Davis had a chance to chat with Hayne in the locker room hot tub recovering from a recent workout.
"When it comes to Jarryd Hayne, he's tough, he's physical, he's relentless," Davis said. "He's passionate and he's just a special and unique player, his ability to make guys miss and run really well with the football in his hands.
"It's amazing to see that. I was talking to him the other day and we had a conversation and I was telling him, 'You're practically a rookie with experience because you played rugby and you kind of got a feel for running with the ball and eluding defenders, making people miss.' He said, 'Yeah, you're right, I think you're right.' He told me that and it was just a beautiful conversation we had."
Hayne carried 10 times for 58 yards, caught a pair of passes for 17 yards, and returned three punts for 43 yards in a win against the Chargers to conclude his impressive preseason.
"He's got the toughest part down. Now it's just learning the game, learning the little details," Dawson said.
Renowned for his acceleration and counter-attacking skills in rugby, Hayne said all along he believed he could make it as either a punt returner or kick returner.
The 49ers appreciate versatility and depth, and Hayne has shown he is sure-handed and unafraid to take a hit. He had one fair catch on a punt return this preseason, and he was instructed to do so Thursday night against San Diego.
"Jarryd is fearless," special teams coach Thomas McGaughey Jr. said. "That's one of the characteristics that it takes to be a great punt returner."
Here's what one sports analyst had to say about Hayne's chances after he signed with the 49ers:
—
Follow Dave Urbanski (@DaveVUrbanski) on Twitter