This year's Miss America pageant was a bigger deal than usual because it marked the return of 1984 winner Vanessa Williams for the first time since she resigned her crown following a nude photo scandal.
Williams served as a judge Sunday night.
Pageant executive chairman Sam Haskell stood next to Williams onstage and apologized on behalf of the pageant.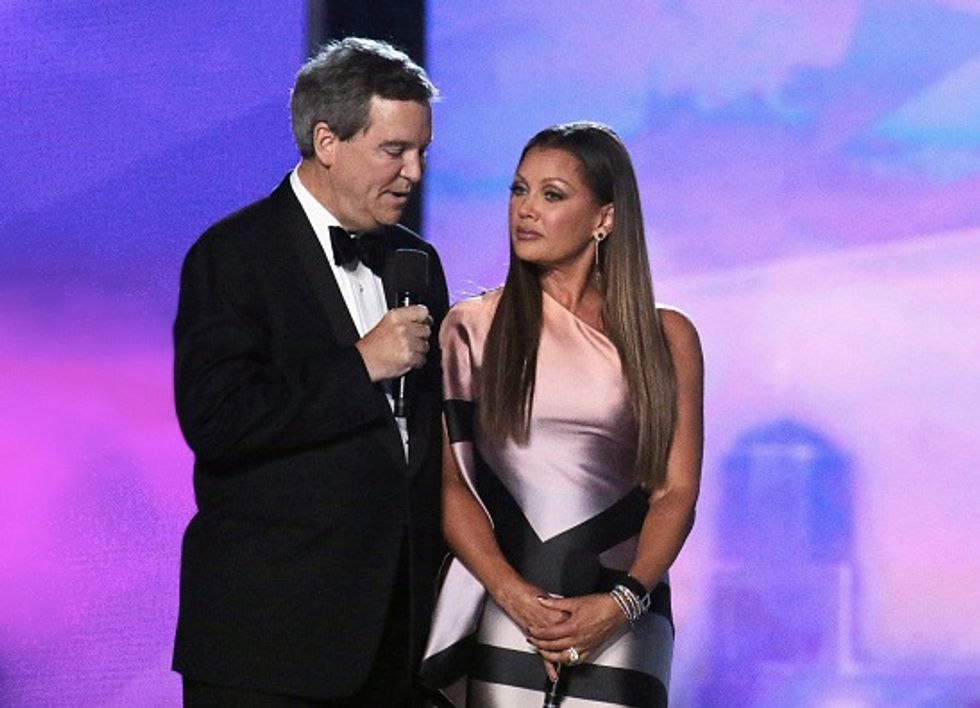 Executive Chairman and CEO for Miss America Sam Haskell III and Vanessa Williams speak onstage during the 2016 Miss America Competition at Boardwalk Hall Arena on September 13, 2015, in Atlantic City, New Jersey. (Image source: Donald Kravitz/Getty Images for dcp)
"I have been a close friend of this beautiful and talented lady for 32 years," he told Williams. "You have lived your life in grace and dignity. And never was it more evident than during the events in 1984 when you resigned. Though none of us currently in the organization were involved then, on behalf of today's organization I want to apologize to you and to your mother, Miss Helen Williams."
At that point the crowd stood up, cheering and clapping loudly.
Haskell continued, raising his voice over the din: "I want to apologize for anything that was said or done that made you feel any less the Miss America you are or the Miss America you always will be!"
Williams — the first black contestant to become Miss America — replied that the gesture was "unexpected" but "beautiful." (Although TMZ ran story earlier in the week telling of an alleged battle between the pageant and Williams over who would offer an apology.)
"I did the best I could in my reign as Miss America," she said.
Williams resigned her crown 10 months into her reign when Penthouse magazine published nude photos of her shot a few years earlier. She went on to a successful career as a recording artist and actress.
—
Follow Dave Urbanski (@DaveVUrbanski) on Twitter