Representatives of the six Persian Gulf monarchies that make up the Gulf Cooperation Council called on the international community this week to "assume its responsibilities" to help Syrian migrants.
Those same Persian Gulf nations, however, have been blasted by Amnesty International and Human Rights Watch for resettling "zero" migrants.
"Gulf countries including Qatar, United Arab Emirates, Saudi Arabia, Kuwait and Bahrain have offered zero resettlement places to Syrian refugees," Amnesty International wrote in a Sept. 8 report.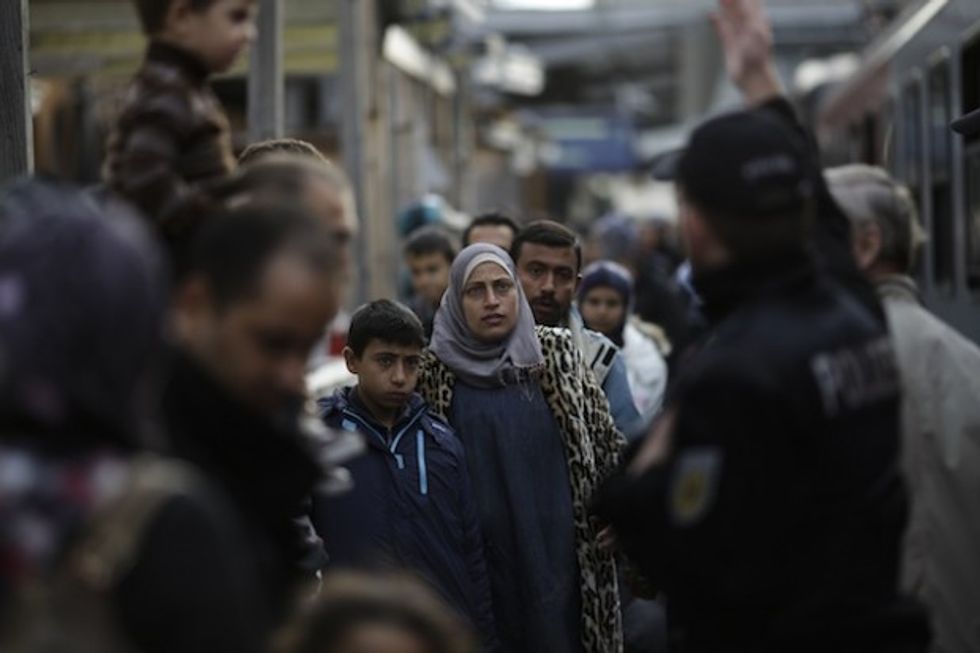 A police officer advise refugees to follow him after they were pulled out of a train by German Federal Police at the train station of the south German border town Passau, Germany, Wednesday, Sept. 16, 2015. (AP Photo/Markus Schreiber)
That assessment was echoed by Human Rights Watch.
6. Other countries need to do more. Shameful that GCC countries are not taking Syrian refugees for example.

— Nadim Houry (@nadimhoury) September 3, 2015
However, the Saudi government said it has received some 2.5 million Syrians since the start of the civil war and blasted "erroneous and misleading information" on its aid efforts.
A Saudi foreign ministry official told the state-run Saudi Press Agency that his nation does not want to treat Syrians as refugees "in order to ensure their dignity and safety."
Minister of Culture and Information Adel Altoraifi was quoted by Al Arabiya saying that Saudi Arabia "will always remain at the forefront of countries supporting the brotherly Syrian people and will not accept any overbidding in this matter or questioning its positions."
The minister noted that Saudi Arabia has also financially supported refugees in neighboring countries.
The Gulf Cooperation Council said in a statement Tuesday that its members – Bahrain, Kuwait, Oman, Qatar, Saudi Arabia and the United Arab Emirates – have welcomed "Syrian brothers, who are treated like residents and benefit from free healthcare, education and the right to work" since the 2011 outbreak of the war.
Additionally, hundreds of thousands of dollars have been collected in private charitable donations in the Gulf, including some who have agreed to donate a portion of their monthly salary, according to Michael Stephens of the Qatar branch of the British think tank Royal United Services Institute.
In March, a Kuwaiti analyst pointed out that Gulf countries are unsuitable for migrants due to the high cost of living.
"Kuwait and the Gulf countries are expensive, and are not suitable for refugees. They are suitable for workers," Fahd Al-Shelaimi, chairman of the Gulf Forum for Peace and Security, told France 24 in March. "The cost of living in Kuwait is high, whereas the cost of living in Lebanon or Turkey is perhaps cheaper. Therefore it is much easier to pay the refugees [to stay there]."
Hundreds of thousands of migrants continue to pour into Europe as policymakers there also debate how to handle the challenge.