So your third-grader comes home from school, pulls out a homework assignment and a few of the fill-in-the-blank words catch you eye.
"Terrorist," "Islam" and "hijack," in particular.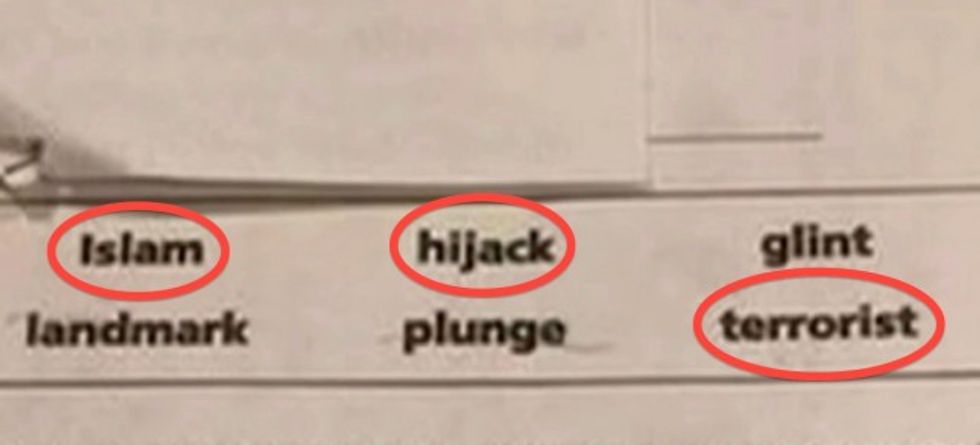 Image source: KMBT-TV
Some parents aren't too happy with Memorial Elementary School in New Braunfels, Texas, after finding out about the worksheet sent home Monday. They told KMBT-TV the subject of terrorism is too much for 8- and 9-year-olds to handle.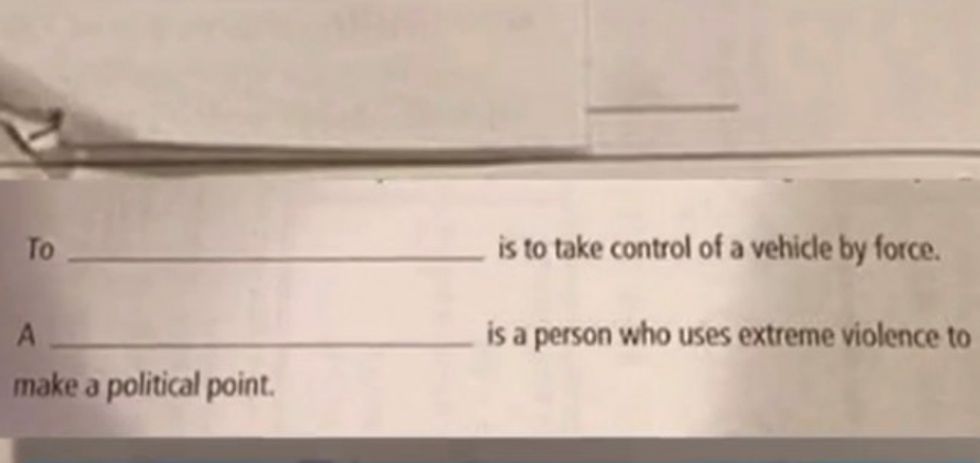 Image source: KMBT-TV
"Parents are not happy at all with this," one woman told the station.
But the New Braunfels school district told the station that the assignment meets Texas Education Agency standards for third-graders and is appropriate given last Friday's 9/11 anniversary.
"NBISD feels it is important to teach the history of what happened on 9/11 and our teachers utilize different resources to share the historical significance of this tragic day," the district's statement read. "The theme of the lessons that are taught to our 3rd graders focus on how communities pull together in good times and in bad and the design structures that protect all citizens. This includes lessons on historical and contemporary figures and military and first responders who exemplify good citizenship. The unit is titled 'Freedom Rings! A Commemoration of 9-11, Freedom Week and Constitution Day' and is aligned with 3rd grade TEKS (Texas Essential Knowledge and Skills)."
Not all adults were against the assignment. Grandparent Sharon Grimm said teaching children about what happened on Sept. 11, 2001, is a necessity.
"These are the things that are happening. And they're seeing it on TV. They're hearing it," she told KMBT. "It's all part of learning and growing up and understanding we're not in a perfect world."
New Braunfels ISD said parents can view the curriculum standards on its website and the TEA's website.
—
Follow Dave Urbanski (@DaveVUrbanski) on Twitter