The debate over defiant Kentucky clerk Kim Davis' refusal to issue gay marriage licenses with her name and title on them is nowhere near over, with attorneys for four couples now questioning the validity of altered licenses that have been issued by her office.
Those couples — which include two gay couples and two straight couples — are asking a federal judge to order her office to reissue them; if Davis refuses to comply, they will ask the judge to place the office in receivership and require someone else to do it, according to the Associated Press.
The receivership would be a minor takeover of Davis' office, and would facilitate an arrangement under which someone else could be appointed to handle marriage licenses.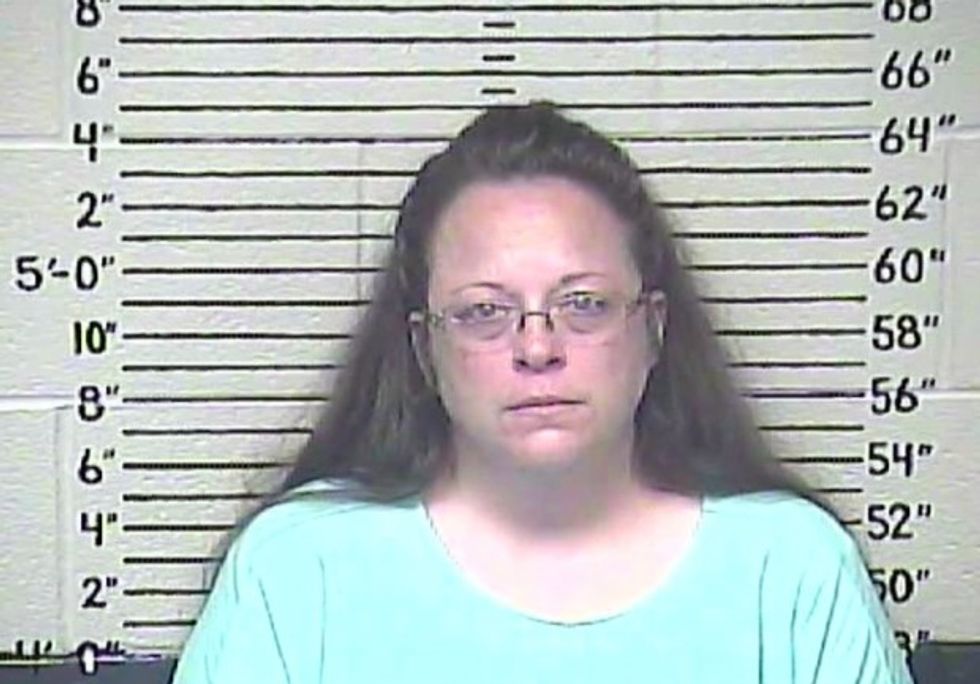 This Thursday, Aug. 3, 2015 photo made available by the Carter County Detention Center shows Kim Davis. (Carter County Detention Center via AP)
The American Civil Liberties Union said that the licenses are "questionable," as Davis removed her name and title after spending five days in jail over her continued refusal to abide by an order from U.S. District Court Judge David Bunning that she grant gay marriage licenses.
Rather than being issued under the authority of Davis' county clerk office, the amended licenses state that they are granted "pursuant to federal court order" — something that has attorneys with the American Civil Liberties Union asking for new documents to be drafted.
At the core of the issue is the fact that the civil rights group believes that the altered licenses treat gays and lesbians as second-class citizens.
"The adulterated marriage licenses received by Rowan County couples will effectively feature a stamp of animus against the LGBT community, signaling that, in Rowan County, the government's position is that LGBT couples are second-class citizens unworthy of official recognition and authorization of their marriage licenses but for this Court's intervention and Order," the American Civil Liberties Union wrote in a court filing.
But Mat Staver, Davis' attorney at the Liberty Counsel, said that his client has worked in good faith to abide by the court's orders.
"The ACLU's motion to again hold Kim Davis in contempt reveals that their interest is not the license but rather a marriage license bearing the name of Kim Davis," he told the Associated Press. "They want her scalp to hang on the wall as a trophy."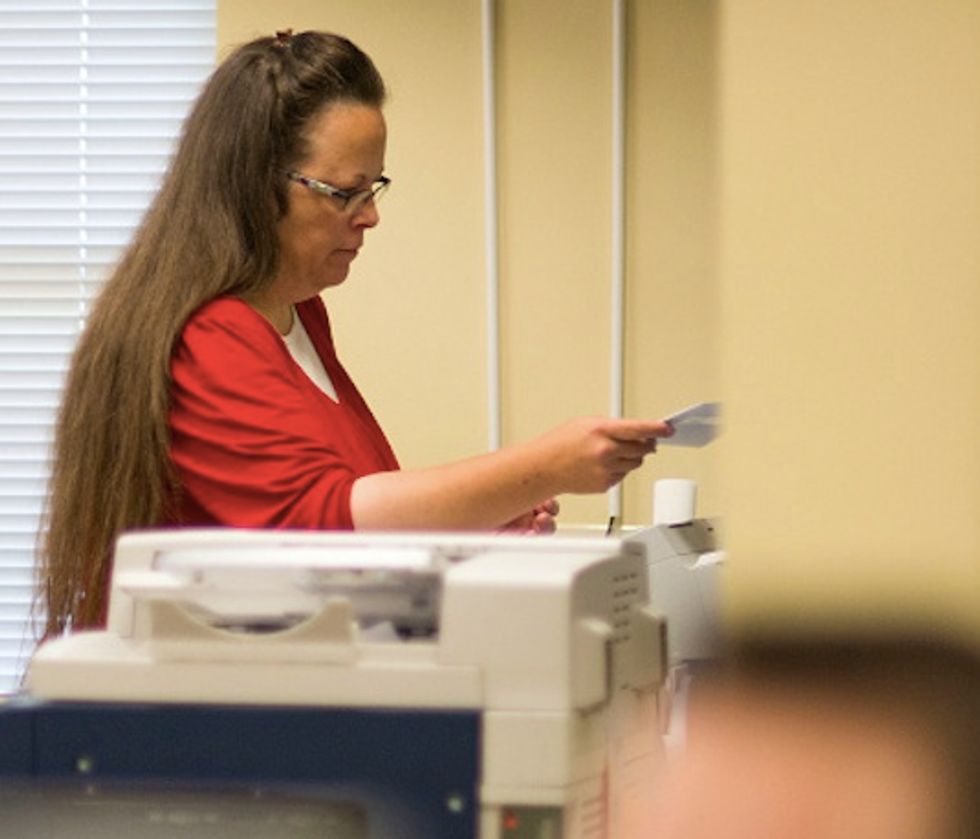 Rowan County clerk Kim Davis makes uses the copy machine in the Clerk of Courts Office on her first day back to work, after being released from jail last week, at the Rowan County Courthouse September 14, 2015 in Morehead, Kentucky. ( Ty Wright/Getty Images)
As TheBlaze previously reported, Davis refuses to step down from her elected position, and has repeatedly said that she also has no plans to back away from her quest for an accommodation that would allow her to do her job while also exercising her faith.
One accommodation that Staver has suggested is the removal of her name from the licenses. Deputy clerks who issued marriage licenses while Davis was in jail initially removed her name; Davis' additional changes to the document, including the removal of her office title from the document, unfolded when she returned to the office.
Davis indicated in an interview with ABC News on Monday that she's willing to go back to jail again if that's what the standoff comes to, while also discussing some of what her critics have had to say about her.
"I've been called things and names that I didn't even say when I was in the world. Those names don't hurt me," she said.  "What probably hurt me the worst is when someone tells me that my God does not love me or that my God is not happy with me, that I am a hypocrite of a Christian."