WASHINGTON (TheBlaze/AP) -- Officials say the Obama administration has discovered a chain of emails that Hillary Rodham Clinton failed to turn over when she provided what she said was the full record of work-related correspondence as secretary of state.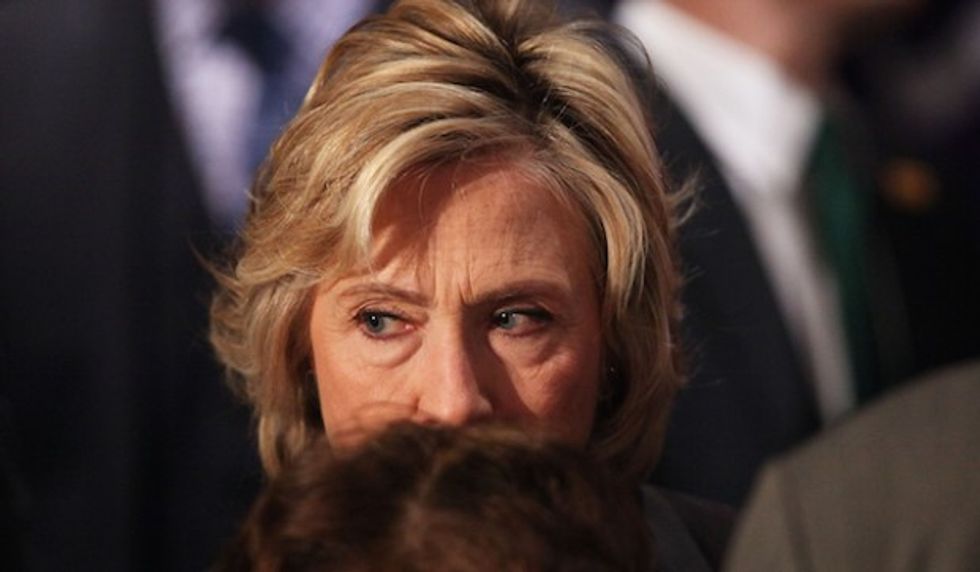 NEW YORK, NY - JULY 24: Democratic presidential frontrunner Hillary Clinton greets supporters after speaking at New York University on July 24, 2015 in New York City. It has been disclosed by inspector general for the intelligence community that material Hillary Clinton emailed from her private server contained some classified information. (Photo by Spencer Platt/Getty Images)
The revelation adds to the growing questions related to the Democratic presidential front-runner's unusual usage of a private email account and server while in government.
The messages were exchanged with former top Gen. David Petraeus, beginning before Clinton entered office and continuing into her first days on the job.
Officials said they largely pertained to personnel matters and in no way dealt with classified material. But their existence challenges Clinton's claim that she has handed over the entirety of her work emails from the account.
The Daily Beast also reported on Friday that the State Department has given a "handful" of new Hillary Clinton emails to the House panel investigating the 2012 Benghazi attacks.
A "senior State Department official" told the news outlet, "Following our second review of former Secretary Clinton's emails… the Department is producing a small number of emails relating to Benghazi."
A Libyan man stands next to a wall apparently stained with blood at the main entrance of the US consulate in Benghazi on September 13, 2012, following an attack on the building late on September 11 in which the US ambassador to Libya and three other US nationals were killed. (GIANLUIGI GUERCIA/AFP/GettyImages)
More from the Daily Beast:
The original review through 55,000 pages of Hillary Clinton emails involved hard copies of the emails, which had to be hand-sorted on desks in the State Department. These documents have since been digitized, and in recent weeks the State Department did a second, electronic review of the emails in its possession—and found a number of Benghazi-related emails that it did not previously produce.

The State Department informed the House Select Committee on Benghazi on Friday that it would deliver to them approximately 925 new Hillary Clinton emails relating to Benghazi and Libya, among them a small number of Benghazi-related emails that it had missed.
Fox News reporter Ed Henry noted the curious timing of the new email revelations, which came late Friday afternoon.
Correction: An earlier version of this story accidentally stated the Benghazi attacks occurred in 2011. It has since been amended to reflect that they took place in 2012.
---