Three Georgia high school students were suspended over an altercation stemming from a Confederate flag on one of the students' backpack.
According to WAGA-TV, a white 10th-grade boy walked into Rockmart High School with a Confederate battle flag strapped to his backpack last week. The student was approached by two black schoolmates later that morning who confronted him about the flag.
"They wanted to confront him about what he had on his bookbag," principal Wesley Cupp told WAGA.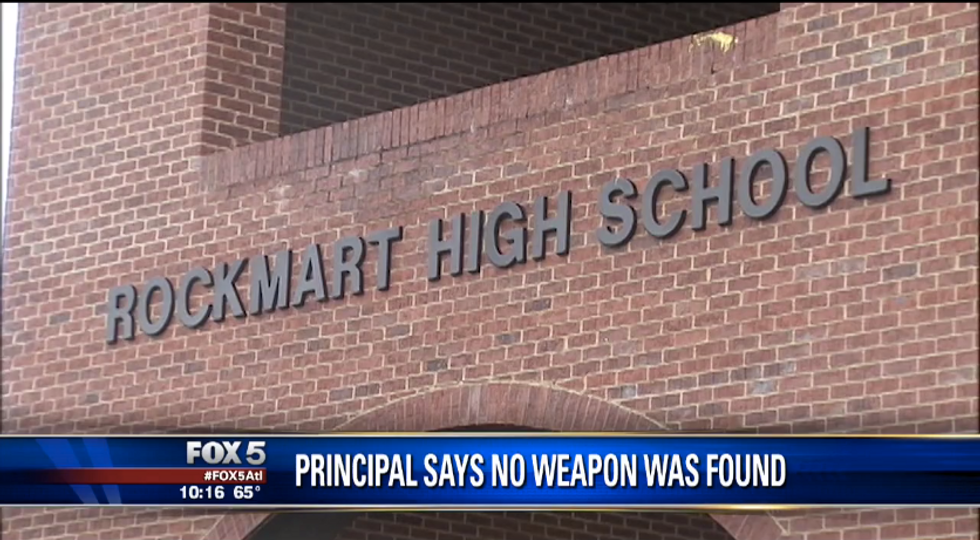 Image source: WAGA-TV
The altercation, which involved shoving and strong words, was quickly broken up by school officials, and no weapons were found, but the three students were all suspended for their disruptive behavior.
"When you become a disruption where students can't learn because of a distraction, then that needs to be removed," Cupp said.
WAGA reported that the students will be offered counseling services to ease any remaining tension when they return to school.
Rockmart High was also put through a lockdown drill later Wednesday after rumors surfaced of other students planning to bring in Confederate flags.
"We just did that as a precautionary situation to help maintain and control what could have been a bad situation," Cupp said.
Chris High, a black parent of a Rockmart student, told WAGA that Cupp handled the situation "the right way."
"I don't want to give him no backlash because it would be different if he said, 'just the white kid go home and not the black kid' or vice versa," High said.
However, Betty Dodd, a Polk County resident, said if the two students had a problem with their peer's Confederate flag, they should have complained to the authorities.
As the debate over the Confederate flag has been reignited over recent months, high school students have been suspended for a variety of flag-related reasons. In August, almost two dozen Virginia high school students were suspended when they protested Christiansburg High School's ban of the flag on clothing and vehicles. Also in August, a couple of Missouri teenagers were suspended from their high school when they flew the flag from their vehicles despite the school's ban.