After Palestinian leader Mahmoud Abbas ramped up rhetoric toward Israel Wednesday, the United Nations raised the Palestinian flag above its headquarters in New York as part of a ceremony that the world body's leader said represented a "day of hope."
The United States opposed the move, asserting that Palestinian statehood must be reached through a negotiated peace with Israel.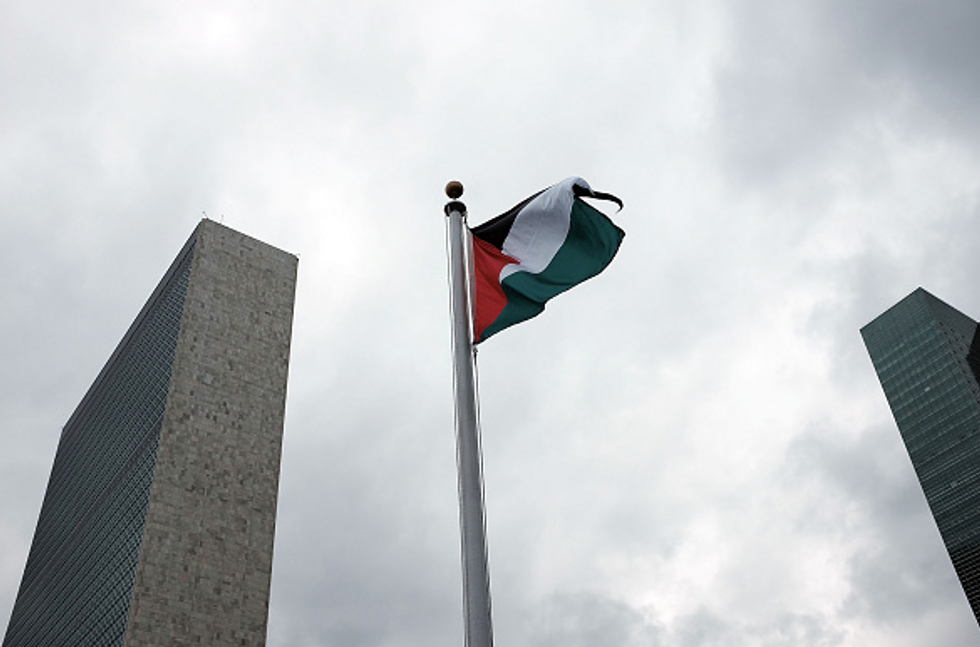 The Palestinian flag flies for the first time at the United Nations headquarters after it was raised in a ceremony Sept. 30, 2015, in New York City. (Spencer Platt/Getty Images)
"The United States, as you know, opposed the resolution to raise the Palestinian flag at the United Nations, but that is not and should not be construed as a change in a position on the part of the United States about Palestinian aspirations for statehood," White House press secretary Josh Earnest told reporters.
"The fact of the matter is the vote reflects the reality that the two parties themselves must ultimately take the responsible steps required to achieve a two-state solution to end the cycle of violence and suffering that has persisted for far too long in the Middle East," Earnest continued. "The fact is, the United States continues to support the kind of two-state solution that would result in two states for two peoples with a sovereign, viable Palestinian state living side by side with a Jewish and democratic Israel."
On Wednesday, Abbas declared that the Palestinians are no longer bound by the Oslo Accords with Israel and that Palestine is a state under occupation.
"We therefore declare that we cannot continue to be bound by these agreements and that Israel must assume all of its responsibilities as an occupying power, because the status quo cannot continue," Abbas said.
CNN reported that a spokesman for Israeli Prime Minister Benjamin Netanyahu said the Abbas comments were "deceitful and encourages incitement and lawlessness in the Middle East."
During the flag-raising ceremony at 1:16 p.m., U.N. Secretary-General Ban Ki-Moon called it a "day of hope."
"Now is the time to restore confidence by both Israelis and Palestinians for a peaceful settlement and, at last, the realization of two states for two peoples," the secretary-general said.