University of Texas at Austin students plan to carry dildos around campus next year in protest of recent legislation that allows concealed carry permit holders to carry their firearms to public colleges' campuses.
According to a public Facebook event page, the students will wield their sex toys on August 24, 2016 — the first day of classes. The contentious legislation signed by Republican Gov. Greg Abbott in June is set to go into effect for the 2016 school year and allows individuals who possess a concealed carry permit to bring their firearms to campus although university presidents are able to make "reasonable" regulations.
"The State of Texas has decided that it is not at all obnoxious to allow deadly concealed weapons in classrooms, however it does have strict rules about free sexual expression, to protect your innocence," the event description reads. "You would receive a citation for taking a dildo to class before you would get in trouble for taking a gun to class. Heaven forbid the penis."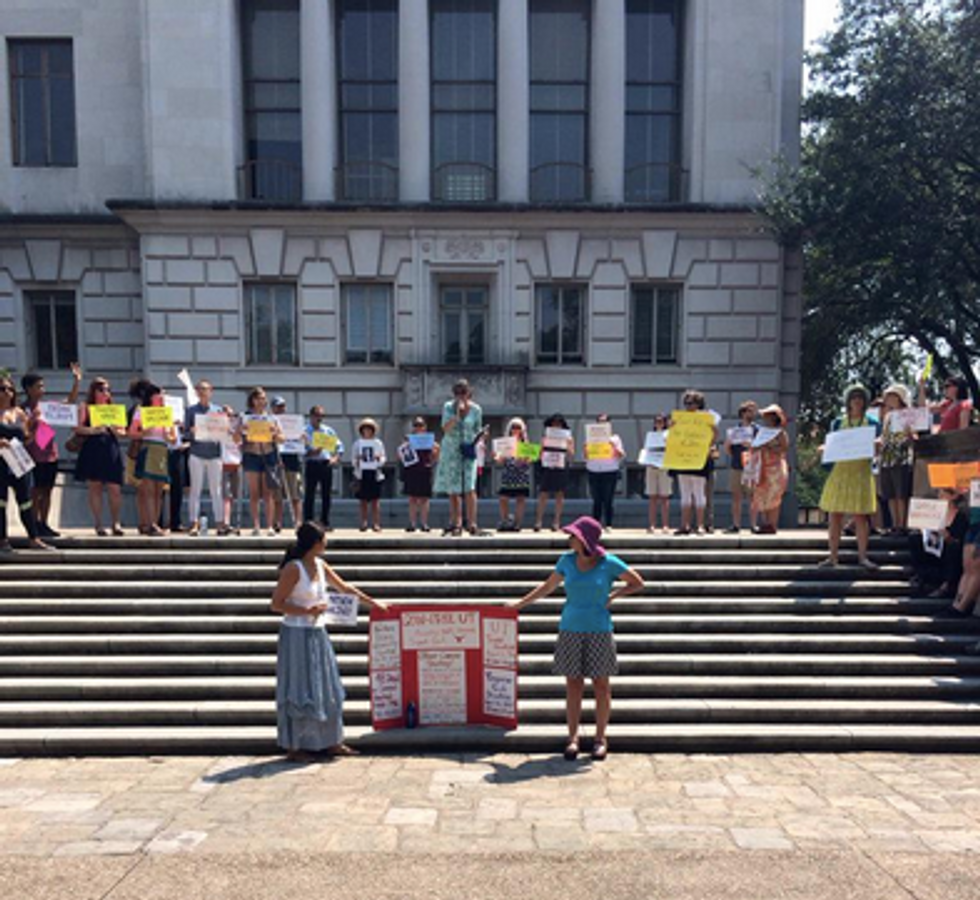 In August, UT professors protested legislation that would allow guns on campus. (Image via Twitter @MatthewAdams60)
The event description makes the claim that bringing the sex toy around campus is "about as effective at protecting us from sociopathic shooters" but are "much safer for recreational play."
Jessica Jin, the organizer of the protest and UT alumna, wrote on the group's event page that she will attempt to find a "sponsor" to help cover the costs of the sex toys if enough people are interested in the protest. 
By Sunday afternoon, the Facebook event boasted more than 1,700 attendees — a little more than 36 hours since Jin, 24, created the page.
Supporters of the protests have promoted the event on social media with the hashtag "#CocksNotGlocks."
Jin told the Houston Chronicle in an interview that she chose the sex toy as "it spotlights the masturbatory nature of the power which people derive from gun ownership, and the self aggrandizing 'I'm one of the good ones, I'll protect you' arguments we're so often expected to simply trust."
"If our country continues in the direction it's headed, everyone will eventually have to carry in order to protect any semblance of freedom or equality," Jin said. "We clearly already can't trust each other, and that mistrust is perpetuating a self-defeating escalation of gun ownership in America. Life in a fully armed society resembles something more like a fear-based hellhole than the land of the free, if you ask me."
According to the Houston Chronicle, the event page was created on the same day that one student was killed and another student wounded during a shooting at Texas Southern University approximately 170 miles away. 
UT students, professors and community members have both passionately contested and defended the campus carry legislation as the campus remains divided over the issue. As TheBlaze previously reported more than 160 anti-gun professors have signed a petition vowing to prohibit guns in their classrooms, despite the law, and multiple arrests were made during dueling anti-gun and pro-gun protests on Oct.1. 
Daniel S. Hamermesh, a UT economics professor, has vowed to quit his job before the law goes into effect.