A recently released body camera video shows the moments leading up to a Texas city councilman being immobilized with a stun gun and arrested in front of his home Thursday night — the same community where Sandra Bland was arrested and died.
In the video obtained by KHOU-TV, newly elected Prairie View Councilman Jonathan Miller, 26, can be seen talking to Prairie View police officers who said they were questioning three of his fraternity brothers outside of Miller's home.
"There's been drug activity, little girls and little guys in the car doing whatever, so when we see this, we come investigate," a female police officer, whom KHOU identified as Officer Goodie, told Miller.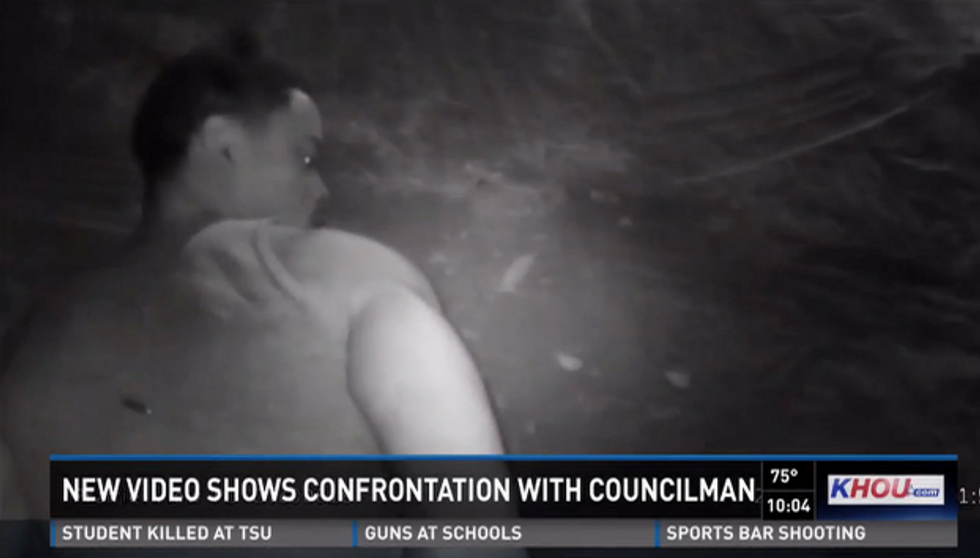 Image source: KHOU-TV
According to KHOU, the men were outside of Miller's house practicing a step routine for an upcoming homecoming performance. When police arrived, the men were standing around a car to change shoes.
In the video, a male officer, whom KHOU named as Officer Kelley, repeatedly asked Miller to stand apart from the group so that the law enforcement officials could continue with their investigation.
"Go back over there and stand. You're always causing problems," Kelley said.
When Miller didn't comply, Kelley can be seen moving toward Miller and the video feed goes blurry. KHOU reported that the two men scuffled on the ground for a bit, causing the camera to fall off.
Later in the body camera footage, Goodie can be heard telling Miller to "put your hands behind your back" multiple times. Miller was kneeling on the ground with his hands by his side — but not behind his back.
"OK, he's going to have to tase you. You're not doing like you're supposed to," Goodie eventually said.
Miller immediately falls to the ground after being tased and is heard in the video crying out in pain.
NBC News reported that Goodie, who is also black, was involved in the arrest of Sandra Bland, the black woman who was arrested and found hanged in her jail cell three days later. According to the New York Daily News, Miller was one of the city councilmen who recently voted to name a street after Bland.
"We have six police officers. The probability of having the same officer involved in multiple types of incidences is probable," Prairie View Chief of Police Larry Johnson told NBC News. "I haven't seen anything that gave me any cause for concern as far as this officer's conduct at this point."
Miller spent one night in jail as he was charged with resisting arrest and interfering with police. Johnson told KHOU that the department will investigate the incident, but no officers were placed on leave as deadly force was not involved. Miller, who is able to return to his city duties, told KHOU that he was looking forward to "having a conversation" with the arresting police officers in the future.
"Usually, I would think, if you're tasing somebody, it's somebody that's running from the cops, somebody that's trying to inflict harm on somebody, not somebody that's on their knees with their arms by their sides," Brandon Wilson, a friend of Miller's who shot his own video of the tasing incident, told KHOU.
When speaking to KHOU, Wilson was wearing Omega Psi Phi apparel.
(H/T: KHOU-TV)