Israeli security forces detained a founding member of Hamas, accusing him of inciting terrorist attacks against Israelis, as an Israeli man was killed and three others were wounded in violent attacks Tuesday.
Hasan Yousef, 60, one of the leading figures of Hamas in the West Bank, is also the father of Mosab Hassan Yousef who gained fame in the United States after publishing a tell-all book, "Son of Hamas," recounting his childhood under the wings of the Palestinian terrorist group and his later rejection of Islam and conversion to Christianity.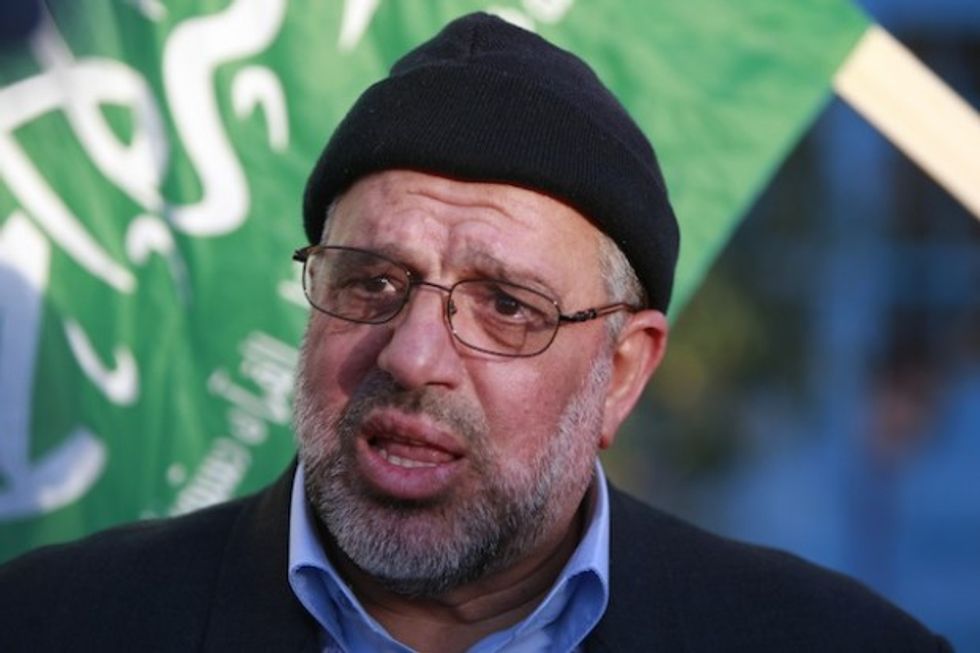 Hasan Yousef, leader of the Hamas Islamist movement in the West Bank, speaks to the media after he was released from an Israeli prison Jan. 19, 2014. (AP/Majdi Mohammed)
An Israeli man was killed in the West Bank Tuesday after rocks and other objects were thrown at his car. Israel's Ynet reported that he was subsequently hit by another car after pulling over and getting out of his vehicle. The driver of the second car fled the scene, but Israel's Army Radio reported that he later turned himself in to Palestinian police and told them he had hit the man accidentally.
Two other Israelis were injured after a Palestinian rammed his car into them on a road south of Bethlehem in what police described as a terrorist attack. The IDF said that the assailant then got out of his car and tried to stab those he had injured.
Car ramming attack injures IDF soldier & Israeli civilian at Gush Etzion Junc. Assailant attempted to stab the wounded but was shot on site

— Israel Defense Forces (@Israel Defense Forces) 1445348550.0
"Terrorist shot at scene of attack and killed. He used his vehicle to carry out attack," Israeli police spokesman Micky Rosenfeld tweeted.
Earlier on Tuesday, a Palestinian stabbed an Israeli military officer, lightly wounding him near Hebron. The attacker was shot and killed, according to the Israel Defense Forces.
The IDF said in statement that Hamas leader Yousef has been "actively instigating and inciting terrorism and publicly encouraging and praising the execution of attacks against Israelis."
"Hamas' leaders cannot expect to propagate violence and terror from the comfort of their living rooms and pulpits of their mosques," Lt. Col. Peter Lerner, an IDF spokesman, said following the elder Yousef's detention.
"When you encourage, promote and praise the death [of] the innocent, the IDF will act swiftly in order to contain the hateful incitement that jeopardizes the safety and wellbeing of so many Israelis and Palestinians alike," Lerner said in a statement.
Palestinian sources told the Israeli news site NRG that some 20 Israeli security vehicles arrived at Yousef's house in the Ramallah area overnight between Monday and Tuesday and, after searching his house, detained the activist.
NRG reported that Yousef previously spent more than 20 years in an Israeli jail for terrorist activities.
Israel's Ynet reported that when the wave of Palestinian attacks in Israeli cities began last month Yousef kept a low profile but that last week he gave interviews to the Arabic media in which he called on Palestinians to continue what he called the new "intifada," or "uprising."
In March, Yousef's son, the author and Hamas defector toldThe Glenn Beck Program, "I was brought up in a state of delusion, believing the Islamic theory that once we control the globe and build an Islamic State we can bring humanity, justice and happiness and solve the human condition. … I think this is the time for humanity to have the courage to say no to the Islamic theory."
Both Israel and the United States classify Hamas as a terrorist organization.
Yousef's family publicly disowned him after he wrote "Son of Hamas."