MSNBC host Melissa Harris-Perry offered a stunning explanation as to why people should never use the term "hard worker" during her show on Saturday.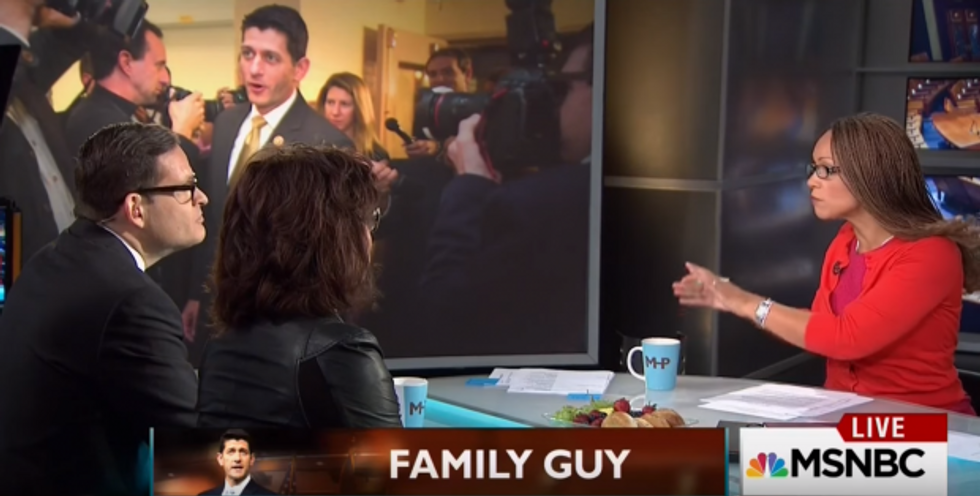 MSNBC
Her comments came after one of her guests, Alfonso Aguilar of the American Principles Project's Latino Partnership, called Paul Ryan the best example of a "hard worker" in Washington.
"I just want to pause on one thing," Harris-Perry interrupted, "because I don't disagree with you that I actually think Mr. Ryan is a great choice for this role. But I want us to be super careful when we use the language 'hard worker.' Because I actually keep an image of folks working in cotton fields on my office wall, because it is a reminder about what hard work looks like."
Perry went on to tell a visibly stunned Aguilar that "in the context of relative privilege, I just want to point out, that when you talk about work-life balance and being a hard worker, the moms who don't have health care who are working...we don't call them hard workers."
Instead, she argued, "We call them failures, people who are sucking off the system."
"That is very unfair," Aguilar responded. "I think we cannot generalize about the Republican party."
Watch the segment via MSNBC:
(H/T: Washington Free Beacon)
---