Secret audio recordings of ex-Subway spokesman Jared Fogle describing his sexual desires for children were aired for the first time on Thursday's episode of "Dr. Phil."
As he introduced audio in his interview with Rochelle Herman-Walrond — the former journalist who recorded telephone conversations with Fogle over the course of five years — host Phil McGraw explained, "It gets worse."
Herman-Walrond was heard asking Fogle on one recording, "I want to know what turns you on the most: the young girls or the young boys?"
"You know, both of them do," Fogle answered.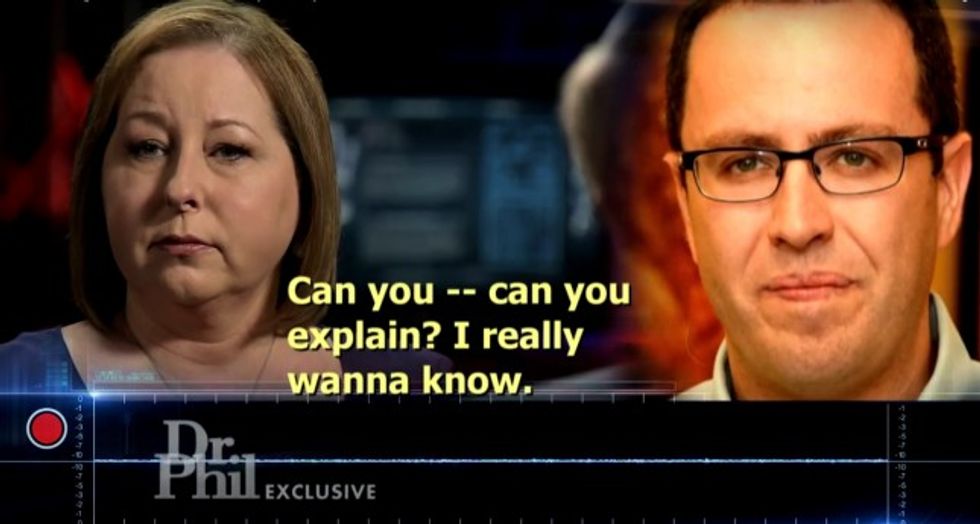 Rochelle Herman-Walrond listens to a recording of a phone conversation she had with Jared Fogle. (Image source: YouTube)
When Herman-Walrond asked what personality type to look for in child victims, Fogle was heard replying, "That girl from the broken home could be a possibility."
Fogle, 38 and a father of two, agreed in August to plead guilty to engaging in sex acts with minors and receiving child pornography. He's paid $100,000 each to 10 of his 14 victims and could receive up to 12 years in prison. His wife Katie indicated she intends to file for divorce.
Herman-Walrond said alarms went off in her head when Fogle was a guest on her Florida radio program in 2006 and said he found middle school girls attractive. She said she began a friendship with Fogle to see if he would say more — and when he did, Herman-Walrond contacted the FBI.
"I'm removing myself from who I am and embracing an imaginary person," she told Dr. Phil. "I had to be two separate people in order to continue on with this investigation."
Friday's "Dr. Phil" program also will feature audio content from the pair's recorded conversations.
—
Follow Dave Urbanski (@DaveVUrbanski) on Twitter