"Trump is a racist!" Those four simple words could be worth $5,000 to someone in the studio audience for this weekend's "Saturday Night Live," which is slated to be hosted by GOP presidential candidate Donald Trump.
The $5,000 bounty is being offered by DeportRacism.com, a political action committee targeting Donald Trump and NBC because of the candidate's position on immigration and comments he has made in the past about "actor babies."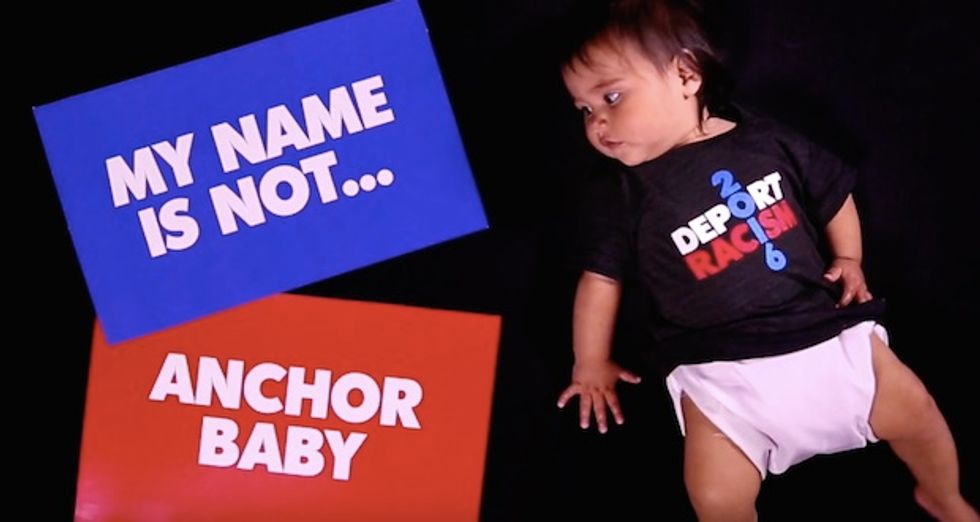 Image source: YouTube
Luke Montgomery of Deport Racism explained the PAC's offer in an interview with TheBlaze. "We hope this $5,000 bounty encourages someone in the audience to 'pull a Jorge Ramos,'" Montgomery said, referring to the Univision anchor's confrontation with Trump in late August.
Montgomery also stated, "Trump has no place on that stage," adding, "NBC is going for the ratings, and so are we."
Deport Racism also released a video to push their anti-Trump agenda. The two-minute video features young Latino children — some as young as six years old — cursing and insulting Trump. In fact, the first 10 seconds of the video delivers a very rough message.
"Hola, Donald Trump. Screaming 'get out of my country,' Republicans use offensive words. So here's a few of our own. F*** you, racist f***."
The group's spokesman has a history of using young children in videos for shock value. Just over a year ago, Montgomery released, "Potty-Mouthed Princesses Drop F-Bombs For Feminism."
TheBlaze reached out to NBC for a reaction. The reply from the network read, "SNL has no comment."
(Content warning: very strong language)
__
Follow the author of this story on Twitter and Facebook: