PHILADELPHIA (TheBlaze/AP) -- A veteran Philadelphia congressman's son was found guilty Thursday of federal bank and tax fraud charges.
Chaka "Chip" Fattah Jr. was convicted of 22 of 23 counts alleging that he misspent loans and some of the nearly $1 million in education funds he got as a school management subcontractor. The jury acquitted him of one count of tax fraud.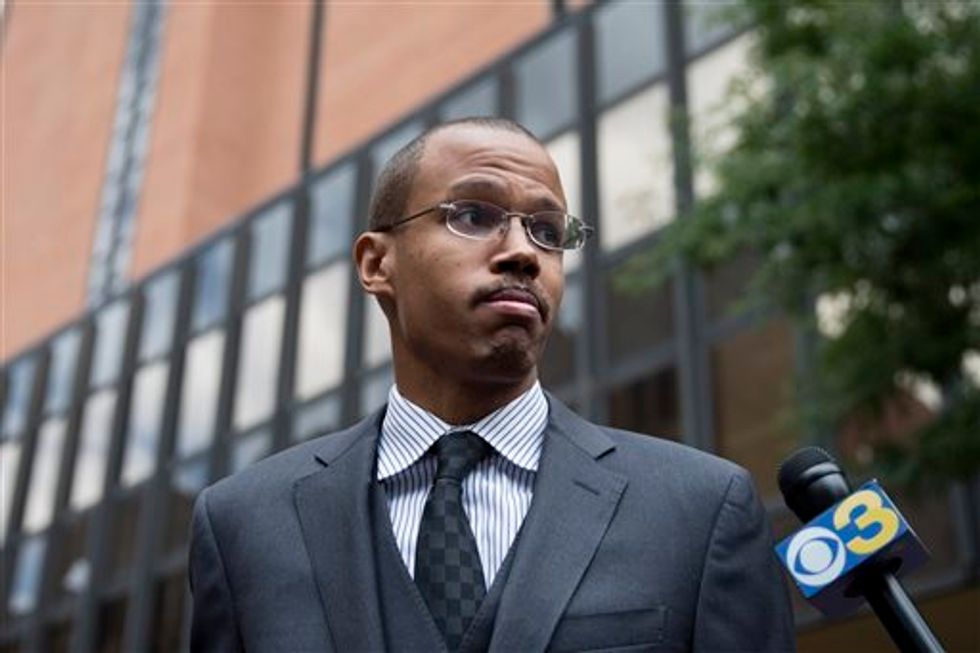 Chaka Fattah Jr. walks from the U.S. Courthouse Thursday, Aug. 14, 2014, in Philadelphia. Fattah Jr. the son of Rep. Chaka Fattah, D-Pa., pleaded not guilty to a sweeping bank fraud and tax case, accusing him of using bank loans and income from federal education contracts for personal expenses including large gambling debts. (AP Photo/Matt Rourke)
Fattah, who represented himself, contended the government built its case on a "deck of cards." He said authorities targeted him because of his big-spending lifestyle and also wanted to hurt his father.
Chaka Fattah Sr. is an 11-term Democratic congressman who is accused in an unrelated case of misusing federal grants and charitable donations. The elder Fattah was charged in July with racketeering conspiracy, money laundering and other crimes. He has denied wrongdoing.
Fattah Jr. was charged with obtaining business loans and federal education contracts to support a lavish lifestyle, which included a luxury condominium. In his opening statement, he described himself as a hard-working entrepreneur targeted by government prosecutors relying on speculation.
Federal prosecutors, in contrast, argued he was a scam artist who launched a number of small businesses to secure financing at local banks. He spent the money, Assistant U.S. Attorney Paul Gray said, on flashy clothes, expensive bar tabs and luxury cars for himself - all the while neglecting to pay taxes on much of his income.
Fattah countered that he was being criticized "for trying to figure out how to make money. How to make a living. How to pay my rent."
Sentencing is set for Feb. 3.
The charges carry a minimum of just more than four years, Philly.com reported.
The conviction came just months after Fattah's father, Rep. Chaka Fattah, Sr. (D-Penn.) was accused of misusing hundreds of thousands of dollars of federal, charitable and campaign funds in a 29-count indictment.
The congressman denied the charges at the time, telling reporters outside his office in Washington, D.C., that he's never been involved in wrongdoing, unlawful activity or misappropriation of government funds.
Rep. Fattah said he will not resign his seat in Congress as a result of the charges.