© 2023 Blaze Media LLC. All rights reserved.
Allegation of 'White Girls Only' Frat Party at Ivy League College Under Scrutiny
"I'd just like to take a moment to give a shoutout to the member of Yale's SAE chapter who turned away a group of girls from their party last night ..."
While Yale University is investigating allegations that its Sigma Alpha Epsilon fraternity declared a Halloween party for "white girls only," The Daily Beast said it questioned the sophomore whose social media post about the alleged incident led to widespread outrage — and the outlet said she told them a different version of events.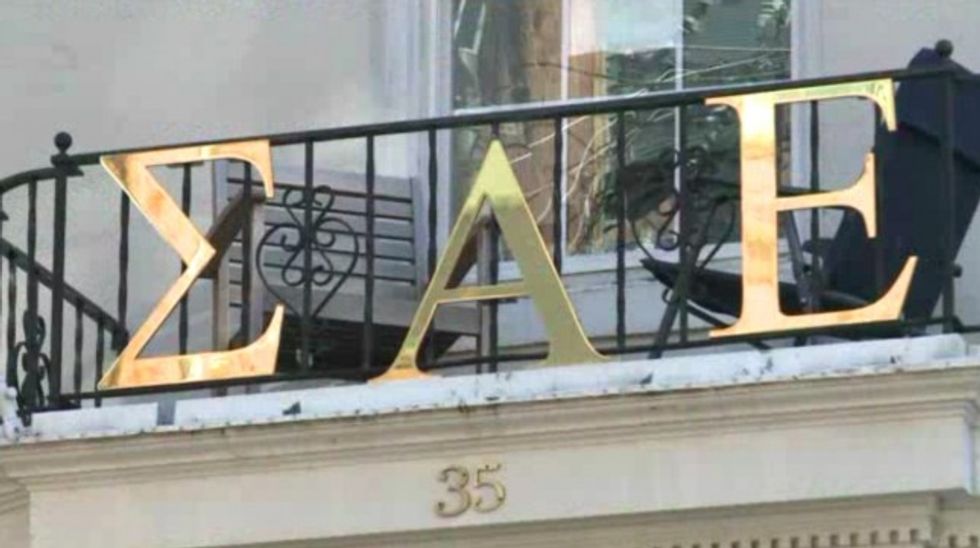 Image source: WTIC-TV
"I'd just like to take a moment to give a shoutout to the member of Yale's SAE chapter who turned away a group of girls from their party last night, explaining that admittance was on a 'White Girls Only' basis," Neema Githere wrote on Facebook, "and a belated shoutout to the SAE member who turned me and my friends away for the same reason last year. God Bless the USA."
With that, similar claims poured in.
Sofia Petrou-Gouin, a visiting Columbia student, told the the Washington Post she heard a frat brother at the door say "white girls only."
"A group of girls came up who were predominantly black and Hispanic," she told the Post. "He held his hand up to their faces and said, 'No, we're only looking for white girls.' … He pulled a blond girl up from the bottom of the stairs — over some people — pushed her inside and said, 'We are looking for white girls only, white girls only.' No brothers corrected him or said anything."
A Yale freshman male told the Post he also heard "white girls only" and was pushed away from the entrance of the party after hearing, "Who the [expletive] do you think you are? You're clearly gay." Female friends he was with were allowed in.
More from the Post:
He was worried about friends, who he believed had had much too much to drink, he said, so he kept trying to get in. He was on the steps outside for about 20 minutes, he said, and heard a brother at the door who is white shout repeatedly: "White girls only. We're only looking for white girls." He saw groups of women with darker skin turn away when they heard that, he said, and he saw an African-American girl get physically pushed away by the same brother.

He followed another group of friends through the door but fraternity members pulled at his hair and his arm to pull him back out, he said.

Finally a friend pushed him through the door and he was inside the party for about 10 minutes, rounding up his friends to get them out of there, he said. He saw a few black men inside "but other than that, it was older white men and lots and lots of white blond girls. A few Asian girls had got in but I did not see one black girl at the party."
It's not the first racism issue SAE has dealt with this year. In March, the University of Oklahoma chapter was shut down after members were caught on video shouting a racist chant.
But the SAE chapter at Yale denied the "white girls only" allegation.
UNIVERSITY: SAE denies charges of racism | https://t.co/8OUGBJ50LW pic.twitter.com/pWPwZGvC82

— Yale Daily News (@yaledailynews) November 2, 2015
And a Yale undergrad told the Daily Beast he attended the SAE Halloween party and that the allegation of black students being denied entrance doesn't hold water: "I seriously doubt that happened," the student told the outlet. "There were plenty of black people there."
More from the Daily Beast:
The Daily Beast asked Githere, who was not at the Halloween party, how she heard the "white girls only" allegation. Githere said she was with a group of friends — specifically, she noted, women of color. One of her friends had received a text about the party. According to Githere, a friend of hers then turned to her to remind her they experienced the same reaction from SAE.
Neema Githere (Image source: Facebook)
Githere told the Daily Beast she had forgotten until that moment that an allegedly similar racist incident took place at outside an SAE party the previous year.
"Early in our freshman year, me, my friend, and two other people were attempting to go into the party," she told the outlet. "We heard someone say there were already too many black girls in the crowd." Githere added that "a lot of my memory is blurred because I was drunk."
She also told the Daily Beast that after her post went up, a black SAE pledge — sent by the chapter president — spoke to her in person and "flat-out denied" the "white girls only" allegation and questioned why she posted what she did.
"He said they [SAE] admit more on attractiveness than race," Githere recalled to the outlet. "But I said that was racialized."
More from the Daily Beast:
She said that the pledge told her he was "working the door" and that the group that was turned away "was being combative."

Githere identified Trey Leigh as the SAE pledge working the door. He is currently the treasurer of the Yale Black Men's Union. The Daily Beast reached out to the Yale Black Men's Union to contact Leigh, but the organization did not comment by press time.

Due to a noise complaint filed with the police, one SAE member (who requested anonymity) told the The Washington Post the chapter began turning people away around 11:15 p.m., but people grew upset. That same SAE member said he heard "numerous accounts" of a woman who was turned away and proceeded to shout "'It's because I'm black, isn't it?'"
When pressed for more details about this year's SAE party or her account from her freshman year, the outlet reported that Githere "expressed concern about the line of questioning."
"I want to be careful with what I put out there," she told the Daily Beast. "Hopefully, I get to see my quotes because I cannot have the words misconstrued. If any of my opinions are twisted in the press, which often happens, I would hate for any conflict to happen."
If nothing else, Githere said the controversy has sparked a dialogue about race on campus.
"There's good momentum coming out of it," she told the Daily Beast. "We're taking it day by day."
(H/T: The Daily Beast)
—
Follow Dave Urbanski (@DaveVUrbanski) on Twitter
Want to leave a tip?
We answer to you. Help keep our content free of advertisers and big tech censorship by leaving a tip today.
Sr. Editor, News
Dave Urbanski is a senior editor for Blaze News.
DaveVUrbanski
more stories
Sign up for the Blaze newsletter
By signing up, you agree to our
Privacy Policy
and
Terms of Use
, and agree to receive content that may sometimes include advertisements. You may opt out at any time.