A former Yale University classmate has come to Ben Carson's defense and said that he is almost certain that Carson's much-contested story of a fake final exam detailed in his book is accurate.
The Wall Street Journal called into question the Republican presidential candidate's recount in his autobiography, "Gifted Hands," of how his Yale psychology class was tricked into thinking their final exams had been "inadvertently burned" in a fire — thus requiring the class to retake them. Carson responded to the news report by posting newspaper clippings to his Facebook page Sunday morning.
Curtis Bakal, an editorial assistant at the satirical Yale Record, told Buzzfeed News that he helped write the fake test and is "99 percent certain the way Carson remembers it is correct."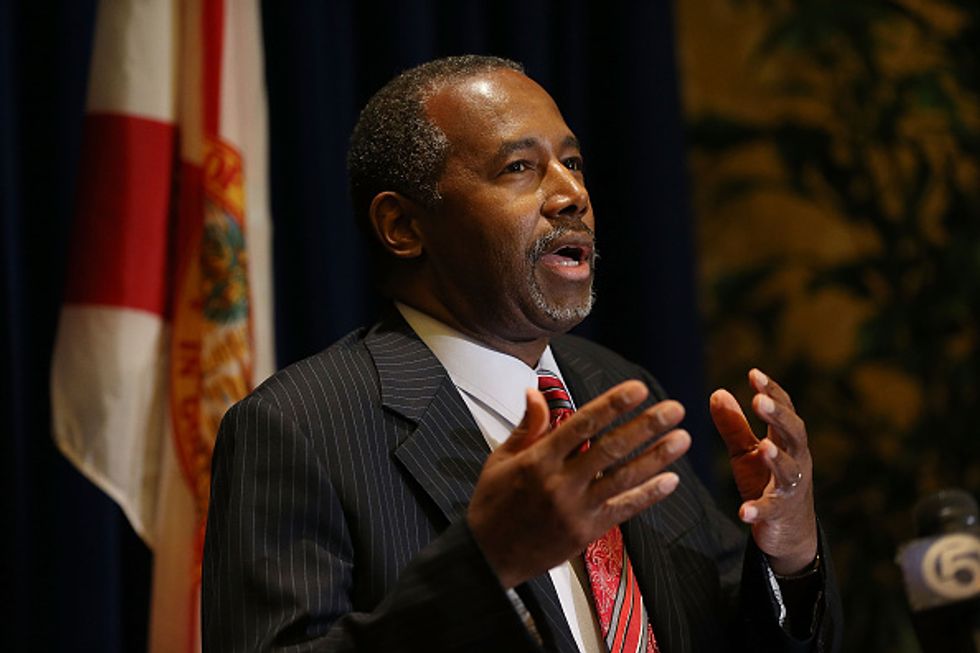 PALM BEACH GARDENS, FL - NOVEMBER 06: Republican presidential candidate Ben Carson speaks to the media before attending a gala for the Black Republican Caucus of South Florida at PGA National Resort on November 6, 2015 in Palm Beach, Florida. Carson has come under media scrutiny for possibly exaggerating his background and other statements he has made recently. (Photo by Joe Raedle/Getty Images)
"When I read about the story in the Wall Street Journal, I immediately said to my wife and friend, 'That was the prank we played at the Record! And Ben Carson was in the class,'" Bakal told Buzzfeed. "We did a mock parody of the Yale Daily News during the exam period in January 1970, and in this parody we had a box that said: 'So-and-so section of the exam has been lost in a fire. Professor so-and-so is going to give a makeup exam.'"
"We got a room to do the test in and one of us from the Record impersonated a proctor to give the test," he said.
Bakal noted that he was not in the room when the fake make-up exam was given and could not confirm that Carson was indeed the only student who actually finished the fake test.
Buzzfeed News said that its reporters had spoken to "more than a dozen people" on the Record masthead in 1969 and only Bakal could remember the prank. However, many of those people were not involved with the Record at the time of the prank or were only loosely involved. Some of those who Buzzfeed interviewed did admit that the prank did not sound unusual.
Lew Schwartz, author of the Yale Daily News article that Carson posted online which mentioned the prank, told Buzzfeed News that he did not actually witness the exam. He said he only reported on it because "I guess we had heard that some folks had showed up."  
"To my knowledge we didn't send anyone over to cover the story," he said. 
(H/T: Buzzfeed News)
---