Ohio Gov. John Kasich's defense of bank bailouts during Tuesday's GOP debate earned him the "least favorable reaction" from a focus group pollster Frank Luntz has "ever" seen since he started doing testing in 1996.
"A month ago we showed you the highest debate moment that we have ever tested since 1996. Well, tonight, I have to show you the lowest moment," he said. "The moment our New Hampshire voters said, they've heard enough."
Luntz played a clip of Kasich's discussion of the bank bailouts with the focus group numbers overplayed on the screen. The longer Kasich talked, the more the numbers from both conservative and moderate New Hampshire voters dropped.
Afterward, Luntz asked members of his focus group to raise their hands if they had a "negative reaction" to the Ohio governor during the debate.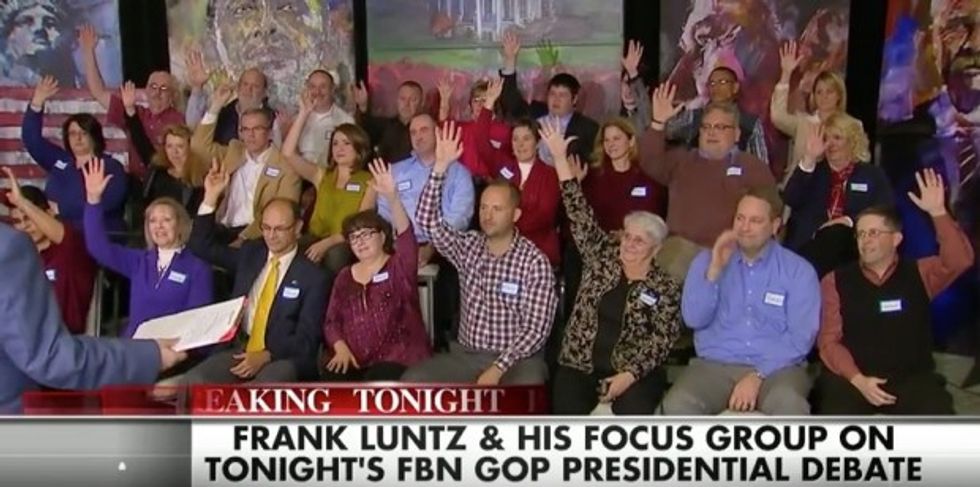 Image source: Screen grab via Fox News
Nearly every hand went up as participants described him as "boring," "irritating" and "finished."
"He went from my number two candidate right off the charts," one man said. "He was acting like he was running the debate, he kept interrupting. He just did not present himself well."
—
Follow the author of this story on Twitter and Facebook: