The FBI is reportedly expanding its investigation of Hillary Clinton's emails to include possible violations of U.S. criminal code, sources told Fox News Thursday.
The intelligence source speaking with Fox News under the condition of anonymity said federal agents were looking into the possibility that the front-runner in race for the Democratic presidential nomination could have violated U.S. Code 18, Section 1001.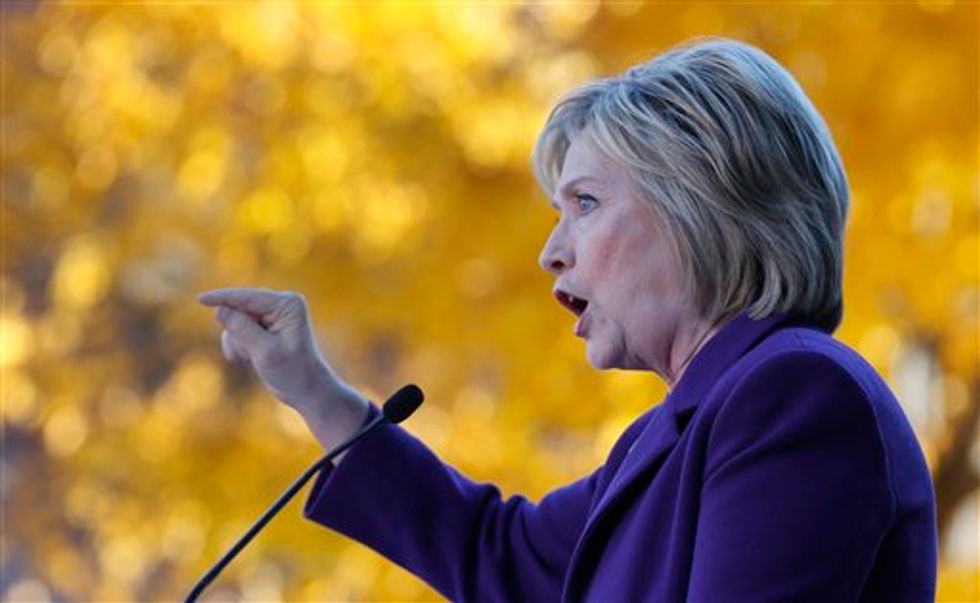 Democratic presidential candidate Hillary Rodham Clinton talks to supporters after filing papers to be on the Nation's earliest presidential primary ballot at The Secretary of State's office Monday, Nov. 9, 2015, in Concord, N.H. (AP/Jim Cole)
This code makes it illegal to in the "executive, legislative, or judicial branch of the Government of the United States, knowingly and willfully," make statements or entreaties that "falsifies, conceals, or covers up by any trick, scheme, or device a material fact; makes any materially false, fictitious, or fraudulent statement or representation; or makes or uses any false writing or document knowing the same to contain any materially false, fictitious, or fraudulent statement or entry."
Such an offense comes with up to five years in prison.
In Clinton's case, Fox News reported, "pressuring a third party to conspire in a cover-up" would be considered a violation. In October, internal emails from the company charged with maintaining Clinton's server in 2013, after she left the office of secretary of state, expressed fears of a cover up.
This is not the first time possible violations of U.S. Code 18, Section 1001 have been mentioned along side the Clinton case. National Review back in March reported:
The [State D]epartment's records manual (5 FAH-4 H-217.1(a)) requires that records officials "remind[] all officials, about to leave the Department or a post, of the requirements for the removal of personal papers and nonrecord materials." Critically, the department enforces "compliance with these procedures for the removal of documentary materials prior to execution of the Separation Statement (Form OF-109)."

And what is Form OF-109? It is a formal separation statement, in which the departing official certifies the return of any classified materials, and, more relevant for present purposes, that the departing official has "surrendered to responsible officials all unclassified documents, and papers relating to the official business of the Government acquired by me while in the employ of the Department." The form makes very clear that a false statement in the certification is punishable as a crime, including under 18 U.S.C. § 1001, which makes it a crime to knowingly and willfully falsify or conceal facts in statements made to federal agencies concerning a matter within its jurisdiction.
The FBI was already investigating the security of Clinton's private email server and possible potential violations of an Espionage Act, but with this information from its source, Fox News reported that investigating possible code violations "represents an expansion of the FBI probe."
A new set of Clinton emails was released late last month. One of these emails from an official in Libya on Sept. 14, 2012, just days after the attack on the U.S. embassy in Benghazi, discussed how they should address messaging of the event and said "it is becoming increasingly clear that the series of events in Benghazi was much more terrorist attack than a protest which escalated into violence."
Roughly half of Clinton's 30,000 work-related emails are now public, and the State Department's effort to release the rest will linger into next year. Most of the correspondence made public to date involves the mundane workings of government - scheduling meetings, organizing secure phone lines and booking flights.
In addition to the FBI's investigation, at least two Senate committees are still investigating Clinton's email arrangement and seeking the release of correspondence from her top aides.
—
The Associated Press contributed to this report.