Elisabeth Hasselbeck confronted White House press secretary Josh Earnest with a tough line of questioning on "Fox & Friends" Wednesday morning, criticizing the Obama administration's "verbiage" in the aftermath of the Paris terrorist attacks.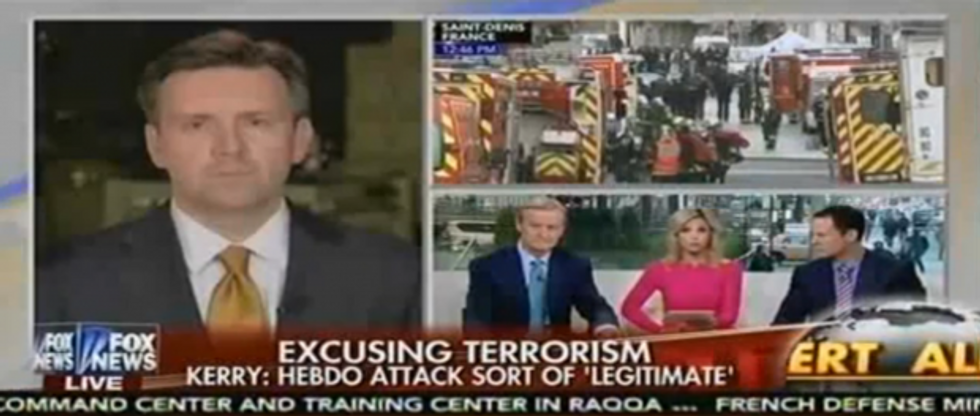 Fox News
"Following this initial attack in Paris where 129 people were brutally killed, the president of the United States referred to this as something that was a 'setback.' Secretary John Kerry then, in trying to draw a line of comparison between the Charlie Hedbo attacks and these recent Paris attacks, said that those attacks at Charlie Hebdo were 'understandable,'" she said.
She then asked, "Do you understand at this point who the verbiage needs to change a bit? Because everyone in this world right now sees them as aloof, apathetic and quite cavalier about these lives being lost at the hands of ISIS."
Earnest noted that President Barack Obama also called the attacks "sickening" and expressed "profound sorry."
"I would encourage you to spend just as much time focusing on the president's actions as you do his words," Earnest said.
"His words matter, Josh," Hasselbeck shot back. "I have to stop you there. The President of the United States' words matter. I will focus on my president's words, Josh."
After some heated crosstalk, Hasselbeck again accused Obama and his administration of using "cavalier" language when talking about the attack, Earnest repeated his previous talking point.
"Elisabeth, if you would consider the president's remarks, you will note that he called the attacks 'sickening' and expressed profound sorrow of what precisely had occurred," he said.
(H/T: Mediaite)
---