Home-schooled students and their parents in New Mexico protested with signs this week that said "Let us compete!" after they were told they could not be included in a science fair competition.
According to KOAT-TV, a group of home-schooled students wished to compete in Science Olympiad as they had for the past 11 years. This year though, they were told state law prohibited them from entering the competition.
KRQE-TV reported that the New Mexico Activities Association started enforcing its eligibility requirements for home-schoolers this year, requiring them to "join a public school team in their district" in order to compete.
"Some of the younger ones were crying," Linda Walkup, a coach for the team, told KOAT of the reactions of some of the students.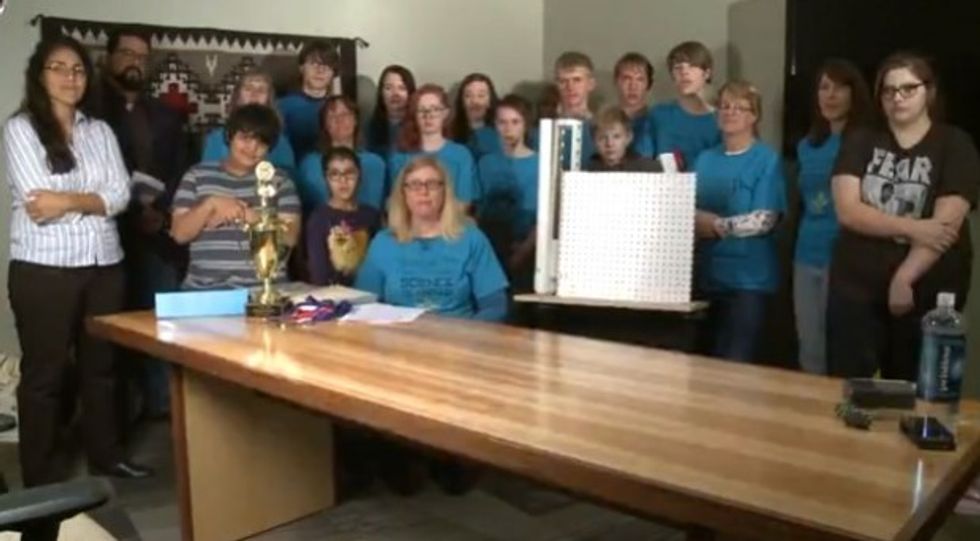 A team of home-schoolers were told they could not compete in this year's Science Olympiad competition, despite participating for the past 11 years and bringing home numerous medals. (Image source: KRQE-TV)
NMAA Associate Director Dusty Young told the KRQE the requirement is not a new one, but the organization is "really just informing and educating the activities directors and those individual groups across the state that this is part of the NMAA bylaws, and part of state law."
KOAT reported that students could join a public school team, but that could pose a problem. Some schools do not have an established team and those that do are already well into running their programs, making it potentially too late for the home-schoolers to join.
Young told KRQE that the fact that this rule wasn't being adhered to only recently came to light, hence why the organization is enforcing it now.
He reiterated to TheBlaze that the organization is just enforcing state law and noted that respresentatives from both sides were working to try to find a resolution.
"It's something that hopefully will be worked out soon," he said over the phone Friday morning.
Watch KRQE's report:
Here's the specific rules on home-schooler eligibility as stated by the NMAA:
A. As per New Mexico State Legislation, home school students are permitted to participate inNMAA activities ONLY at the public school in the attendance zone in which they live.B. A home school student who participates on a public school team in the attendance zone in which they reside is eligible to compete for individual awards under the name of that public school.C. A home school student's participation on a public school team in the attendance zone in which they reside counts towards the final placement of that team in regards to any state awards.D. Additional participation guidelines such as practice requirements, entry fees, etc. shall be determined by the individual activity.E. Home school students are subject to any and all requirements set forth by the activity.
The Albuquerque Area Home Schoolers group has been participating in Science Olympiad since the 2004-05 competition. According to the group's Science Olympiad website, Walkup started a team "to provide science enrichment and opportunity for her daughter and other science-minded home-schoolers."
The group has finished first or second in state competition for the last 10 years and has made it to national competition eight times, medaling in various categories.
To KRQE, Walkup said they were on the only middle-school team in the state to go to the national competition each year for the last five years.
On their website, the AAHS said it was seeking an appeal to the NMAA's decision and "hope that we are allowed to compete this school year, reverse the ruling permanently and help other home-school groups in the process."
KRQE reported that the home school group has legal help to protest the enforcement of NMAA's rule.
Walkup did not immediately respond to TheBlaze's request for comment.
—
This story has been updated to include comment from the NMAA to TheBlaze.