A Georgia sheriff has put up a "politically incorrect" sign outside his office in Harris County, Georgia — along with advice for those who don't like it.
Sheriff Mike Jolley said he paid for the sign out of his pocket but that he received private donations to cover some of it. Jolley, who spent 20 years in the Army, said that, after having served another 23 years as sheriff, he believes the "vast majority" of citizens agree with him, WRBL-TV reported.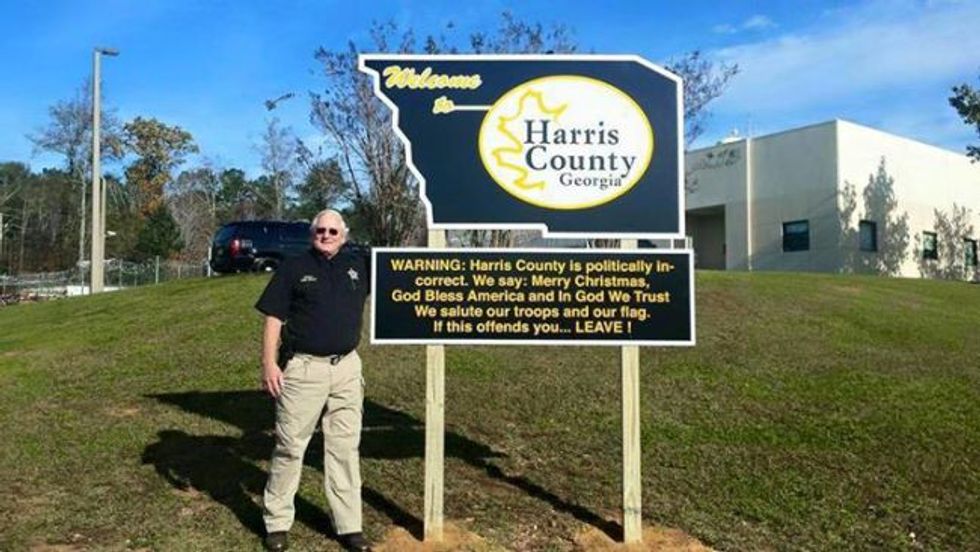 Image source: WRBL-TV
"WARNING: Harris County is politically incorrect. We say: Merry Christmas, God Bless America, and in God We Trust. We salute our troops and our flag," the sign outside the sheriff's department reads, in part.
Jolley said he decided to post the blunt message because there is a "silent majority" in this country that needs to start speaking out but admitted it's only a matter of time before the backlash begins, hence the advice for naysayers at the end.
"If this offends you… LEAVE!" the sign concludes.
(H/T: WKRN-TV)
–
Follow Jon Street (@JonStreet) on Twitter