For almost one week, Jarvis Johnson camped out in front of an Arizona Best Buy, rapping and plotting his execution of his Black Friday shopping.
And on Thanksgiving Day, with quite some suspense, all of Johnson's preparations and rhymes came to fruition.
"Oh yeah, we're going to get our TV," Johnson shouted as he walked and danced through the empty electronics store. "I've already got my money, and no it ain't funny."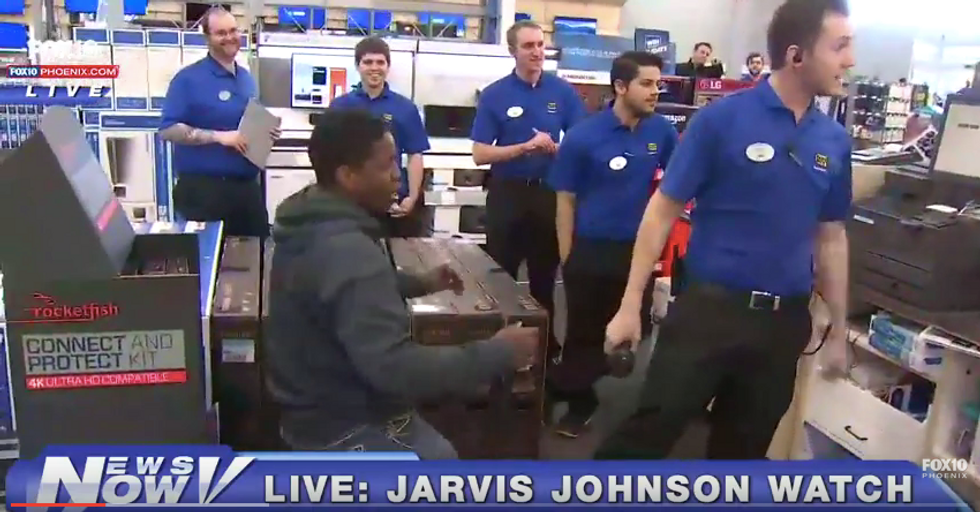 The first through the door of Best Buy after camping outside for six days, Jarvis Johnson dances next to a stack of televisions, proclaiming that he will take home five. (Image source: YouTube)
And it almost wasn't funny as Johnson's total of $815.95 for five televisions was announced by the Best Buy employee. Johnson handed over a wad of cash, swiped his card and waited.
And waited some more.
"It ain't letting me. Okay, the suspense is mounting. It ain't letting me," Johnson told those crowded around him as the card reader seemed to not accept his credit card — before he typed in the wrong pin number.
"I just got my TVs! Let me walk you through the process. I just saved $1,400 on one, two, three, four and five TVs. You can't get no better than that," a jubilant Johnson told local reporters and onlookers when his card eventually went through. "I camped out for six days here at Best Buy, I met some wonderful people, I was taken good care of, but actually, I'm going to need a cart. I'm going to need a cart."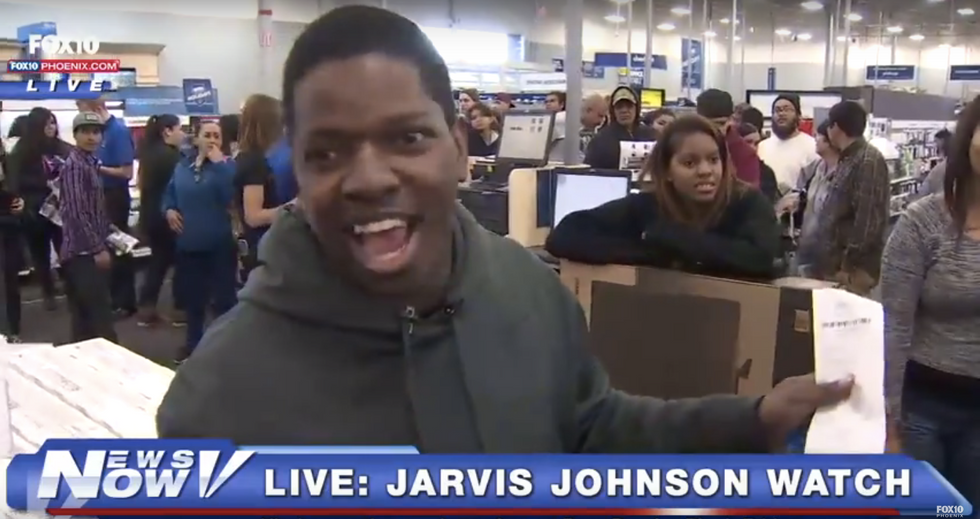 A jubilant Jarvis Johnson shows off his savings — $14,000 on five televisions — and says his Black Friday experience was worth it. (Image source: YouTube)
"I don't need Geek Squad, I am the squad," Johnson told the Best Buy employee when he offered the technology protection.
In video captured by KSAZ-TV of the moment Johnson walked through Best Buy's doors, the avid Black Friday shopper shouted and appeared emotional as he was the first into the store.
"I feel good, I feel good. I ain't in the hood, but I got my TVs," Johnson sang at one point. "And people thought I was crazy, but I saved $1,400 on $149 for a 49 inch."
Johnson's story of his tricked-out tent, which included a microwave and a television, went viral earlier this week. According to him, he's been the first person in line at a Black Friday sale of his choosing for the past eight years.
"The early bird gets the worm," Johnson said prior to the sales. "And I'm the early, early, early bird so I got the worms."
On Thursday, Johnson said he would be giving away the television that was in his tent to one of his managers at his job, free of charge.
Watch Johnson's foray through Best Buy below.