Ozy Licano had just dropped off some friends at the Planned Parenthood clinic in Colorado Springs when his eyes locked with another man's.
Licano, 61, was parked in a handicapped parking space, texting on his phone, when he saw a man crawling up toward the entrance of the clinic, according to the account he gave to CNN. Licano said he realized that the man crawling toward Planned Parenthood's front door was trying to escape a gunman.
"[The gunman] just started shooting up the entranceway," Licano told CNN. "I saw him shoot up and down. I kinda lost it there ... I tried to get out of my car and run."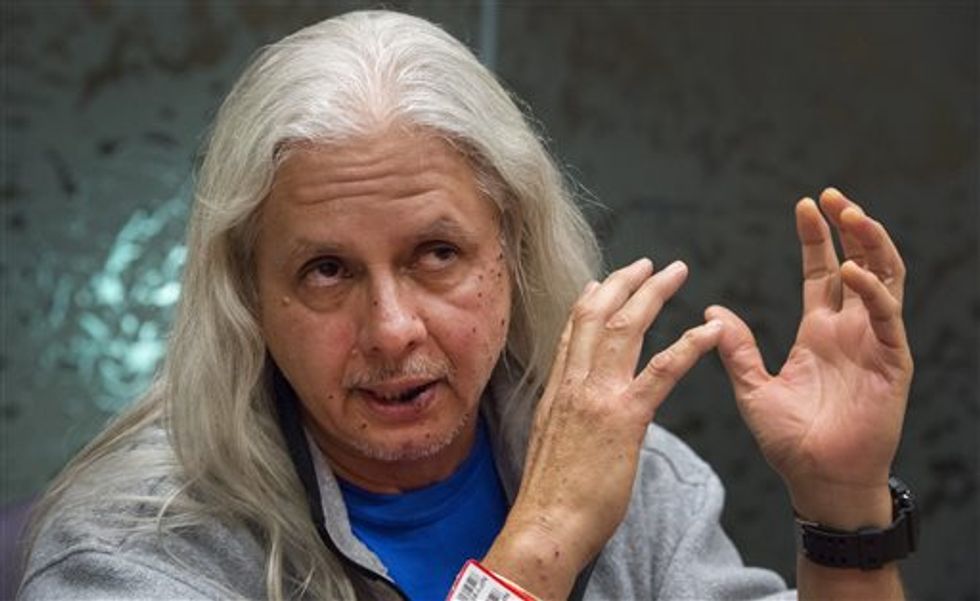 Planned Parenthood clinic shooting survivor Ozy Licano describes his encounter with the shooter Friday, Nov. 27, 2015, in Colorado Springs Colo. Licano was treated and released from Memorial Hospital on Friday. (Christian Murdock/The Gazette via AP, Pool)
But Licano soon realized that would not be the best option and threw his car into reverse. 
"Five seconds we stared right at each other ... and in those five seconds, bullet holes passed through my window," Licano said.
"He was looking directly at my face; he was aiming at my head," the 61-year-old recounted. "I could see it in his eyes ... cold stone face."
Licano drove to a nearby grocery store with his windshield riddled with bullet holes. There, he was treated for superficial wounds to his face, apparently from his shattered windshield and not any bullets, as others called 911.
While Licano told CNN that he didn't know the fate of the man he saw crawling toward the door, his friends were rescued later in the afternoon by a SWAT team, he said.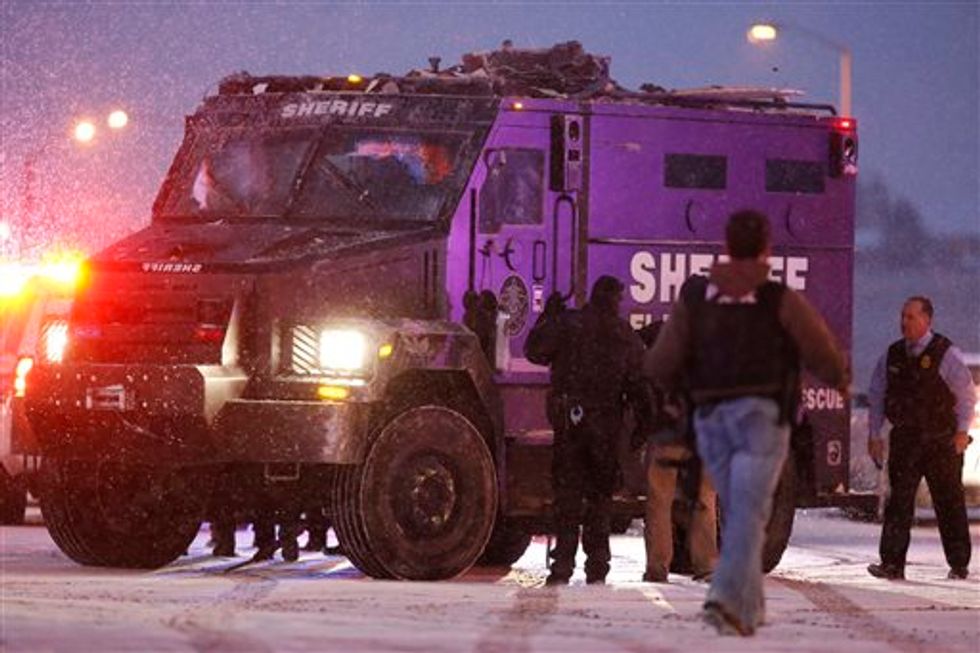 A police vehicle carries a suspect away from the intersection of Centennial and Fillmore after a shooting at a Planned Parenthood clinic Friday, Nov. 27, 2015, in Colorado Springs, Colo. (AP Photo/David Zalubowski)
Colorado Springs police said three people, including one police officer, died Friday during the attack at a Planned Parenthood clinic. Law enforcement officials have identified the suspect as 59-year-old Robert Lewis Dear but have not released a motive for the attack. It is unclear if the gunman had any connection to Planned Parenthood.
University of Colorado at Colorado Springs Officer Garrett Swasey, 44, was identified as one of the victims in Friday's attack. According to the Denver Post, Swasey was on duty at the nearby college when he responded to the scene of the attack in support of Colorado police officers.
Five other police officers and four civilians were also shot, according to police, but those people are reportedly in "good condition."
In a series of social media posts, Cecile Richards, president of the Planned Parenthood Federation of America, expressed her condolences to Swasey's family and loved ones.
Our hearts go out to the families & loved ones of brave law enforcement officers who put themselves in harm's way in #ColoradoSprings

— Cecile Richards (@CecileRichards) November 28, 2015
The Planned Parenthood family grieves for Officer Garrett Swasey's family, friends and colleagues dealing with heartbreaking loss tonight.

— Cecile Richards (@CecileRichards) November 28, 2015