Years ago, Steve Smith wanted to call his parents but had no phone.
So Smith, who's homeless, approached Tuyet Tran and asked if he could use hers.
Steve Smith (Image source: KTXL-TV)
"I see that compassion in his eyes that he really wanted to talk to his mom and dad, so I let him use my phone," Tran told KTXL-TV.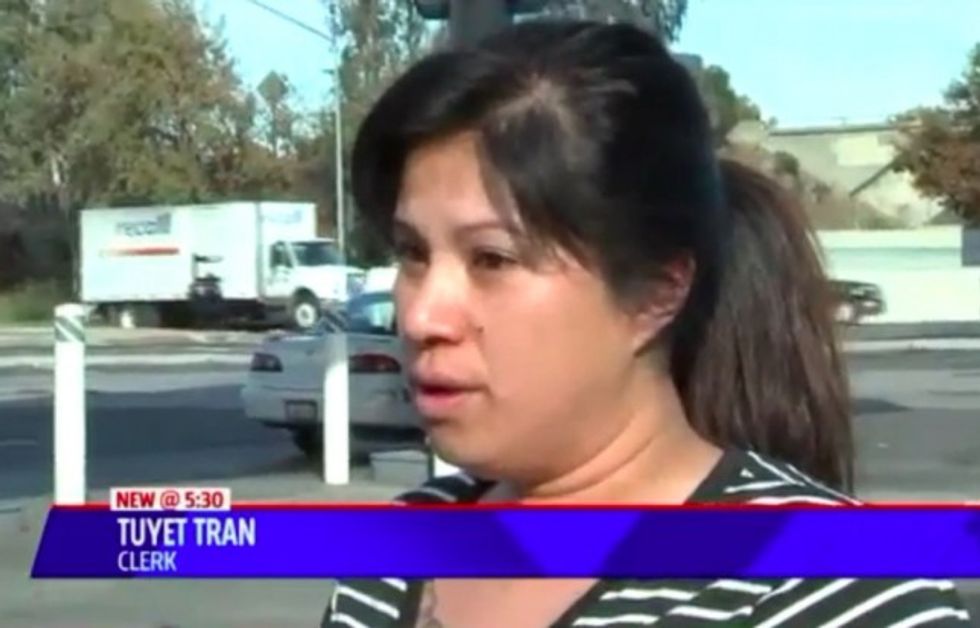 Image source: KXTL-TV
From that point forward, on every holiday, Tran would let Smith call his parents with her phone — and the pair became friends.
And then on Monday, Smith was able to lend his hand to Tran in a big way — and it may even have saved her life.
Tran — a Chevron station clerk in Stockton, California — had been on edge ever since she was robbed at gunpoint two weeks ago. So Smith made sure he was around to keep the mother of three company during her shifts.
On Monday night, a Hispanic male with a long ponytail and wearing a black hoodie and white jeans rode up to the station in a red Toyota pickup with two females. Tran noticed the man appeared drunk and urinated on firewood stacked outside the store.
But that wasn't the worst of it. The man came into the store with a gun and demanded all the money, Tran told KTXL.
"This time around, it's just scary that he was so aggressive," she added to the station.
But while Tran went behind the register, Smith moved into action — grabbing a fire extinguisher near the door and spraying the crook in the face.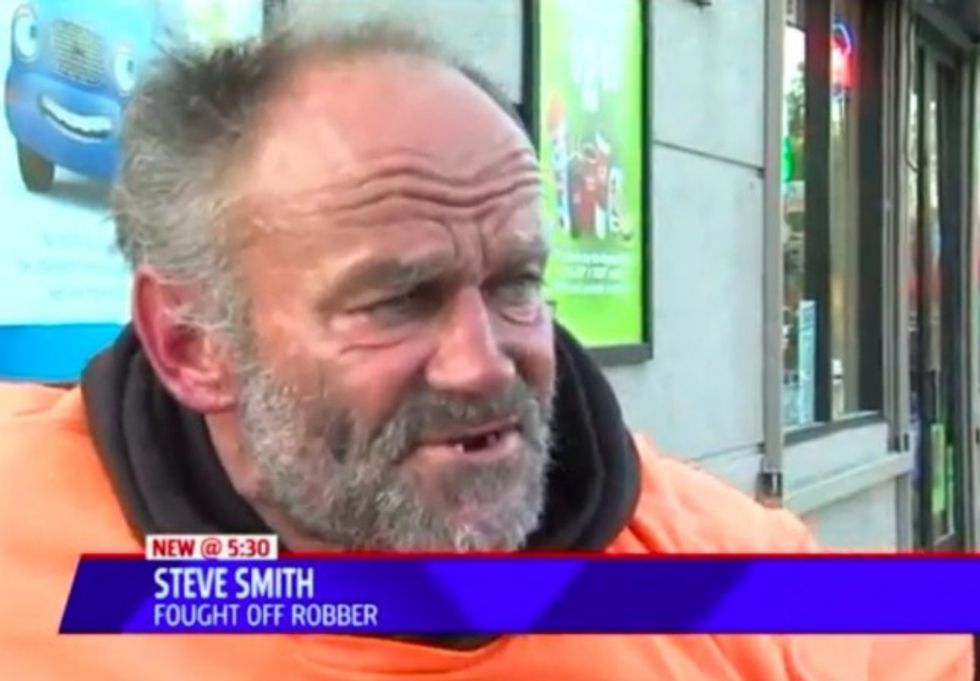 Image source: KTXL-TV
"The guy finally took off," Tran told KTXL, adding that the getaway driver was a female with reddish hair and the other female in the truck had black hair.
Tran was grateful Smith stepped in like that, yet concerned because he could have lost his life.
"I asked Steve you know, 'Why did you do that? You could have gotten hurt. You know, he could have shot you.' And he told me, 'Because you have kids,'" Tran told the station.
A glitch in the surveillance system meant no video of the incident was recorded, but Tran won't likely forget her friend's heroics.
"So grateful for him," she told KTXL. "So thankful 'cause he could have just gone away and left me and go do recycling — but he didn't."
(H/T: Mad World News)
—
Follow Dave Urbanski (@DaveVUrbanski) on Twitter