Like something out of a movie, one carjacking suspect led police through an intense car chase through Seattle's streets, ultimately ending in a hail of gunfire.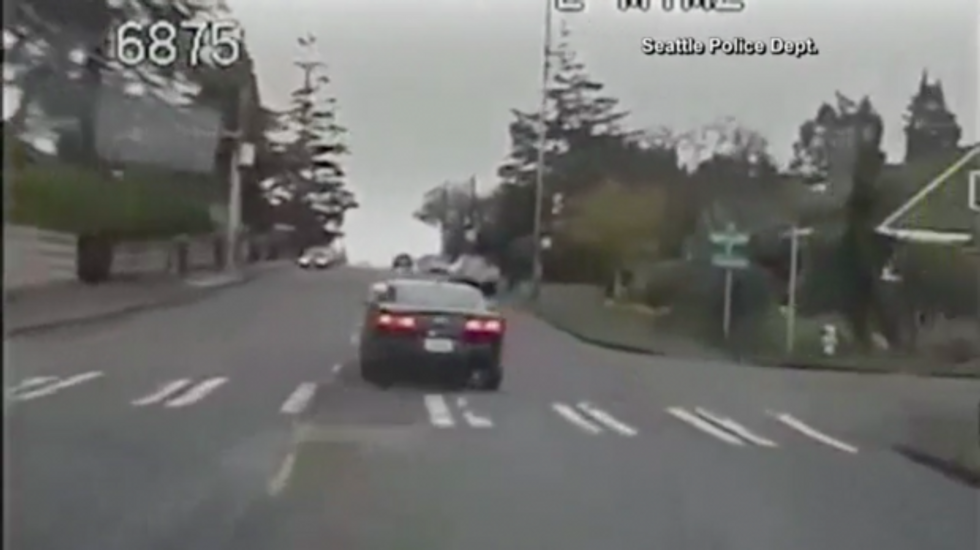 Seattle police pursue carjacker in intense high-speed chase Monday. (Image source: Seattle PD dashcam)
According to a statement from the Seattle Police Department, "Investigators are piecing together the trail of a 35-year-old violent felon after he brandished two handguns at several downtown businesses Sunday, carjacked three vehicles and fired on officers before a fatal confrontation with police in Northeast Seattle."
The dashcam video released by police Monday showed police cruisers chasing a black Camaro as it quickly twisted through the streets. But the chase ultimately ended when police cornered the driver, crashing into the Camaro head-on.
Moments after the crash, the video shows police opening fire immediately on the suspect as clouds of smoke formed around the vehicle. The suspect died at the scene and two guns were found in his possession, according to the police report.
The escapade started when police received a tip from a local coffee shop, describing the man as "sweating" and "acting nervously" as he entered the café.
"He began manipulating a handgun in his pocket, leading employees to call 911," the police report read.
According to the report, the carjacker brandished a gun, threatening employees in a nearby restaurant, before going on to confiscate two other vehicles, and unsuccessfully trying to steal a third at a local gas station. Ultimately, the suspect ended up with the Camaro, which he stole from a car rental agency.
It was when he commandeered the Camaro that police started pursuing him, and during the intense chase through Seattle, the police say the suspect fired at law enforcement officers.
The video purports to show the high-speed chase finally ending when the suspect crashed into police vehicles. The felon maneuvered the Camaro toward the police and aimed his gun toward the officers, who opened fire. The suspect died at the scene.
No bystanders or officers were severely hurt at the scene, according to police reports. However, the 12 officers involved in the situation have been placed on paid leave as the department investigates the dashcam video.
Watch the intense chase below.
(Content warning: The video may be disturbing for some viewers.)
(H/T: NBC News)
—
Follow Tré Goins-Phillips (@tregp) on Twitter