Speaker of the House Paul Ryan (R-Wis.) gave a blistering response earlier this week to Donald Trump's call to temporarily ban all Muslims from entering the United States — but don't expect him to make it a habit.
At his weekly news conference on Capitol Hill Thursday, Ryan was asked about the businessman and presidential candidate's continued success in the polls and took a pass on adding anything to his previous comments.
"I'm not going to comment on that," said Ryan, the Wisconsin Republican who's been speaker since the end of October. "I'm focusing on making this place work. I'm not going to weigh in."
On Tuesday, Ryan blasted the Republican front-runner's plan to exclude Muslims from entry to the U.S. by saying: ""This is not conservatism."
But on Thursday, Ryan clarified that his commentary on the 2016 race will be rare.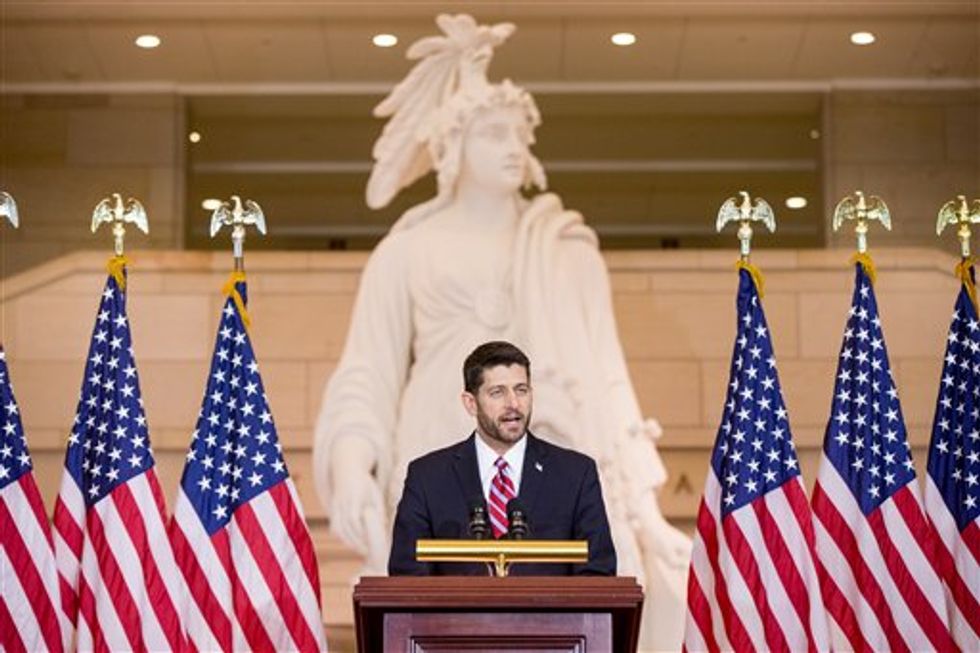 House Speaker Paul Ryan (R-Wis.) speaks on Capitol Hill Wednesday. (AP/Andrew Harnik)
"Look, I weighed in on a comment made in the presidential campaign because I thought that needed to be commented on," Ryan said. "But I'm not going to spend every day here talking about the go-betweens of what's happening in the presidential election."
Instead, Ryan said he'll be focused on presenting his own "pro-growth" legislative and policy agenda to the American people — even if that means he gets out ahead of an eventual Republican nominee for the presidency.
"I don't think that we have the time to wait until a nominee arrives, which could be as late as I don't know June or July, to then come up with an agenda to show the country who we are and what we believe in," he said. "We don't like the path America is on; we think we're on the wrong track; we have an obligation to show a better way forward."
—
Follow the author of this story on Twitter and Facebook:
[facebook //www.facebook.com/plugins/like.php?href=