For the second year in a row, Cincinnati-area homeowner Jasen Dixon has built a controversial Nativity scene in the front yard of his Sycamore Township property. Instead of the traditional characters, Dixon's Nativity is populated with zombies, including a zombie baby Jesus.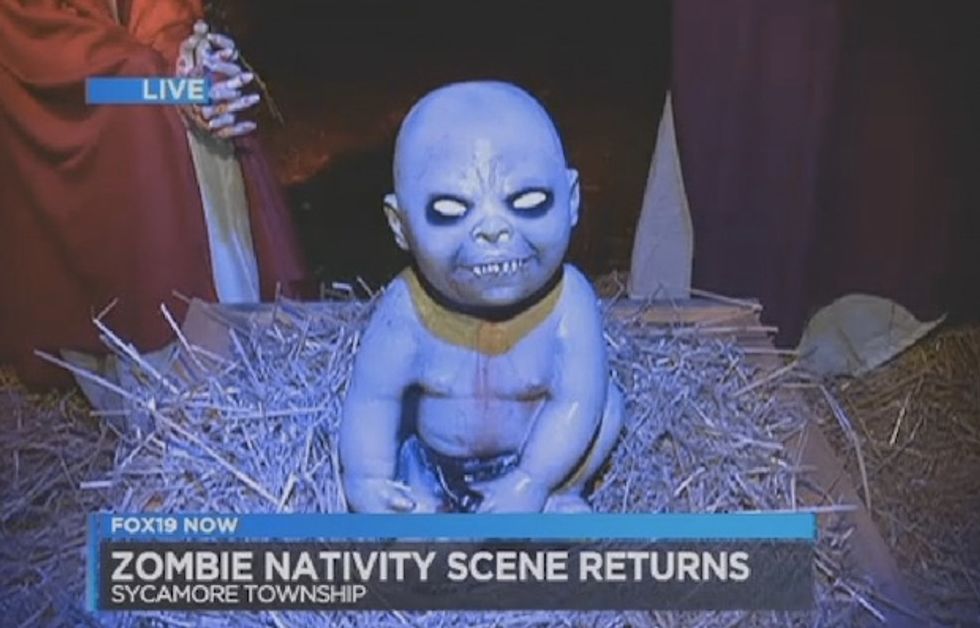 Image source: WXIX-TV

The story has been heavily covered locally, and on Wednesday, it went national on Bill O'Reilly's popular Fox News program.
During the show's regular "Miller Time" segment with comedian Dennis Miller, O'Reilly teed up the topic, playing a short clip of the zombie Nativity and calling Dixon a "pinhead."
Miller responded to the story with a series of barbs, opening with, "I miss the old days when Marge Schott was the craziest person in Cincinnati," referring to the controversial former CEO of the Cincinnati Reds.
He continued, "The thing I noticed, Billy, there are a lot of asses in the vicinity of that manger — none of them are donkeys anymore."
Miller went on to suggest an alternative, "Hey, why don't you try this with another faith, Jason Dixon?"
The comic wrapped up his spirited, one-minute rant, saying, "I'm gonna buy the VIP package at the end of the world ceremonies so I can watch God smack Jasen Dixon upside the head for this crap."
Watch Miller tear into Jasen Dixon's unusual Christmas display.
Here's the local Cincinnati television report profiling Dixon and his zombie Nativity scene.
__
Follow the author of this story on Twitter and Facebook: